The demand for oil is increasing
Oil future: OPEC expects demand to continue to rise in 2021
OPEC announced on Thursday that it expected further recovery in oil demand in the second half of 2021. In its monthly report, the Organization of Petroleum Exporting Countries announced that demand will rise by 5.9 million barrels per day, a change of 6.5 percent compared to the previous month.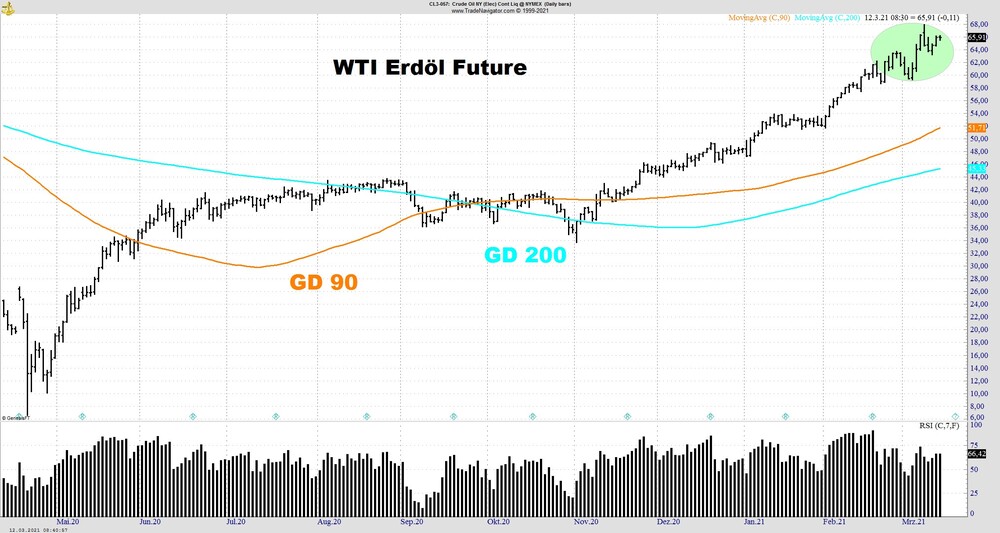 Crude Oil Future "on the run"
Price increases are likely to continue
The price of the WTI oil future has been subject to brutal fluctuations in the last few months and was negative for the first time in history in May. Since then, an unprecedented rally has set in and the price peaked a few days ago to almost $ 68. The oil future is currently consolidating around $ 65.
Demand remains strong
The reasons for the continued high demand can be traced back to the easing of the pandemic and the associated global economic recovery. According to the latest estimates, global economic growth will amount to 5.1 percent this year, and activities are expected to pick up again in the second half of the year. On the other hand, the OPEC + countries managed to reach a surprising consensus on the cuts in production. Last week it was announced that the cuts would be extended into April. The main reason for the cuts is Saudi Arabia, which is cutting its production by one million barrels (159 liters) in February and March and now intends to maintain these restrictions until April.
Healthy consolidation at a high level. Waiting is the order of the day, although brave traders can use setbacks to buy. Technically, the picture should only cloud over when the $ 60 mark is broken.
Do you want to benefit from the raw material boom? Then the ALGOreport is exactly the right thing: We deal with the raw material markets worldwide on a daily basis. In our stock exchange letter ALGOreport, which appears every two weeks, we analyze the "storyline", the commitments-of-traders data, the seasonality but also weather conditions where it appears necessary to us and identify lucrative trading setups according to precisely defined criteria. The ALGO-GT signal developed by us is always decisive for a trade.
Frequently asked questions about the ALGOreport