What is the recipe of lasagna
Classic Italian lasagna
Step 1/7
1 toegarlic
1 onion
2 Carrots
Finely chop the garlic. Peel and dice the onion and carrots.
Step 2/7
500 gGround beef
olive oil
salt
pepper
Heat some olive oil in a large pan and fry the onions, carrots and garlic. Fry the ground beef evenly with the help of a wooden spoon. Season to taste with salt and pepper.
Step 3/7
2 Tea spoonsdried oregano
Then add the chopped tomatoes and season again with salt and pepper. Simmer with the lid closed over medium heat for about 15-20 minutes. Stir in the dried oregano.
Step 4/7
50 gunsalted butter
40 gFlour
oven
Saucepan (small)
Whisk
Preheat the oven to 200 ° C. For the bechamel sauce, melt the butter in a small saucepan. Add the flour and roast while stirring.
Step 5/7
500 mlmilk
¼ tspground nutmeg
Gradually add cold milk, stirring constantly, and reduce the heat for about 5-8 minutes. Season to taste with nutmeg, salt and pepper.
Step 6/7
Cover the bottom of the baking dish with olive oil and then with a layer of bechamel. Now layer lasagne sheets, then Bolognese, more bechamel sauce and parmesan, one after the other. Repeat until all ingredients are used. Finish with the rest of the bechamel.
Step 7/7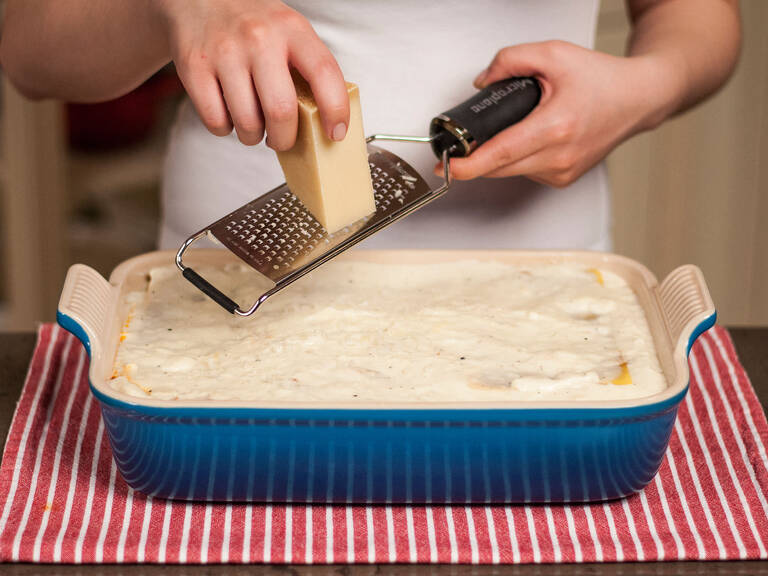 Add the remaining parmesan and bake in a preheated oven at 200 ° C / 390 ° F on the middle rack for about 30-40 minutes, or until the top is golden. Serve in the hot baking dish. Good Appetite!