Boarding schools in the UK
There has never been a better reason to join a British boarding school. Teaching and care standards have probably never been higher than they are today, and even the most discerning parents will find that schools meet their expectations and provide an ideal environment for their children to grow and learn.
Children too know that they enjoy the advantages of school and a second home when they go to boarding school and are almost always instrumental in the decisions families make about which school is most suitable for them. For international students, early integration into an English-speaking environment can mean the all-important difference between a technically flawless command of the language and confident, informal language skills. In today's globalized world, this brings tremendous professional benefits.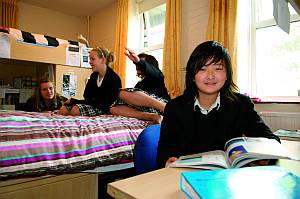 A second home
The schools make every effort to make the transition from home life to boarding school life as straightforward as possible - especially if the child comes from abroad. A seven-year-old student will likely sleep in a large bedroom with about six other children, but still have their own private area with a closet and locker, and sometimes an integrated desk. This combination of private life and community life helps children make friendships that often last a lifetime. The camaraderie, the many activities inside and outside the classroom and the uncomplicated contact with the parents ensure that the students get through the homesick phase of settling in and quickly enjoy everything that life in the boarding school has to offer.
Children get to know other people and cultures, make friends and live in a community that is characterized by mutual respect - undoubtedly an excellent preparation for adult life. International students are making leaps and bounds in learning English - not just because of the expert teaching, but also because of the close daily contact and shared activities with English-speaking students.
Older children tend to share dormitories with fewer students. As a rule, the rooms are occupied by two to three students up to the age of 16. For sixth form students preparing for university, single rooms with a desk - and often with a private bathroom - are becoming more and more the rule. The older the students are, the more likely it is that they have already made solid friends and also want more time to study. As a result, fewer students live in one room, but the desks are larger and the bookshelves full.
Schools offer boarding school students of all ages pleasant, comfortable bedrooms. The single rooms are often larger than those in universities. Common areas such as lounges, and, for older students, kitchens, are well equipped and supervised so that students learn to respect other users and the facilities available to them.
The care is taken over by friendly, professional and committed housemothers and fathers, for whom a successful boarding school is defined by the satisfaction of the boarding school students and the strength of the friendships they make with one another. Often the supervisors are the most important reference persons of the students during their time at the boarding school - a privilege that they of course take very seriously.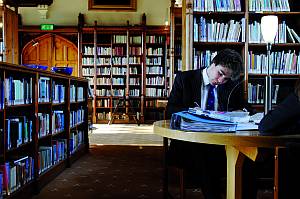 There is always something to do
Having access to school staff and facilities after class is certainly one of the greatest advantages for boarding school students. Younger students do their homework under supervision, so they can do it properly and get help when needed. In the evenings and on the weekends, school libraries are a great resource, while also reminding students that not only the internet but shelves are full of knowledge.
In clubs and as part of post-class activities, talents can be discovered and promoted and hobbies learned about that can sometimes change the lives of students. A young woman, who later became a member of the English national rowing team, recalls her childhood in boarding school: "I will never forget the day someone asked, 'Does anyone fancy rowing?' but yes - and that changed my life. "
The long day gives students the time and opportunity to try out new things or to deepen existing interests. Theater and musical performances not only require actors, but also directors, stage managers and lighting technicians. Many ambitious musicians, who spend hours developing their skills in music rooms, get together with like-minded students at boarding school and form a rock band.
Sport plays a major role in many boarding schools. All afternoons are spent training, and players often compete against each other after school and on Saturdays. Both the commitment and the skills of the students are taken into account. Many British Olympians had time to pursue their sporting ambitions because they were boarding school students. The fact that they didn't have to catch the school bus as teenagers gave them the time to get good enough to eventually compete for their country.
Excellent facilities
In addition to first-class equipped classrooms, laboratories, bedrooms and common rooms, boarding schools also have excellent facilities such as theaters, swimming pools, sports fields and running tracks - a good basis for serious commitment or for relaxing in your free time. Boarding school life can be the exact opposite of the restricted life led by children who live further away from their school and suffer from logistical problems of transportation and their parents' limited time. "Prep" (i.e. homework), a choir rehearsal, a soccer game or a few laps in the swimming pool and then a cup of cocoa with friends and a good book before bed are undoubtedly a far more meaningful evening arrangement than sitting for hours in front of the computer or television.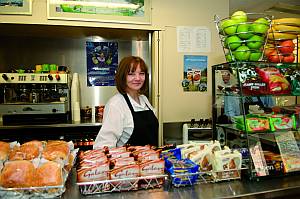 The role of parents
Parents abroad can be sure that their children will benefit from the diverse range of offers at the school - both during and after class. Boarding school life offers children activity, fun, and camaraderie all week long. If their mother tongue is not English, they are also constantly expanding their language skills. Being fully familiar with a second language is a wonderful gift and perhaps one of the greatest benefits of boarding school in the UK. For parents, knowing that their children are being looked after by professional, qualified and caring staff and that they are setting the course for their future success will outweigh their natural concerns and longing.
Even for parents in the UK, the biggest worry about their children going to boarding school is how much they will miss them. Fortunately, keeping in touch with parents has never been easier than it is today. Parents of boarding school students are in close contact with the responsible house parents via telephone, email and, if possible, regular meetings. The residential buildings of the boarding school are equipped with private telephone booths for students, and few children travel without a mobile phone. Of course, they are not allowed to use them during class or school hours, but everyone knows how important it is for students to keep in touch with parents and siblings by phone, Skype, email or MSN Messenger. Often, special consideration is given to other time zones, which make communication more difficult - if children only have the opportunity to talk to their parents late in the evening, most house parents understand this. Modern boarding schools see themselves as partners of the parents who, like them, want the best for the children.
A place of learning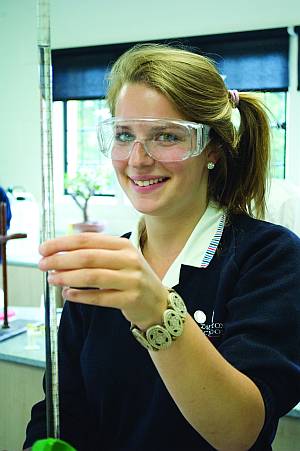 Boarding schools are particularly capable of recognizing a child's potential, promoting it and demanding success. Some of the schools are among the best educational institutions in the world; others provide an environment in which children who previously struggled at school can develop and thrive. Rest assured that the goal of all UK boarding schools is to help all students achieve their full potential. Thanks to small classes, highly professional teachers, excellent equipment and their overall ethos of success, the academic performance at boarding schools is first class.
Perhaps more important, however, is that they are proud of their academic achievements. A boarding school student recently put it this way: "It's definitely cool to be good at school. We are expected to do our best and if there is a problem, there is always someone to help. "For international students, this help will likely include additional lessons in English as a foreign language. Thanks to this help and the normal teaching hours, international students in schools in the UK achieve excellent academic performance and then usually start studying here or in their home country.
There are currently around 625,000 children being educated in around 2,600 private schools and boarding schools in the UK. More than 510,000 of them attend one of the 1,260 schools belonging to one of the associations of the Independent Schools Council (ISC). All boarding schools featured in this guide are members of at least one of these ISC associations or the Scottish Council of Independent Schools (SCIS). This guide also includes portraits of numerous sixth form colleges and tutorial colleges, international schools, and international study centers. Some of them are members of the ISC associations, others have been accredited by other organizations.
The ISC associations and SCIS guarantee that the educational offer meets the highest standards in every respect. ISC schools in England are audited every three years by the Independent Schools Inspectorate (ISI); ISC schools in Scotland, Wales and Northern Ireland are being scrutinized by the relevant national regulatory authorities.
There are also 35 state-run boarding schools in the UK that have formed the State Boarding Schools 'Association.
safety first
Since 2007, the Office for Standards in Education, Children's Services and Skills (Ofsted) has been responsible for auditing both private and public schools in England. (Various other organizations are responsible for checking the housing and boarding of Scottish, Welsh and Northern Irish schools.) Child welfare is so important that Ofsted holds boarding exams every three years. The results will be published on the Ofsted website [LINK TO www.ofsted.gov.uk]. The inspections, also known as "welfare inspections", are based on the national minimum standards (NMS) for boarding schools and cover the entire range of welfare, health and guideline requirements relevant for boarding schools.
The inspectors speak to students and increasingly involve their opinions as the most important recipients of the services offered by schools. Any concerns raised by children are addressed as rigorously as any suspicion of child abuse or abuse. The anti-discrimination guidelines are also carefully reviewed; schools that teach foreign students are of course expected to take their parents' needs into account in accordance with the wishes of their parents.
All schools also have binding guidelines for dealing with bullying and violence. The employees take such problems very seriously and, if necessary, act immediately to prevent serious consequences. Schools are accountable to the students themselves, the parents who have entrusted them with their children, and the inspectors who oversee their operations. With more boarding school workers taking up university-level education offered by the Boarding Schools 'Association, schools are safer and more responsive than ever.
Preparation for further life
Many parents consider going to boarding school in the sixth form as the ideal preparation for university. Students become more independent and take more responsibility for their daily lives and the discipline required for learning. At the same time, parents have the certainty that someone is keeping an inconspicuous eye on the well-being of their children - and making sure that they eat regularly and don't worry about the nights.
Many boarding schools have close ties with UK universities; the career and study advisors are happy to help students with the application process. Ninety percent of all boarding school students are offered a place at the university of their choice. Helping students choose the right subject at the right university, whether studying in the UK or in the student's home country, is a natural part of the boarding program.
Regardless of whether students decide to study or not, boarding school education is undoubtedly one of the best preparation for life a young person could wish for. Boarding school students are independent, self-confident, have social skills and can empathize with people from all over the world and from cultures that are very different from their own. Living in the UK, where they improve their language skills almost on the side as part of their schooling, optimally prepares students whose mother tongue is not English for the global job market.
Skills for the 21st Century
The young people become independent at an early age and learn to live in a community, to understand and respect others and to resolve conflicts that arise. This is how they develop the skills they need to face the challenges of the 21st century. The successes, friendships and interests of their school days will often be with them for a lifetime.
Hilary Moriarty is the National Director of the Boarding Schools 'Association. She was vice-principal of a girls 'boarding school for seven years and the principal of another girls' boarding school for six years. Her two sons were boarding school students.
Life in the boarding school
International students can join boarding schools in the UK for a shorter period (e.g. a trimester or a year), for two years of Advanced (A-Level, Higher, International Baccalaureate, Pre-U or AQA Baccalaureate), two-year GCSE or Standard -Grade courses. You can also spend your entire school days there (from 7 years or younger) or only attend secondary school (from 11 or 13 years).
Boarding schools in the UK offer the following benefits:
High performance standards: Many boarding schools in the UK are top of the rankings in government audits and have the highest expectations of students and staff. Highly qualified and experienced teachers and small classes ensure that your students achieve top-class performance and attend the best universities. But even children who have had a hard time at school up to now thrive in such an environment.
Safe environment: High standards in private care are a matter of course and are guaranteed by regular reviews, the results of which are also published. The students live in a harmonious community in a comfortable environment where they are well looked after. Healthy eating is encouraged and schools ensure first class medical care for their students. Many schools are also fortunate to have fantastic buildings and facilities that are ideal for growing and learning.
Support for international students: The schools are aware of the special needs of international students and appreciate the contribution they make in the classroom and in the school's social life.The multicultural community promotes respect for other cultures and helps prepare students for modern life. Most schools offer one-to-one or group classes in English as a Foreign Language, and there are many other activities to choose from.
Leisure time: The activities that students can take part in after school and at the weekend are varied, engaging and, above all, fun. Excellent facilities for sports, music, art and theater, as well as the appropriate teachers and trainers, are available to students. This opens up completely new worlds outside of the classroom.
A – Z glossary
Residential building: a building or floor where students live and sometimes eat. In larger houses, students may be accommodated on different floors depending on their age. In other schools, students live in their own houses, often in mixed age groups. Often there is some competition between houses, e.g. B. in the fields of sport or music. Many schools have a separate house for high school students, which gives them more independence and privacy.
Dormitory: a large shared bedroom for boarding school students (often referred to as a "dorm"). Younger students are often accommodated with up to six friends. Older boarders often share the room with fewer children.
Departure Weekends (Exeat): a weekend that boarders do not normally go to boarding school but visit their guardians in the UK. In some schools, international students can also stay on the school premises on weekend trips home.
Extracurricular activities: Activities that take place outside the official curriculum and that serve to develop skills and experiences that go beyond academic achievement.
Rector: the headmaster, often referred to as "Head" (from Headmaster or Headmistress).
House mother / house father: the person who is responsible for looking after and supervising the boarding school students in the residential buildings. It is usually carried out by other employees, e.g. B. housekeepers or tutors supported. Many house parents also teach during the day.
Independent Schools Council (ISC): the umbrella organization that represents the common interests of the member schools in relation to politics.
Independent Schools Inspectorate (ISI): the supervisory body responsible for checking the teaching standards in ISC member schools in England. Reviews take place every three years.
Housekeeper: often an employee who takes care of the private care of the boarding school students and is always open to all problems. They do not necessarily have a medical qualification. School nurses must, however, generally have recognized training.
National Minimum Standards (NMS): the 52 care standards for boarding school students, according to which the performance of boarding schools is assessed. Ratings range from 1 for "Excellent" to 4 for "Poor" (a change from previous ratings where a 4 was the highest rating and a 1 meant that the standard was not met). Reviews take place every three years.
Ofsted: the independent government agency responsible for auditing government and private schools in England that are not members of the ISC. Ofsted also regulates and checks the accommodation and meals in all English schools.
Prep: the English term usually used for homework (also used as an abbreviation for "preparatory").
Sixth Form (advanced level): the last two years of school in which students aged 16 to 18 prepare for AS and A levels or comparable qualifications (e.g. the International Baccalaureate or the Cambridge Pre-U).