Why is this ketodia heart healthy
In reality, low carb diets do not provide more than 30 percent carbohydrates
In general, one can say that the carbohydrate content in a low carb diet is on average and at most between 15 and 30 percent, so that its effects on health cannot actually be compared with those diets that provide around 40 percent or more carbohydrates - but this was also the case in the present study.
Nonetheless, the result was that both types of diet - the low-carb diet and the high-carb diet (diet high in carbohydrates) would increase the risk of premature death. It is also completely irrelevant which protein and fat sources you choose in the low carb diet to replace the carbohydrates.
Why could the low carb diet harm the heart?
Since it is often overweight people who practice a low-carb diet for the purpose of losing weight, it could be that the heart is suffering because you lose large amounts of fluids very quickly with this type of diet - and dehydration can lead to atrial fibrillation.
Low-carb diets could also lead to electrolyte disturbances, which could also affect the heart rhythm, explained Dr. Laurence Epstein, an expert in electrophysiology and a member of Northwell Health, New York, a network of over 60,000 physicians and innovators for better healthcare.
This could be due to the fact that some low-carb eaters consume too few vegetables and thus too few vital substances. Fruits, vegetables and whole grains in particular also contain a lot of substances that have anti-inflammatory effects and thus also prevent heart problems. Therefore, those who practice a low-carb diet that is low in vegetables can - according to the researchers - have higher inflammation values.
Of course, it could also be that, in particular, people who already have a chronic pre-existing illness, such as diabetes, try to improve their health with a low-carb diet, so that this is not the diet itself, but diabetes (or another disease ) could increase the risk of cardiac arrhythmias.
Only an unhealthy low carb diet harms the heart!
As is so often the case, it is shown here again that it is less important whether you eat low or high carb, but rather that you should make sure that you consume enough vegetables and thus also sufficient vital substances and fiber.
An unhealthy, low-vegetable, low-carb diet should therefore be avoided as it could damage the heart. We introduce you to a healthy, plant-based low-carb diet in the previous link.
donation
Your donation helps us
If you enjoyed this article, we would appreciate a small contribution to our work! Donate now with Paypal.
display
Distance training to become a holistic nutritionist
Are you interested in what's in our food and want to know how nutrients and vital substances affect the body? Do you want a healthy life for yourself, your family and fellow human beings? Nutritionists are popular - but the holistic aspect that is needed for sustainable health is often forgotten when giving advice. At the Academy of Naturopathy, you will get to know the connections between lifestyle and diet as well as physical and psychological well-being.
That educates interested people like you in around 16 months to become a holistic nutritionist out.
Is this article worth reading?
Share this article
swell
Gordon S, Low-carb diets linked to higher odds for A-fib, March 6, 2019, MedicalXpress
American College of Cardiology, Low-Carb Diet Tied to Common Heart Rhythm Disorder, March 6, 2019
Notice on health issues
This information is passed to the best of my knowledge and belief. They are intended exclusively for those interested and for further training and are in no way to be understood as diagnostic or therapeutic instructions. We do not assume any liability for damages of any kind, which arise directly or indirectly from the use of the information. If you suspect illness, please consult your doctor or alternative practitioner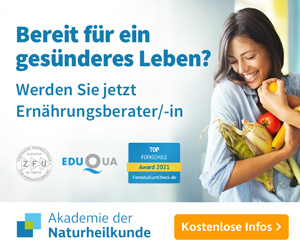 Subscribe to Newsletter
Exciting information about health and nutrition
1x per month
Login Successful. You will shortly receive a confirmation at the specified email address.
With your registration you allow the regular sending of the newsletter and accept the data protection regulations.
HEALTH CENTER © 2021 Neosmart Consulting AG. All rights reserved.