What do you think of Ukraine
Europe on the fifth anniversary of the Euromaidan
Between February 18 and 20, Ukraine will remember the most tragic days on Maidan, Kiev's Independence Square. Five years ago, over 100 people were killed in civil protests, also known as "Euromaidan" and "Revolution of Dignity". The pro-European movement was directed against the leadership of the then President Viktor Yanukovych, who had refused to sign an association agreement with the EU. The fatalities are known as the "Heavenly Hundred" and millions of Ukrainians are commemorating them on these days.
On February 19, the President of the European Council, Donald Tusk, addressed the Ukrainian Parliament on the occasion. His televised speech moved millions of people and MPs interrupted the speech with long applause. On February 20th, the Polish MEP Michal Boni published a letter to the Heroes of the Heavenly Hundred entitled: "Dear unknown friend from Ukraine!"It is a true gesture of solidarity with the Ukrainians. Extracts from the Ukraine Crisis Media Center:
Donald Tusk: "There can be no Europe without Ukraine"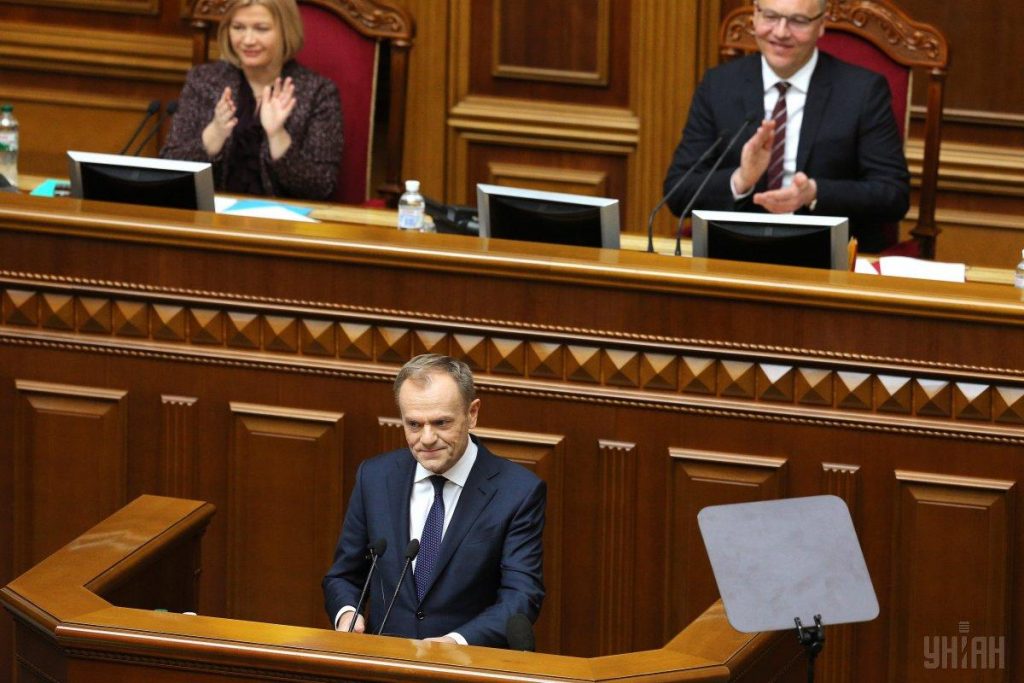 Dear Ukrainian friends!
On the fifth anniversary of the dramatic events on the Maidan, on the anniversary of the Revolution of Dignity, I came to you to thank all Ukrainians and their deputies gathered here, regardless of party differences, differences of interests and ideological disputes. (...)
First of all, I would like to thank you for your steadfastness. You made it through the most difficult moment in your history. They have stood their ground and, despite geopolitics, are proud and indomitable, despite the evil intentions of an aggressive neighbor, and despite the indifference and hypocrisy of many influential actors in world politics. You have held out, even though your partners are not always helping you the way they should: I know that well. I know that like no one else. (...)
Many of us have heard, heard and understood your scream. Even if it took a lot of time for some. That is why I can say to you today in the Supreme Council of Ukraine, not only on my behalf, but also on behalf of the entire European Union: We are with you! And we want to continue to help you.
At this point I would like to reiterate the first words of the Association Agreement: "The European Union recognizes the European aspirations of Ukraine and welcomes its decision for Europe." I would like to emphasize once again that Europe will never recognize the annexation of Crimea by Russia, nor will it abolish the sanctions as long as Russia does not fulfill its obligations. The European Union will also not accept acts of violence in the Sea of ​​Azov. I will do everything I can to keep the EU closed on this issue.
Second, I want to thank you for your courage. The Heavenly Hundred is in the pantheon not only of Ukrainian, but also of European heroes. I swear to all the mothers of the fallen: Europe will always remember your sons. The lesson of courage they gave the world in February five years ago changed us all. Ukraine has shown that it is worth being brave and dignified, that good can overcome evil, and that heroism can be more than a purely moral appeal, that this can be the key to victory. You have given the greatest gift to many people in the world, humiliated and oppressed: the hope that victory day will come for those who are weak today. (...)
I would also like to thank you for your Europeanism. I will always remember the flags with the gold stars on the Khreshchatyk during the revolution and the "Ode to Joy" that rang out across Ukraine. I often repeat to my colleagues in Brussels: don't teach them to be Europe, learn from them what Europe is.
Let me repeat the words with which I once addressed the leaders of the European Union: "Only those who show solidarity with Ukraine have the right to be called European. Whoever wants to sell Ukraine is selling the future of Europe. "
It is no coincidence that politicians who question European integration also question Ukraine's integrity. Tell me what you think about Ukraine and then I will know what you think about Europe!
When we Poles began our journey to Europe, Pope John Paul II told the world: "There can be no just Europe without an independent Poland". I would like to say here and now that there cannot be a just Europe without an independent Ukraine. There can be no safe Europe without a safe Ukraine.
In short, there can be no Europe without Ukraine. (...)
Michal Boni: "Your country was heard"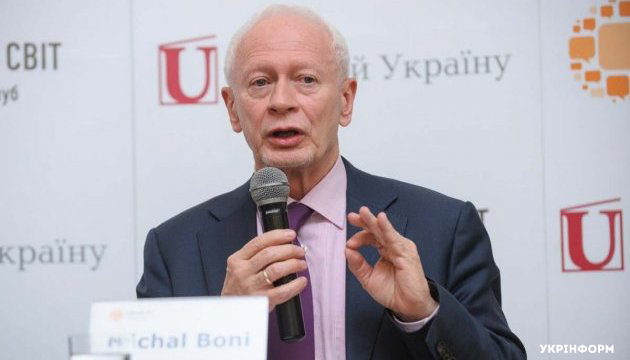 Letter from the European Parliament to the Heroes of the Heavenly Hundred
Dear unknown friend from Ukraine!
Today it is exactly five years since the day you last left your house - in the deep belief that Ukraine can regain freedom, democracy and justice. That's why you didn't go to work that day, but to Independence Square. That is why you joined your fellow believers. And you acted, you went forward without knowing what to expect. Or maybe to know it ... but with an inner willingness to fight to the last.
You had only one goal: you wanted to live in a free state. In a country where your parents receive a sufficient pension, your children have the opportunity to receive a European scholarship and, if they want, can also go abroad freely and study there. You wanted to live in a country where you don't have to pay bribes and feel no pressure from state power. Maybe you just wanted to finish your studies, do an apprenticeship, maybe your whole life was still ahead of you ... But on that day the militiamen were ordered to use weapons. (...)
There was a shot ... you didn't know it would all end like this ...
I write these lines while driving home after work. I am writing it to you, my Ukrainian friend, to tell you: Your death was not all over. Yes, you have paid the highest price in the name of your people. But then Ukraine managed to fight for change. Loud, across Europe, your state announced to everyone that it wants changes and will fight for them. He was heard.
Today we work together to make sure that everything you dreamed of is achieved. So that your parents receive a decent pension and your children can study freely in Europe. And we are already visa-free!
Every day we work to implement reforms that began a few years ago.
Unfortunately you don't see it, but maybe you do see it, from somewhere out there from heaven and support Ukraine. Perhaps you are disappointed that everything does not go as quickly as you would like it to. Maybe it's not how you imagined it would be. But I believe that this blessed time will come.
By sacrificing your life, you have given faith to millions of people who live in Ukraine, in Europe and around the world today.
But our deep respect for you. Your name will always be remembered!