Why are motorcycles with diesel engines unusual?
Driving report Neander 1400 turbodiesel direct injection
You can also make life difficult for yourself. Every child knows that a diesel is as unnecessary in a motorcycle as a fish is in a bicycle. At least since the old Triumph and Norton, every biker has learned that 360-degree parallel twins disassemble themselves pretty quickly if you turn the gas inadvertently. In addition, the triumph of the turbocharger in motorcycle construction has been a 25-year-old. So why, for heaven's sake, combine these three errors of motorcycle evolution in one engine?

Very simple: Because it's awesome. And because Neander engine guru Rupert Baindl from Geretsried came up with how you can build such a unit without it jumping out of the frame when you start it for the first time. The trick is ingenious: the twin has two counter-rotating crankshafts, and each piston has two connecting rods. This means that the first-order inertia forces of the rotating crank webs and connecting rods almost balance each other out. At the same time, the two rotating shafts completely eliminate their gyroscopic moments. That means: No matter how much centrifugal mass rotates how fast, the driver will not notice it in the handling. The shafts are also extremely narrow because the two connecting rods are cantilevered. Brave, but it works.

Too much theory? And it gets even better. The two pistons, each with a diameter of 109 millimeters, are the dream of all Harley fans, do not experience any tilting moments thanks to the two connecting rods and can be extremely low. They only weigh around one kilogram (the heaviest that has ever been built into a motorcycle engine) and are made of chrome-molybdenum steel. Steel? Steel. Aluminum would simply crumble under the immense working pressures of the charged diesel. And so that the right working pressures are created, Baindl planted his special four-valve head with vertical inlet ducts between the camshafts and diagonally opposite inlet and outlet ducts on the cylinders. A head that he built a few years ago for his unbeatable single-cylinder racers. Long-time MOTORRAD readers will certainly remember the lightning-fast, 105 PS strong Suzuki-based racers with which Baindl mixed up the sound-of-singles scene. Of course, the turbocharger with variable geometry including intercooler really helps the whole thing on the jumps .

Buy complete article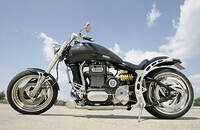 Driving report Neander 1400 turbodiesel direct injection
You will receive the complete article (7 pages) as PDF
and runs ...
How does the diesel get into the combustion chambers? It is injected directly, according to the common rail principle. A high-pressure pump holds the fuel in a line, six-hole injection nozzles atomize it electronically. The air, which is compressed by the loader with up to 1.2 bar, passes through the frame via a cross tube to the four inlet ducts. The fact that it also uses this cross tube as an engine mount speaks for the ingenuity of the tuner. The Neander is, if you will, the first motorcycle in which the frame opens into the combustion chambers. And the first motorcycle with exhaust manifolds from the same cylinder head at the front and rear. Looks funny and produces question marks in biker faces.

The engine is currently producing 92 hp, more is not possible because no more fuel is going through the nozzles. You would need eight-hole nozzles to achieve the desired 100 hp. However, they are currently not in the range of suppliers, a custom-made product is being planned. The aim is to supply individual cubic capacities which, with their 700 cm3, have the dimensions of a 7.5-tonne drive, but turn significantly higher. After all, there is already a whopping 165 Nm of torque on the dry clutch, which really tries hard to transfer the power to the six-speed gearbox without slipping. Its real purpose was once a life in a sports engine.

At this point the author would like to apologize for his lengthy explanations, but they were necessary to understand what miracle now follows. It's the miracle of starting. How does such a powerful diesel with such a measly 17 Ah battery want to start? Rotate two crankshafts, overcome compression from 16 to one? He manages it with a specially designed starter and immediately falls into a rattling idle that is typical of diesel. "The dry clutch runs open and just rattles," explains Baindl to the astonished tester. "First gear is long and the clutch from racing ..." he adds. A good tip, because one would hardly suspect such a design in this beautifully crafted Harley tuning chassis with 240 mm rear tires. Incidentally, Günter Zellner from Bad Tölz builds these chassis for solvent Harley customers. It serves as a test vehicle for the Neander engine.

... pretty fast
So hold the clutch at the grinding point for a long time and give a fine dose of gas, pardon diesel. The twin rattles lively, loses its rough run from 2000 rpm and pulls through powerfully. Not much is happening in terms of sound. The turbocharger hardly lets through any sonorous engine sound, even with the miniature silencer installed, you can calmly look forward to a noise measurement. A lot happens in terms of steam. 175 Nm are a word, only a Triumph Rocket delivers more. The Neander engine casually shakes full torque from the cylinders and pushes the 274 kilogram prototype and driver forward powerfully. The two-cylinder turns up to 4600 rpm, and feels most comfortable between 2000 and 3500 rpm. The six gears just slip through there. In no time at all, you get to the last one and are amazed at the speed of 2820 rpm. At 160 km / h! Cool.

The nice thing about it is that you only have to turn the gas to bring the gently starting charger up to speed and switch the engine to "thrust". An inimitable effect, comparable at most to a jet taking off. Soft, but full of pressure, and once it starts rolling, it's unstoppable. There are vibrations. Baindl says: "This is our first assembled engine. At the University of Applied Sciences in Munich with Professor Dr. Werner Bauer a second one is already running on the test bench in which we have provided the crankshaft with heavy metal plugs in order to achieve better balance. Then the vibrations almost gone." The professor and his institute have already helped the Neander people with a few problems that are inevitable when entering such great new technical territory.

Diesel injection and boost pressure control are coordinated surprisingly well. The Neanders owe this to Ewald Maier, Baindl's counterpart on the side of the electron flows to be regulated. He managed to make a four-cylinder car control unit forget two cylinders, which was certainly not easy. Manufacturer Bosch also helped here and there. And Maier also managed to conjure up homogeneous power delivery and throttle response in a prototype that many motorcycle manufacturers would be proud of. You'd have to put it on an MV Agusta ... If you abstract the 240 mm rear wheel roller, the Neander shines with great handling. The low center of gravity of the dry sump engine, the lack of gyroscopic torque of the counter-rotating crankshafts and a wide handlebar result in an active motorcycle that doesn't have to fear bends. You only notice the 274 kilograms when maneuvering.

Does it make sense? In any case, because it is a very unique type of locomotion that you can experience with such an engine. The turbodiesel direct injection engine has become indispensable in the car, and anyone who has got used to torque surfing with these drives will be shocked by the lazy acceleration of a conventional gasoline engine from the cellar. So far, the rough customs of such an engine and the high development effort have simply prevented any activity by major manufacturers. The Neander Twin offers the diesel light at the end of the tunnel. A gap could open up here. Especially when you imagine transplanting this drive into a naked bike like a Yamaha MT-01. Or even if you gave him one more cylinder. One can be curious.

Neander Motors
The story of Neander Motors is as extraordinary as the engine itself.
A good four years ago a certain Rötger Feldmann alias Brösel visited the MOTORRAD editorial team. In his luggage he not only had great marketing ideas for his roller coaster publishing house, but also two motorcycle projects. One was a Grand Prix motorcycle with Ralf Waldmann's figurehead, the other was that turbodiesel as we see it today, with ex-racing driver Martin Wimmer as the driving force in the background.
In 2002 the roller coaster publishing house ran out of air and Brösel lost interest in the projects. Not such a tight-knit group of former roller coaster publishers. They drove the diesel project on, acquired the trademark rights to the name Neander and founded Neander Motors in 2002.
Thanks to good contacts, the Neander people managed to interest the Bundeswehr in the engine. Because they have been looking for a powerful small diesel for light ATVs, boats and remote-controlled small tanks for a long time. The important thing there:
The engine must be able to run on kerosene and meet NATO requirements. This includes a 400-hour endurance run with the highest demands. Neander Motors is certain that it can meet them all. Info: www.neander-motors.com.
Technical data and measurements - Neander turbodiesel
Engine: air / oil-cooled in-line two-cylinder diesel engine, two counter-rotating crankshafts coupled via gears, two overhead, chain-driven camshafts, four valves per cylinder, bucket tappets, dry sump lubrication, common rail direct injection, exhaust gas turbocharger with charge air cooling, alternator 350 W, battery 12 V / 17Ah,
hydraulically operated multi-plate dry clutch, six-speed gearbox, toothed belt.
Bore x stroke 108.0 x 78.2 mm
Cubic capacity 1430 cm3
Compression ratio 16: 1
rated capacity
67 kW (92 PS) at 4200 rpm
Max. Torque
175 Nm at 2600 rpm

Chassis: double loop frame made of steel, upside-down fork, Ø 43 mm, triangular swing arm made of steel,
Horizontal central spring strut, directly hinged, adjustable spring base, rebound and compression damping, double disc brake at the front, Ø 300 mm, four-piston fixed calipers, disc brake at the rear, Ø 300 mm, four-piston fixed caliper.
Composite wheels 3.50 x 18; 8.50 x 18
Tires 130 / 60-18; 240 / 40-18

Dimensions and weights: wheelbase 1740 mm, steering head angle 59 degrees, caster 109 mm, spring travel f / h 110 /
80 mm, seat height 650 mm, weight with a full tank approx. 274 kg, tank capacity 9.5 liters.
Price not specified
Mackermotorrad
The Neander driven by MOTORRAD is just a test vehicle. In the future, a spectacularly designed cruiser with a unique telescopic fork should attract customers.
It's never too late for happy youth. This is the name of the slogan with which Neander Motors wants to advertise their final product, the Mackermotorrad. And so that men can feel really young on the Neander, the team is building a brutally styled giant cruiser. With a full two meter wheelbase, an equally full 220 Nm torque and 280 kilograms dry weight, this turbodiesel is a real challenge.
It is not only the parallel twin diesel that has already been described that is of interest, but also a new type of chassis technology with a four-pipe fork. It should be significantly more torsion-resistant than previous designs.
Just as radical: the targeted seat height. At a height of just 45 centimeters, the Macker's butt will be carried across the street, a measure that should make even pilots of chopped Harleys green with envy.
The Neander is supposed to offer a mixture of comfort and driving fun that has not been commercially available before. And be perfectly light to drive despite the many pounds. The press release: "We tailored the whole construction to men who want to drive something that cannot be bought on every corner. It's a cruiser for people for whom black can be a bright color if you squint your eyes a little. "
So for real guys. Which like Heinz Hönig, actor and always very physically present. Hönig will do PR work for Neanders.
The spectacular chassis arrangement was tested some time ago in a prototype called a "mutant". None other than ex-GP driver Martin Wimmer took care of the correct design of the components.