Why can't New Yorkers make NYC cleaner
Chicago or New York? Where do you want to go?
I would say that for us Europeans who are planning a city trip to one of the major cities in the United States, it is very much a relevant question. Unfortunately - especially from Vienna - there are not that many direct flights to the east coast. The west coast would be too far for a short trip anyway. So which city should I visit - Chicago or New York? When I decide on a travel destination, I not only research the attractions and photo spots, but also illuminate other aspects. So this is not a city guide, but rather a comparison of the two metropolises that is not meant so seriously.
Some facts. You know the usual like size, structure and so ...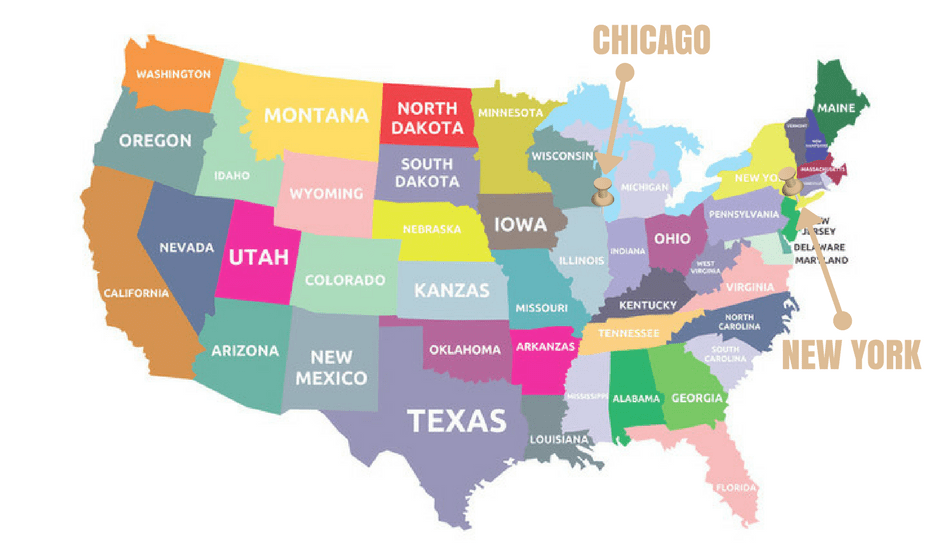 New York City is located in the state of New York on the east coast of the United States. Hui, that sounds a lot like Wikipedia, I should try a little more ... More than 8 million people live in NYC, roughly as many as in all of Austria. I grew up in a village with 2,300 inhabitants, 8 million is pretty colossal for me. Most of the time we only think of Manhattan when we hear New York. Sure, Manhattan is the center of attraction with all the great buildings and sights. But please don't forget about hip Brooklyn, multi-faceted Queens, Staten Island and the Bronx. Speaking of the Bronx, I remember my first visit to New York when I was in my early 20s and used the subway. I was really scared to catch the wrong station and find myself in the middle of a gang war, being robbed or even shot. Unfortunately, its reputation precedes this part of the city and I wonder what it really is like. I doubt the Bronx is actually as dangerous as many of us have it on our mind. It will be a hot pavement, but do you have to be really scared there? If you've been there and have experience, please let me know. I would be really interested.
Jonathan left me a comment here after I published the article. He's lived in the Bronx for more than 25 years and was ready to answer a few questions for me. Find out where the Bronx got its reputation from and what it's like on the streets today.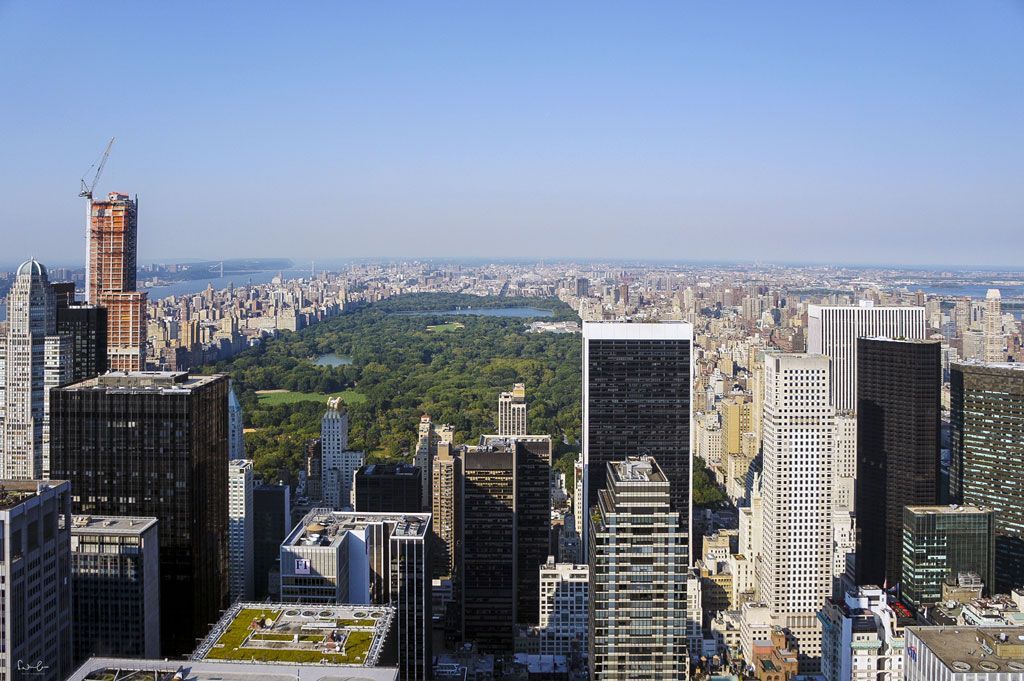 Chicago is located in the state of Illinois in the American Midwest. Compared to New York City, Chicago with its 2.7 million inhabitants is almost a village. Whereby… the Chicago area, also known as the Metropolitan area, comprises 10 million. The really great thing about Chicago is the location on Lake Michigan, which gives you so much that holiday feeling - in the summer mind you. Wicker Park and Logan Square are the hipster districts of Chicago, The Loop is the heart of the city with its many attractions and business districts, and the Gold Coast is known as the chic district. Is there such a thing as the Bronx in Chicago? Aside from the fact that Chicago has a much higher crime rate than New York, Englewood, Riverdale, Auburn Gresham and Fuller Park are the areas that tourists should avoid.
It's a head-to-head race between the two of them. The flight times from Vienna are about the same and both cities are on the water. Since I don't care too much about crime rates, both cities get a point. 1: 1
Nicknames
I always wonder what nicknames are all about. I don't have one, by the way. Not Nici, Nicky or Nicole. Only my late brother called me Nica now and then when we argued or when he wanted to raise me. He was allowed to and was the only exception. New York's best-known nickname is probably "The Big Apple". "The Capital of the World" and "The Center of the Universe", as NY is also called, I find quite arrogant, while "The City That Never Sleeps" is very appropriate and sounds nice too. Chicago is also called"The Windy City" (very aptly, by the way) "The City of Big Shoulders", "The Second City" and "The City That Works" all sound pretty approachable and personable. Sorry, New York - this point goes to Chicago for sympathy reasons. 2: 1
Chicago vs New York Skyline
Every metropolis is somehow defined by its skyline, isn't it? And everyone likes skylines, everyone photographs them. And who is not impressed by the profile of New York when they sit in a taxi from the airport to Manhattan and see it - whether for the first or the umpteenth time. It's a thousand times better sight than typing on your phone. My absolute favorite places - especially for taking photos - are in Brooklyn Bridge Park, where the wooden posts rise from an old pier, and at the original Pepsi illuminated sign in Gantry State Park in Queens. The Chicago skyline is undoubtedly impressive too. Either through "The Bean" in Millennium Park or the classic spot at the Adler Planetarium, from where you can see the whole city and Lake Michigan in the foreground. The pier posts win, however: one point for New York - 2-2
Architecture
I'm a huge fan of architecture and both cities are simply predestined to be visited for their fantastic architectural structures. Drum roll ... which of the two cities has the most impressive structures? New York's classics like the Empire State Building, Flatiron or Chrysler Building are amazing and always look good on photos. I love Grand Central Terminal, the New York Public Library or the Guggenheim Museum. And on top of that, I'm really into New York's bridges, especially the Manhattan and Brooklyn Bridges.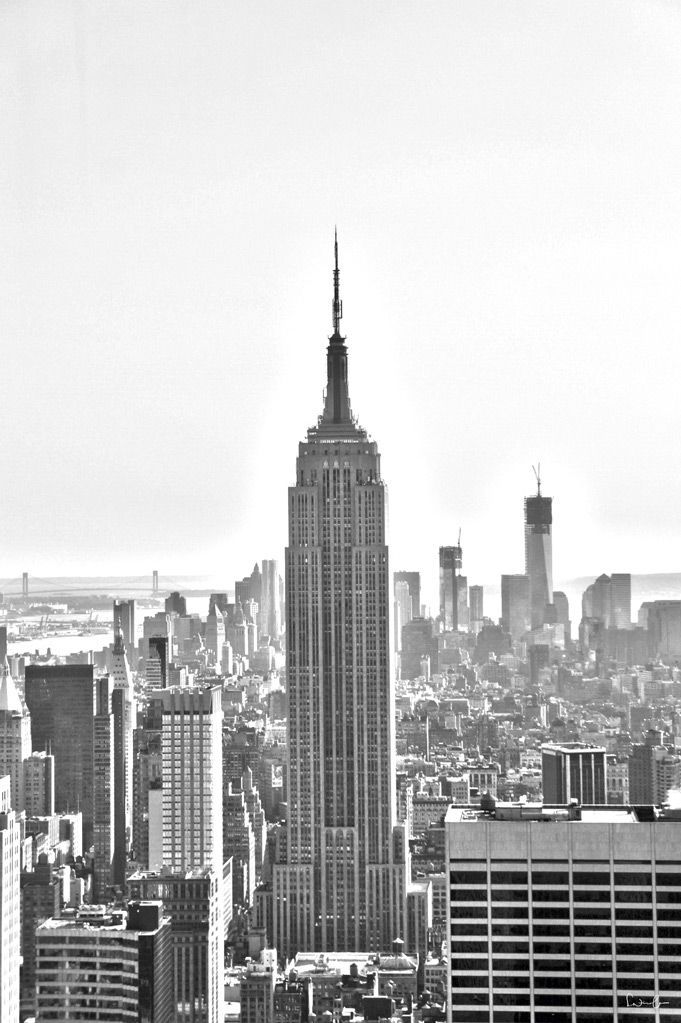 Chicago but can also look forward to some classic masterpieces such as the Wrigley, the Carbide & Carbon or the Rookery Building. The Aqua Tower is an interesting building with the undulating concrete balconies. Marina City with the two round towers is not exactly a beauty, but it is still worth mentioning. Last but not least, I would like to mention the interior of the Cultural Center - I call that impressive. Despite your great buildings, Chicago, the point goes to New York. Don't be sad, but you just can't keep up with New York's bridges. 2: 3
Popular parks
Both cities are particularly proud of their famous parks: Millennium Park (adjoining Grant Park) in Chicago and Central Park in New York. While Millennium Park is a real crowd puller due to its many attractions, Central Park shines with its recreational character and is also known as the city's green lung. It is 35 times larger than Millennium Park and attracts not only tourists but especially New Yorkers. You can guess three times what my favorite constructions in the parks are. Bridges. What else? The famous Bow Bridge in Central Park and the BP Pedestrian Bridge in Millennium Park. Although I really enjoyed bumbling around in Millennium Park and taking photos at Cloud Gate (also known as Bean), Central Park with its lakes and ponds is more mine. 2: 4 for New York and that, although unfortunately I accidentally deleted many New York photos, including the one from Bow Bridge ...
the atmosphere
It's tricky. I just like both of them - depending on the day, mood and which part of town I'm in. Chicago isn't that hectic. People don't run through the streets like frightened chickens, not even in the busy loop. It almost seems like "Chicagoers" are more relaxed. Manhattan is one big circus. The number one rule seems to be: the faster the better. No one is interested in red at the pedestrian traffic lights and everyone has a coffee mug in their hand. I sometimes wonder whether New Yorkers actually drink the coffee or whether the mug is just an accessory. No attack, dear New Yorkers - I love it and I do it when I'm there. I just wish you had more "real" cafes where you can get good coffee. I like the atmosphere in both cities - so point for both. 3: 5
Famous songs
Both cities have inspired great musicians to write songs. I chose three per city. Sure, it's a matter of taste, of course, but New York is mentioned in the better-known works. Ask people what song they associate with New York and you'll get at least three named like a shot from the gun. With Chicago you might have to think a little bit. I didn't think so, I had to ask Google. I am sorry Chicago, this point also goes to New York. The score is 3: 6.
Chicago
Smashing Pumpkins Tonight, Tonight
Homecoming by Kanye West
My Kind of Town (Chicago Is) by Frank Sinatra
new York
New York, New York by Frank Sinatra
Empire State of Mind by Alicia Keys and Jay-Z (is the video not an iPhone commercial ...?)
No Sleep Till Brooklyn by Beastie Boys
So the final score says that I clearly favor New York and that will probably be true. Although I really liked Chicago, I can't get enough of New York. If you've been to NY but don't know Chicago yet, then my recommendation is very clear: book a flight in The Windy City. What do you choose
Remember
Your pin for later: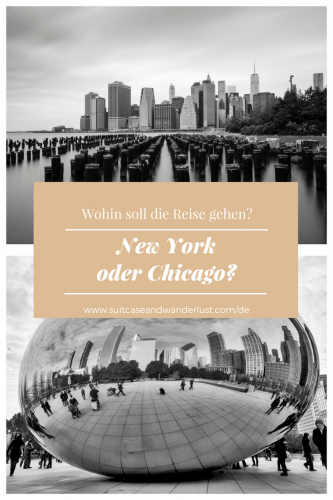 Remember
Remember
Remember
Remember
Remember