Isn't veganism very similar to Indian vegetarianism?
Interview: Vegan in India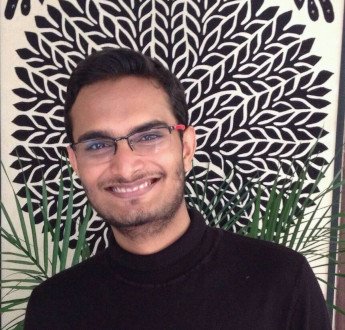 Vivek Venkatraghvan works as an activist for the animals in India. In an interview with us he reports about the vegan movement in his home country. Find out how vegan life is shaped in India and what innovative developments there are also in the business sector.
Many people in Europe believe that the majority of the population in India is vegetarian - after all, a large part of the population belongs to the Hindu faith, which worships cows and teaches not to harm animals. Is that really the case or is it a myth?
India is definitely a very vegetarian-friendly country. Many here grow up vegetarian and stay that way for their entire life. There are numerous vegetarian restaurants in most parts of the country. Meat is consumed a lot, but not as often as in Western countries.
Hindus who eat meat usually do not consume beef as cows are sacred. However, the worship ends right here. Most Indians cannot imagine a day without dairy products in their creamy coffees and sauces overloaded with butter. Leather shoes, belts and bags are ubiquitous. Accordingly, I think that most people don't eat beef just because of their upbringing and social pressures - and not because of real compassion for the animals.
How widespread is the vegan diet in India? Do you know how many people call themselves vegan there?
Veganism is a relatively new concept in India and not as well known as it is in the West. Although many people identify as vegetarians, milk is a staple in most Indian households. With the increase in animal rights campaigns and vegan-friendly shops, the situation is definitely changing rapidly. As people become aware of the cruelty in factory farming, many of them are switching to more compassionate lifestyles. As a result, the vegan community is growing daily and I can imagine that this lifestyle will be mainstream in a few years.
I don't know how many people call themselves vegan, but I guess there are a few thousand.
What are the main reasons for a plant-based diet in India?
In my opinion, ethical considerations are the main reason. Most people find the abuse of animals wrong and are appalled by the practices in the meat, egg and dairy industries. The health aspect also motivates some people to adopt a plant-based diet - especially those who practice yoga.
What is it like to be vegan in India? Has the situation changed in recent years?
It has always been very easy to be vegan in India! Vegetarian food is very common and most vegetarian dishes are either inherently vegan or can be easily veganized. Hence, eating out is not a challenge.
There are not as many completely vegan restaurants or restaurants that understand what "vegan" means as there are in the West. This situation is changing, however, because many new restaurants are being opened that are either completely vegan or clearly mark vegan dishes. Big cities like Bengaluru, Pune, Chennai and Mumbai are leaders in this field. Smaller cities like Coimbatore aren't far behind, however.
Vegan milk types such as soy milk or almond milk and also tofu are readily available in supermarkets - in addition to the usual vegan products such as fruit, vegetables, nuts, seeds, etc. However, certain vegan substitutes such as cheese or yogurt alternatives are not so easy to find in supermarkets.
Since most people are unfamiliar with the concept of "vegan", vegans are usually confronted with confused faces and questions. Most people believe that it is very difficult to be vegan and that you have to consume animal products to be healthy. Therefore, vegans spend a lot of time debunking common myths and answering questions.
Are there any vegan companies in India? If so, in which area?
With the growing awareness of the horrors of factory farming and the health effects of animal products, the vegan market in India is booming. In the past few years, several vegan restaurants and innovative companies have suddenly appeared. Most start-up companies focus on the food sector - mainly on producing vegan substitutes for curd cheese, cheese, ice cream and meat.
However, there are also innovations in other areas. "Monk Story" is a purely vegan brand for shoes and accessories in Chennai. At »Verdure« people can choose from a wide range of vegan fragrances. Innovations in this sector have increased dramatically in the last few years and I am sure that we are only seeing the tip of the iceberg at the moment.
What inspired you personally to choose the vegan lifestyle?
I live vegan because of my love for animals. I grew up vegetarian and have always been against animal abuse. I've always made it my goal not to harm animals. However, I wasn't aware of the atrocities in the dairy industry. When I learned of the horrors cows go through to produce milk for human consumption, I vowed never to touch milk again. Shortly after eliminating dairy products from my diet, I learned that veganism extends to much more than just food and stopped using any animal products (leather, wool, silk, etc.) and products from companies that test on animals. to use.
How do you contribute to the animal rights movement in India?
For me, one of the most effective ways to contribute to the vegan movement is through activism.
I am a member of the Tamil Vegan Movement, a group of animal rights activists in Chennai. We regularly hold events with which we create awareness about the horrors of factory farming and show the benefits of the vegan lifestyle. Our campaigns are usually well received by the public and have inspired some people to explore the vegan lifestyle.
Before moving to Chennai, I was a member of a similar animal rights group in Bengaluru, the Bengaluru Brigade for Animal Liberation. I'm also a mentor at Challenge 22+, an online forum set up by the Israel-based group Anonymous for Animal Rights. It supports people who want to eat vegan. This gave me the opportunity to accompany numerous people inside and outside India on their vegan journey.
Has the animal situation in India changed in recent years?
Animal rights in India have made tremendous strides in recent years. In June 2013, the Indian drug regulatory authorities imposed a ban on testing cosmetics and their ingredients on animals. This made India the first South Asian country to take such steps. This was followed by an import ban on cosmetics that were tested on animals.
If the results of animal tests from abroad are already available for drugs, they may not be tested again on animals in India. That was decided by the Ministry of Health and Family Welfare in 2016.
In recent years the number of animal rights activists and campaigns has also increased. Although we still have a long way to go, I believe we are going in the right direction.
Thank you for the interesting interview, Vivek! Finally, can you tell us your favorite dish?
My favorite dish has always been »dosa«, a South Indian pancake made from lentils and rice. Not only is it delicious, it's vegan too! Dosas are usually eaten with tomato or coconut chutney and a lentil-based sauce known as "sambar". The dosa is a very versatile dish and can be prepared in different ways. Here is the recipe for "Masala Dosa", a dosa with a potato filling and tomato chutney.
Masala Dosa
Ingredients:
For the dough:
1 cup of rice, regular
1 cup of rice, parboiled
1/2 cup lentils, black, split (urad dal)
1/4 teaspoon fenugreek seeds (methi)
Salt, to taste
Water, as needed
For the potato filling:
5 potatoes, boiled and chopped
11 curry leaves
1 tbsp chickpeas, split (chana dal)
3 onions, chopped
1/2 teaspoon mustard seeds (rai)
1 teaspoon cumin seeds (jeera)
1 chilli, green and chopped
1 teaspoon ginger, grated or finely chopped
2 tbsp coriander, chopped
1/2 teaspoon turmeric powder (haldi)
1 pinch of asant (hung), alternatively: garlic
3 teaspoons of oil
Salt, to taste
Water, as needed
For the tomato chutney:
2 tomatoes, small
2 onions, large
4 chillies, red
3 cloves of garlic
1 pinch of Asantee
Salt, to taste
Water, as needed
2 tablespoons oil
Preparation:
For the dough:
Wash both types of rice together in a sieve and then soak in a large bowl covered with water for about six hours. Do the same process with the Urad Dal along with the fenugreek seeds.
Put about 1 tbsp of the dal soaking water in a blender. Pour the soaked lentils (without any additional water!) From the bowl into the mixer with your hands. Mix until the lentils have a silky consistency. This may take several minutes. In the meantime, switch off the device briefly so that it does not overheat. While mixing, gradually add more soaking water - a maximum of 50 ml in total. The dough should be pourable, but not too runny. Pour the lentil batter into a large bowl.
Then pour 350 ml of rice soaking water into the mixer. Add the rice with your hands (as you did with the lentils). Mix again until the rice grains are finely ground and the dough is relatively runny.
Now add the rice dough to the lentil dough and mix well with your hands. Cover the dough and let it ferment for 9 hours.
For the potato filling:
First soak the chickpeas in hot water for 30 minutes and then drain and set aside.
Now toast the mustard seeds in a little oil. Add the cumin seeds and chickpeas and sauté. Then add the onions and curry leaves to the pan and fry until the onions are soft.
Stir in ginger, green chillies, turmeric and asant (or garlic). Then fold in the potatoes and salt to taste and fry everything for 2-3 minutes. If the mass is too dry, a little water can be added. Turn off the stove and finally fold in the coriander.
For the tomato chutney:
Heat the oil in a pan and fry the red chillies, garlic and onions until they are golden brown. Then add the tomatoes and fry until they are soft.
As soon as the mixture has cooled down a bit, puree it in a food processor and add asante and, if necessary, some water.
Serve as a dip with the dosas.
For the dosas:
Heat a non-stick pan to prepare the pancakes. Briefly remove the pan from the hotplate and place a small ladle of batter in the center. Using the ladle, spread the dough in circles from the center outwards to form a very thin pancake. Then sprinkle some oil over it. Bake over medium heat until the underside is brown and crispy. If necessary turn and bake the other side as well.
Put the potato filling on the pancake and close it. Leave in the pan for another 15-30 seconds and then serve hot.