Do you believe in confessing your sin?
Bible verses about confession of sin
«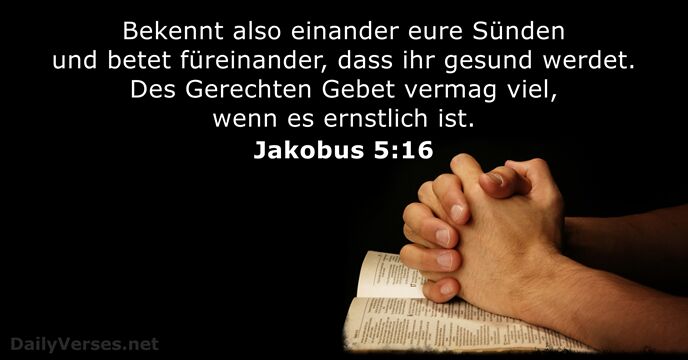 »
So confess your sins to one another and pray for one another that you will get well. The prayer of the righteous can do much when it is sincere.
But when we confess our sins, he is faithful and righteous to forgive our sins and cleanse us from all injustice.
Whoever denies his wrongdoing will not succeed;
but whoever confesses it and leaves it, will receive mercy.
That's why I confessed my sin to you
and I did not hide my guilt.
I said, I will confess my transgressions to the Lord.
You forgave me the guilt of my sin. Sela
So if it happens that he is guilty in one way or another, he should confess what he has sinned with.
Now repent and be converted that your sins may be blotted out.
For he who believes with the heart is righteous; and he who confesses with the mouth will be saved.
Because I wanted to keep it quiet
my bones withered away
through my daily moaning.
We have sinned, done injustice, been wicked and apostate; we have deviated from your commandments and rights.
For if you confess with your mouth that Jesus is Lord and believe in your heart that God raised him from the dead, you will be saved.
They are all sinners and lack the glory they are supposed to have before God, and are justified without merit by His grace through the redemption that came about through Christ Jesus.
Draw near to God, so he draws near to you. Purify your hands, you sinners, and sanctify your hearts, you fickle.
Fight the good fight of faith; take hold of eternal life, to which you are called and have confessed the good confession in front of many witnesses.
Whoever denies the Son does not have the Father either; whoever confesses the Son also has the Father.