Supports the Django REST framework SOA
We develope stable software for interesting problems and provide well-founded advice for complex processes. We do it, and we just believe those who say that pretty well.
Contact us!
A selection of further references

WECHANGE eG offers open source tools for collaboration between communities. Only proven open source technologies that meet the highest data protection requirements and are self-hosted are used.
Tasks / activities
Support with software development, connection of Nextcloud and ONLYOFFICE to the WECHANGE portal, setup and documentation of new servers for hosting Nextcloud
Technologies
Python, Django, Nextcloud, Docker, JavaScript, PostgreSQL, nginx, dmcrypt, borgbackup, PHP
Enno StrudthoffProject Manager WECHANGE Cooperative
"As the operator of an open source tool, the WECHANGE cooperative depends on reliable partners. With inoio we have found advocates of the open source idea who are at our side with words and deeds and are a very good fit for us personally and professionally. "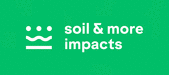 Soil & More Impacts GmbH is an agricultural consultancy with the aim of sustainable food production for all people. To increase their effectiveness and reach, digital tools for data collection and risk management were created.
Tasks / activities
Advice on digitization and entry into the market for digital services, setting up an internal development team, support with development.
Technologies
Python, Vue.js (TypeScript), Terraform, Google Cloud Platform, Serverless Infrastructure, ODK / Enketo, SCRUM
Tobias BandelOwner & Managing Director, Soil & More Impacts GmbH
"We wanted to tackle several construction sites at once: develop software, digitize our company and introduce agile working methods. Inoio not only supported us professionally but also with a lot of dedication and conviction in all 3 projects. "
Tomorrow offers a mobile checking account designed to support positive change for a better, more sustainable future. Tomorrow actively promotes climate protection, e.g. through the protection of the rainforest, or through an account option with which you can offset your personal CO2 footprint.
Tasks / activities
Increase in the degree of automation, support in software development, improvement of agile work processes, introduction of a distributed, microservice-based architecture, establishment of an architecture board with procedures for cross-team decisions, moderation, advice on the organization of development teams
Technologies
Post-Its, Java, Kotlin, Spring Boot, PostgreSQL, Kafka, Docker / Kubernetes, AWS, Continuous Deployment, SCRUM
Breuninger has redeveloped the web shop as part of a multichannel and personalization initiative. Breuninger chose Self Contained Systems as the architectural principle.
tasks
Development support in various domains (start page, search and category pages, product recommendations, data take, provision of structured data for analysis purposes, machine learning, AI). Training / development of internal employees. Support and advice on architectural issues.
Technologies
Python, Scala, Akka, Google Cloud Platform, AWS, Terraform, Kubernetes, Continuous Deployment, Agile development with SCRUM

Risk.Ident offers software products for the detection of online fraud through the automated evaluation and interpretation of data points. Results are delivered in real time, making it possible to stop fraudulent attacks before damage is done. Industries: E-Commerce, Finance, Telecommunications & Banking.
tasks
Managerial functions in the areas of architecture, conception, project management and development. Support of several teams in different products in the areas of development, DevOps and continuous deployment. Ensuring high availability, performance and stability. Moderation and optimization of the development process.
Technologies
Scala, Play! Framework, Akka, Akka HTTP, Cats, MongoDB, Postgres, Scrum, Kanban, Kubernetes, Continuous Deployment, Zero-Downtime-Deployment, ElasticSearch / Kibana, Grafana
Piet MahlerCEO & Managing Director, Risk.Ident GmbH
"Inoio has been a valuable and reliable partner for us for many years. In addition to all kinds of expertise in various areas of software development and operation, inoios are above all one thing: great team players with whom we enjoy working. "
Galeria Kaufhof has redeveloped its multi-channel online platform galeria-kaufhof.de. The focus was not on standard software, but on an individual in-house development with a modern, scalable architecture based on self-contained systems.
tasks
Development of the domains "EXPLORE" (start page, teaser & recommendations) and "SEARCH" (product search & navigation) with one development team each. Training / development of the internal Galeria Kaufhof employees. Support and advice on architectural issues.
Technologies
Scala, Play Framework, Akka, HTML5 & Responsive Webdesign, Cassandra, SolrCloud, Continuous Deployment, TDD, Agile Development with SCRUM
Hansjörg BauschCIO, Galeria Kaufhof GmbH
"Inoio gave us excellent support with the relaunch of our online platform at Galeria Kaufhof, so that we were even able to go live earlier than planned. They made a great impression on us with their above-average commitment, extensive expertise and the high quality of the solutions developed. "

In the LHOTSE project, the Otto GmbH & Co KG web shop was developed from scratch as part of an individual development.
tasks
Planning and implementation of user stories for the shop configuration backend as part of Scrum.
Technologies
Java, SOA, MongoDB, Wicket, Spring, Scrum, TDD

The shopping24 internet group operates the social commerce platform smatch.com, which makes the products of over 700 online shops available via a product search.
tasks
Support in the further development of the import and the aggregation of article data, further development of the product search and the REST API, JVM tuning, performance analysis / tuning PostgreSQL, analysis / optimization of front-end performance.
Technologies
Java, Hibernate, Spring, Spring-MVC, Solr, PostgreSQL, MongoDB
Torsten Bøgh KösterCTO, shopping24 internet group
"The guys bring solid programming skills, a wealth of framework experience and a lot of knowledge of high-load web applications to projects and are fully productive from the first moment. "