Someone regrets receiving the CFA
U20 dispute: CFA regrets "untrue communication" from Germany
The Chinese Football Association (CFA) said on Wednesday that it regretted the "untrue message" from the German Football Association (DFB). He had said that the suspension of the controversial U20 friendlies had been decided by both sides.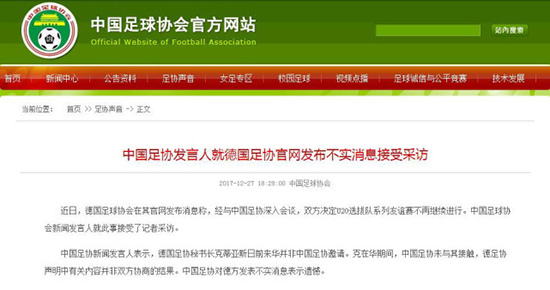 The opinion of the Chinese Football Association on its official website
"The German Football Association (DFB) recently announced that after talks with the CFA, both sides had agreed to cancel the U20 friendlies," wrote the Chinese association in a statement published on its official website no result of negotiations. The CFA regrets the untrue reports from the German side. "
The DFB made its statement on Friday that a series of friendly matches between the Chinese U20 teams and the teams from the Southwest Regional Department would not continue in accordance with the agreement, according to Reuters.
The Sino-German friendlies have become a controversial topic after Tibetan separatists waved flags, disrupting the first of a series of matches on November 18.
The game was then canceled and the Chinese team left Germany in protest. China believed that the incident had harmed the interests of the state. Germany, on the other hand, refused to guarantee that such incidents would no longer occur in the future.
According to a report by Deutsche Welle, DFB General Secretary Friedrich Curtius traveled to China over the Christmas break to talk about the future of the U20 friendlies. However, the CFA denied that Curtius was invited by the Chinese association. Nor did she make any contact with the German representatives.