When and how did Israel occupy Jerusalem
Riots rock the Temple Mount in Jerusalem
More than 200 Palestinians were injured in riots on the Temple Mount in Jerusalem's old town, the Red Crescent reports. At least six Israeli police officers were also injured.
Following the evening prayer, for which tens of thousands of Muslims had gathered at the holy site, hundreds of people threw stones, bottles and other objects at the officials. The police blocked the entrances to the Temple Mount and the Damascus Gate to the Old City and used rubber bullets and stun grenades against the crowd in front of the Al-Aqsa mosque. Smoke rose over the old town.
At the same time, Palestinians and activists took to the streets again in the Sheikh Jarrah district. They protested again against the planned eviction of the houses of Palestinian families in the eastern part of Jerusalem, which Israel had occupied in the Six Day War in 1967 and annexed in 1980. The annexation is not recognized internationally. Police broke up the rally after participants threw stones. Two people were arrested and two others were wounded by stun grenades.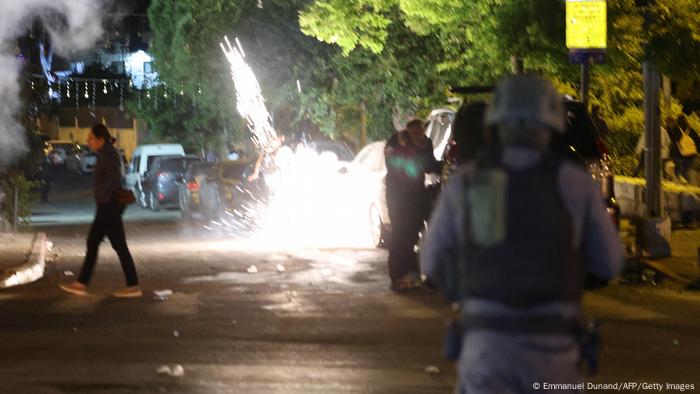 Riots in the East Jerusalem district of "Sheikh Jarrah"
Lengthy litigation
Earlier this year, the Jerusalem District Court ruled that the homes of Palestinian families rightfully belong to Jewish families. Under Israeli law, Jewish Israelis can claim ownership of houses in East Jerusalem in court if their ancestors owned land there prior to the Arab-Israeli War (1948-49). For Palestinians, who also lost their property as a result of the war, there is no corresponding law.
The United Nations called on Israel "to immediately cancel all evictions". East Jerusalem is "part of the occupied Palestinian territory, in which the humanitarian law applies," said the spokesman for the UN legal office, Rupert Colville. "The occupying power cannot confiscate private property in occupied territory."
Concern in the US
The US expressed "deep concern" about the situation in Jerusalem. The Foreign Ministry called for "de-escalation" and warned of steps that could worsen the situation. The ministry was referring to evictions and Israel's settlement activities.
The Palestinian leadership blamed Israel for the escalating violence. A continuation of the Israeli occupation would only exacerbate tensions and result in a dangerous escalation, said Palestinian President Mahmud Abbas.
The status of Jerusalem is one of the central issues in the Middle East conflict. Israel claims Jerusalem as "the eternal and indivisible capital" for itself. The Palestinians, for their part, hold
to their claim to East Jerusalem as the capital.
kle / haz / mak (kna, afp, ape, rtre)