Which book is good for python
Python course
Book tips on Python
Getting started with Python 3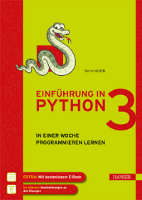 This book is the book of the author of this website. If you like the tutorial on this website, you will really like the book, because there the individual chapters of the online tutorial have been expanded and provided with additional exercises and tasks. The blurb of the book: "The book is intended to provide a comprehensive, practical overview of program development with Python. At the same time, essential concepts of algorithm development are explained. Particular attention is also paid to problem-solving approaches, e.g. 'step-by-step refinement'.
As a reader of the book, the author has his sights set on novice programmers, but it should also be of interest to experienced programmers of other higher programming languages. Complex issues are explained in a generally understandable manner with pictures, diagrams and suitable code examples.
In the course of the book, the executable code examples are brought together in a targeted manner to form larger, practical units in order to then flow into two or three large programs, such as an automatic document classification that is able to assign documents to specific classes.
Each chapter consists of two layers: Basic examples for everyone and more advanced, more complex examples for specialists. "
Hardcover: 427 pages
Publisher: Carl Hanser Verlag GmbH & Co.KG (July 4, 2013)
Language: German
ISBN-10: 3446435476
ISBN-13: 978-3446435476
Getting started with Python 3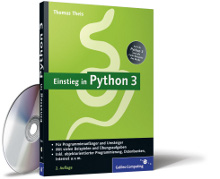 A book that is primarily aimed at those who want to learn Python. It is interesting that the author Thomas Theis introduces Python using a game and continues to expand this example over the course of the book. There are also advanced topics in the book, such as Internet programming, as well as database and interface programming.
Blurb:
"Would you like to learn Python? You can do it with this book! Our author Thomas Theis first teaches you the necessary basics in a programming course based on the development of a small game. In the further course of the book, the game is continuously expanded, including more advanced topics how you will get to know user interface, database and internet programming. Of course there is also a chapter on object-oriented programming. Even if you do not have any programming knowledge, you will be able to get started with Python with this book in the truest sense of the word! "
Details about the book:
Getting started with Python 3
Thomas Theis
399 pages (bound)
in German
ISBN-10: 3836214067
ISBN-13: 978-3836214063
Python, Introduction to Programming and Math Applications

This book by Hans-Bernhard Woyand is aimed at programming beginners, i.e. those who do not yet know any programming language. This textbook for Python can also be recommended to programmers of other programming languages ​​who would like to get started with Python. It should be of particular interest to students of scientific and engineering courses, as well as to working engineers. The book impresses with numerous examples and tasks with detailed solutions that were created as part of Hans-Bernhard Woyand's teaching activities at the University of Wuppertal.
In addition to the basics of Python, the book deals intensively with numerical applications with the Numpy module and graphical representations with Matplotlib. The chapter on computer algebra with Sympy should also be of particular interest to mathematicians.
Details about the book:
Python: Introduction to Programming and Math Applications
Hans-Bernhard Woyand
264 pages
in German
ISBN-10: 3935340737
ISBN-13: 978-3935340731
Python, the comprehensive manual

One book that we can recommend without any ifs or buts is the book with the title "Python, The Comprehensive Handbook" published by Galileo-Verlag.
This book offers a comprehensive and easily understandable introduction to the Python language, which shines with many explanatory examples. There are also many additional chapters on additional topics such as GUI development, web programming with Django or network communication.
In principle, this book is suitable to enable someone to use Python professionally after reading it. The book does not require any prior knowledge: the simplest programs lead you systematically to more complex applications. All in all, it is a practice-oriented book with depth, which is ideal for learning but also for looking up.
Details about the book:
python
Peter Kaiser and Johannes Ernesti bound, with CD
819 pp., 39.90 euros
Galileo Computing
ISBN 978-3-8362-1110-9
Introduction to Python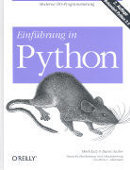 Anyone who knows O'Reilly-Verlag knows that almost all books from this publisher guarantee high quality. This book, "Introduction to Python", written by Mark Lutz and David Ascher, is no exception. In the blurb it says:
"Google does it, YouTube does it, Zope and NASA do it - they use Python. And of course not without reason! Python is portable, open source, modern, object-oriented, with a lean language core and at the same time a powerful library. For beginners, however Yet another decisive advantage: Python, with its clear syntax and easy-to-read code, makes it easier to get started than most other languages. The second edition of "Introduction to Python" is the ideal companion for getting started. Mark Lutz and David Ascher have theirs Readers from the basics of program execution through the individual language elements and object-oriented concepts to more advanced topics such as exception handling and Python frameworks. A systematic round trip The two authors are not only well-known Python experts, but also experienced trainers who know how to work with Newcomers bypassed various cliffs of understanding and systematically turned them into real kings makes. All theory is gray. In each chapter, numerous examples illustrate the concepts and features presented; in the exercises at the end of the chapter you can put your newly acquired skills to the test. Python 2.5 can do even more This book covers the current version 2.5 with all its improvements and enhancements. "
Details about the book:
624 pages
O'Reilly; Edition: 2nd edition. (2007)
ISBN-13: 978-3897214880
However, if English is not a problem for you, we recommend that you take a look at the English version of the book. "Learning Python" by Mark Lutz was published on October 31, 2009 in the fourth edition. On the one hand, this book, with its 1212 pages, goes far beyond the needs of beginners; on the other hand, it also goes into the differences to Python 3.
Details about the book:
O'Reilly Media; Edition: 4th edition. (October 31, 2009)
ISBN-13: 978-0596158064
Dive into Python

Actually we wanted to concentrate mainly on German books on this website, but "Dive into Python" by Mark Pilgrim is a book you should definitely have if English is not a problem. The book is didactically very well written and is based on many useful and above all well-documented examples. However, this stream is not for programming beginners. Rather, it is aimed at readers with programming experience but not necessarily in Python.
The best thing about the book: If you want to look at it before you buy it, you can download it for free: "Dive into Python" -Download
Details about the book:
413 pages
Apress-Verlag, 2nd edition, 2004
Language: English
ISBN: 978-1590593561
A byte of Python
This book is also not in German. It is also only available in English, but available as a free download: Swaroop CH wrote a book that deals with both a general introduction to programming and an introduction to Python. It is aimed specifically at beginners with no programming experience. All further information, including versions for download, can be found on the Swaroop website.
Python, basics and practice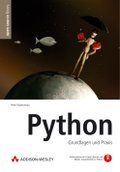 The book "Python" by Peter Walerowski has a rather modest volume compared to the two books discussed above, i.e. only 336 pages instead of the 819 pages in the book by Kaiser / ERnesti, for example. Of course, the number of pages alone says nothing about quality, but when you consider that the Kaiser / Ernesti book contains 819 pages of the highest quality, this is hard to beat. Nonetheless, Walerowski's book also impresses with its easily understandable style and successful examples.
Blurb:
The first part of the book provides a comprehensive introduction to the concept of Python. Syntax, data types, control flow, functions and object-oriented development are explained using examples. The second part is devoted in detail to practical fields of application. Working in the system environment, graphical user interfaces, working with databases, Internet programming and web applications are the topics here.
Details:
336 pages
Addison Wesley Verlag, 12/2007
ISBN-13: 9783827325174
Python for kids
Another introduction to Python. This time, however, a book that is aimed specifically at children or, better yet, young people from the age of 11 as a target group. Even if the picture on the cover may put off potential adult readers, you shouldn't be fooled. This book has it all and offers adults valuable content as well.
Books that teach children to program are seldom found and so this book by Gregor Lingl can be considered a stroke of luck.
This book is also very useful for parents and teachers who want to teach children how to code.
Details about the book:
432 pages
Vmi book; Edition: 3rd A. (2008)
ISBN-13: 978-3826686450