Why is junk food being marketed as healthy
When the necessary inhibitory processes in the brain no longer work, young people in particular run the risk of repeatedly making the wrong dietary decisions.
Fast food chains advertise specifically for children and young people
According to the American Federal Trade Commission (FTC), fast food companies spend about $ 1.6 billion annually to market their products to teenagers.
The predominant medium for the marketing campaigns is television. Politicians are increasingly critical of the influence of fast food providers on the nutrition of adolescents in view of the health misery in industrialized nations.
In order to anticipate regulatory measures by the American government with a voluntary commitment, 14 large food manufacturers joined forces in 2006 (including Coca-Cola, Kellogg's). This coalition committed itself to reducing marketing measures aimed at children and young people.
The most urgent recommendation of the committee is that all food and beverage manufacturers should adopt certain nutritional standards for products that are primarily aimed at young people,
said Lydia Parnes, director of the Bureau of Consumer Protection, at a press conference.
What the FTC initially rated as a positive first step by the industry's own coalition in the direction of nutrition education has a bland aftertaste, however. Critics of this initiative for self-regulation ask the legitimate question what the coalition explicitly understands by nutritional standards.
The definition of advertising is also not clear enough to protect children and young people. Robert Kesten, director of the Center for Screen-Time Awareness in Washington, which tries to limit the influence of the media, criticized the New York Times:
In the 'Better Business Bureau' program, the participating companies decide for themselves what 'better' foods are. They also decide on advertising guidelines for children and young people. Manufacturers are therefore solely responsible for defining these key factors.
As parents, our only option is to raise our children's awareness of advertising practices. Since bans are particularly appealing to young people, alternatives should be offered instead.
Set by example, and get creative with your children. A quick meal doesn't have to be unhealthy or boring!
Read also: Healthy Eating in Kindergarten
donation
Your donation helps us
If you enjoyed this article, we would appreciate a small contribution to our work! Donate now with Paypal.
display
Distance training to become a holistic nutritionist
Are you interested in what's in our food and want to know how nutrients and vital substances affect the body? Do you want a healthy life for yourself, your family and fellow human beings? Nutritionists are popular - but the holistic aspect that is needed for sustainable health is often forgotten when giving advice. At the Academy of Naturopathy, you will get to know the connections between lifestyle and diet as well as physical and psychological well-being.
That educates interested people like you in around 16 months to become a holistic nutritionist out.
Is this article worth reading?
Share this article
swell
Fast Food Logos Imprinted On Kids Brains, Study Finds The Huffington Post 2012
"Fast Food, Child Abuse? British Politician Chris Brewis Says Yes The Huffington Post 2012
"Fast-food logos are branded on young brains: study Business Standard 2012 (Fast-food logos are branded on young brains")
Clifford S., "Tug of War in Food Marketing to Children The New York Times 2008
Huff EA., "Studies show junk foods change brain chemistry and are addictive like cocaine Natural News 2011
Notice on health issues
This information is passed to the best of my knowledge and belief. They are intended exclusively for those interested and for further training and are in no way to be understood as diagnostic or therapeutic instructions. We do not assume any liability for damages of any kind, which arise directly or indirectly from the use of the information. If you suspect illness, please consult your doctor or alternative practitioner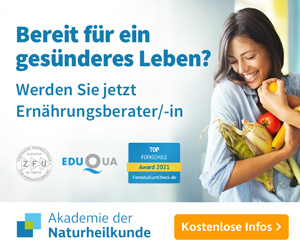 Subscribe to Newsletter
Exciting information about health and nutrition
1x per month
Login Successful. You will shortly receive a confirmation at the specified email address.
With your registration you allow the regular sending of the newsletter and accept the data protection regulations.
HEALTH CENTER © 2021 Neosmart Consulting AG. All rights reserved.