Can you tell me about business studies
We asked foreign specialists what annoyed them about Germany
Migration is probably the solution to our problems, at least that is what a new study by the Bertelsmann Foundation says. Germany will need more than a quarter of a million immigrants every year by 2060. Because not enough people come from EU countries, Germany needs around 146,000 migrants from non-EU countries every year.
The fact that we Germans are getting older and the workforce is dwindling is not brand new news. Nevertheless, there is a lack of foreign skilled workers who consciously come to work and not out of necessity. Is it because of the German bureaucracy? In terms of visa requirements, the employment office, a lack of career opportunities? We asked five immigrants what annoyed them about Germany and why they wanted to stay or leave.
Karima, 29, engineer: "Many Germans don't want to speak English"
Karima was born and raised in Saudi Arabia, but has Bangladeshi nationality. She came to Germany to study almost four years ago
VICE: Do you feel needed when you hear that Germany needs around 146,000 foreign skilled workers every year?
Karima: This is the first time I've heard of this exact number, but yes, it makes me feel needed here in Germany. But I was also drawn in by the impressive German technology. Abroad, Germany has the status of a center for engineering. I did my master's degree at the University of Bremen for the past three years and am now an electrical and computer engineer. I've only been looking for a job for two weeks, so I still don't know what my chances are.
What annoys you most about Germany?
I have the feeling that many Germans do not want to speak English or feel very uncomfortable with it. In my first semester at university, my German wasn't strong enough to be able to express myself properly. I took part in a workshop that was held in German and I had a lot of trouble getting into a team because nobody was willing to even speak a word of English to me. I was hoping a middle ground could be found, but it wasn't. I went through the day anyway, but after that I didn't feel like taking part in other workshops.
Are you stressed by the German bureaucracy?
No, I really appreciate her. I like the system, even if it feels a bit inefficient and slow at times. I'm more stressed that you put a picture of yourself in your résumé. First impressions should be based on my skills, qualifications and experience, not the color of my skin. People form their image of you directly through the photo and approach you with these expectations. It would be better to avoid prejudice in this way. The academic sector is very welcoming in Germany, but it feels like international workers are only getting very special jobs. This sometimes distorts my image of Germany as a dreamland.
Ashiq, 37, director and musician: "The visa process is human error"
Ashiq comes from a Bengali family, was born in the USA and grew up in Singapore. He studied documentary film and new media in New York and Amsterdam. He has lived and worked in Berlin since 2013
VICE: Did you come to Germany because jobs attracted you?
Ashiq: Yes and no, I actually went to visit friends in Berlin, but found a number of artistic projects and amazing people to work with. I stayed for the jobs, not because of that.
What are you not celebrating in Germany?
How uncomfortable some things are. When I lived in New York or Singapore, I didn't have to plan my grocery shopping for Sunday. And when you drive over the city limits of Berlin, it becomes extremely provincial. Racism and xenophobia are increasing there. I have to be especially careful when I leave the artistic bubble of Berlin and travel elsewhere through Germany. Unfortunately, this shit has increased globally, it's not just a Germany thing.
What negative experiences did you have with it?
I've been attacked by neo-Nazis three times since I've been in Germany. Once a two-meter giant called me at a party as a "gay n ****", whom he wants to hunt and kill until five security guards were able to hold him back. In Berlin-Neukölln, an antisocial asshole pulled my friend's hair and wanted to steal his bike. When I tried to help, he bit my shoulder. When I was on the train to Poland the last time I was attacked verbally and physically and no one on the train made any move to help me. That was the loneliest and most terrible feeling I have ever had.
How stressful are visa questions or offices?
As an American, I'm pretty privileged here. But I assume that my skin color is one reason I only get one-year visa extensions all the time. The office absolutely has to catalog everyone and then you are only allowed to work in this area - me as an artist. Less qualified white friends from the US got three-year visas with no questions asked. Every year I have to go through the same cycle of ignorance and stress, collect all the bureaucratic stuff and prove that I am a worthy person for this society.
What I find most blatant are these interior ministry billboards at subway stations that urge foreigners to go home - they make you feel even less welcome or needed. Despite Germany's notoriously correct bureaucracy, there is plenty of room for human error, like in the visa process. Why can't it be fairer like the Canadian points system? That would maybe eliminate all stupid NPD and AfD assholes. And although it all sounds negative, I like the laws here and that's why I want to stay. There's a better legal understanding of human dignity here that doesn't exist in the United States.
What do you think of people who say you're taking their job away from them?
"Read a damn book, you idiot!" As we should all know, every damn economic study ever done has shown that migrants boost the local economy, tend to have disproportionately stronger work ethics, and do NOT increase the crime rate.
---
Also at VICE: Undercover with migrants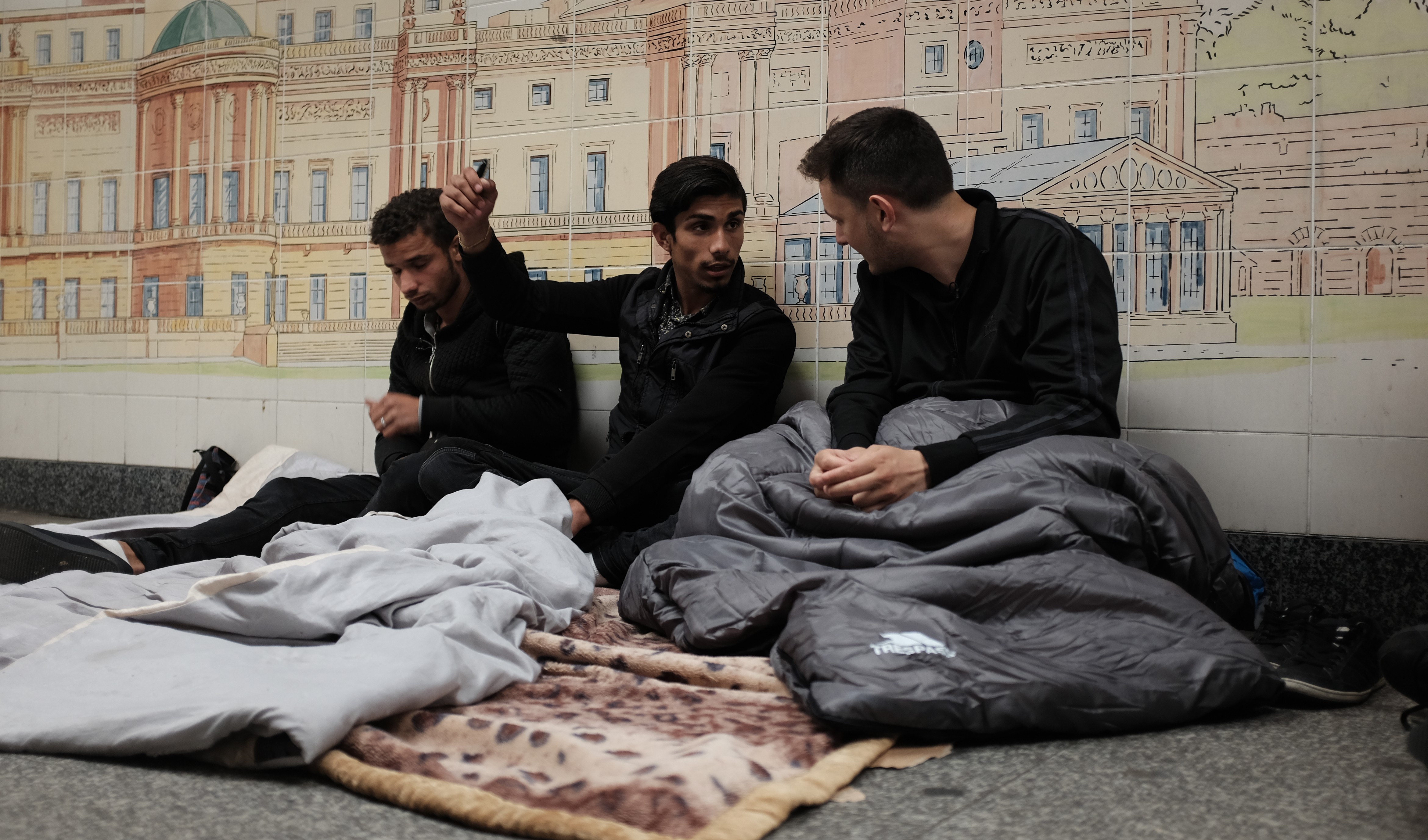 ---
Ewa, 34, lecturer: "The job offers are racist"
Ewa would rather not show a photo of herself. She currently lives in Glasgow, Scotland, and comes from Poland. She came to Bavaria to study in 2004 and left four years later
VICE: Is there anything about Germany that annoys you?
Ewa: Nothing annoys me, there are more things that I don't know whether to laugh or cry about. I was brought up in such a way that people are not judged by race, nationality or job status and that everyone is respected. As a student, I needed a part-time job. I wanted to be a waiter, it was the easiest to get and works well when you study during the day. So I distributed my résumés around town. A waiter told me they wouldn't hire me because the restaurant people don't want you to be served with a foreign accent. Strangely enough, he also had a Polish accent. But also a German passport, which probably made the job possible for him.
Is that why you didn't stay here after graduating?
My mother also came to Germany to look for work. That was even more catastrophic. The owner of a restaurant just told her to her face that she had to sleep with him to be able to work there. Of course she decided against it. I don't remember whether the office had made any suggestions, but the only option was to work as a cleaning lady in a cleaning agency. I think that's racist.
Do you think Germany still offers better career opportunities than other countries?
Instead of a career, I would rather have an honest job where I am not pressured to work for free and sex is not required in return. And that wasn't the case here.
Chris, 28, project manager: "Actually just the weather and the grammar"
Christian comes from Barranquilla on the Colombian Caribbean coast. He has lived in Bremen for ten years
VICE: Did you know that Germany needs over a hundred thousand immigrants every year for the job market?
Chris: To be honest, no. What is new to me, above all, is that people from non-European countries are explicitly needed. It doesn't necessarily make me feel more needed or even more responsible for doing my job well and not vacating another position. Because the international background and my network are particularly important in my work.
Is something annoying you about Germany?
The weather, of course. And German grammar can be annoying at times. It's hard to say what exactly bothers me about the country, it's the treatment rather than the culture. I hate being prejudiced, or when people think I don't understand German just because I'm a different skin color. But that will happen to everyone who lives in a foreign country.
How easy is it to work as a migrant in Germany?
I am very happy and have not suffered from the struggle for a job. In research, everything is very flexible and there is always an international working atmosphere. The most important thing is to integrate. This means that you have to be open to Germany and learn the language. But you don't have to forget your own culture.
What would you like to say to people who say migrants are stealing other jobs?
That this statement is complete bullshit. I learned here that everyone who applies for a job must have certain qualifications. It is important what you can do, not who you are. I mean, you don't get a job as a cook if you can just make a sandwich.
Ingrid, 34, scientist: "The German mentality is old-fashioned and sexist"
Ingrid doesn't want to be recognized. She comes from Bogotá, Colombia, and came to Germany in 2013 to do her doctorate in natural sciences. Today she lives in Hamburg
VICE: What annoys you about Germany?
Ingrid: The same thing that annoys me everywhere: sexism. Here in Germany it has a very insidious aftertaste. People believe in traditional gender roles and women are expected to put their motherhood above their careers. At least that's what I've seen at work. While there are many policies, laws and programs that aim to achieve equality, many feel that this is compelled because the mentality of the people is very old-fashioned. Such guidelines make people feel like they don't need to question their own sexist behaviors and thoughts. For example, in the STEM field, it is always said that more women should come - but there are few who really work in scientific fields. But at least you get a real employment contract with social benefits and vacation entitlement.
Have you had negative experiences with Germans?
When I worked here, there were only a few women in managerial positions. I was often the only woman in meetings. Once I was out with seven male colleagues and when they talked about women they quickly became self-indulgent and objectified everything. I couldn't stand it and I told them: We are no longer in the Middle Ages, stop talking about women as if they were objects! The head of department who was there told me very aggressively that you can say anything you want in Germany and that he has no obligation to be politically correct. I should be grateful not to have been raped in this country. I couldn't believe what was happening and saw if the other guys were outraged. But they all looked away!
Imagine if the whole of Germany would listen to you for a moment: What would you like to get rid of?
Accents, gender and origin are used here to classify people into categories. The categories determine how people are treated and how much respect they get. This has profound psychological consequences for us and also hampers professional performance. Treat everyone with respect and remember that everyone can be a brilliant and competent person - no matter where they were born, what gender they are or how well they speak German.
Follow VICE on Facebook, Instagram, and Snapchat.
Get the best of VICE emailed to you every week!
By subscribing to the VICE newsletter, you consent to receiving electronic communications from VICE, which may contain advertising or sponsored content.