What stocks do insiders buy
Shares: what is insider trading?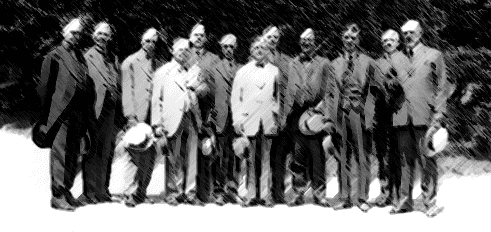 When is insider trading allowed and when it is illegal
📖
By Armin Moghaddam: stock market expert & trader
Updated on
Employees and board members of stock corporations often invest in their own company on the stock exchange.
With the help of a few examples and cases, you will now learn when this is illegal insider trading and what penalties there have already been.
Insider trading definition
The use of price-relevant information for stock exchange transactions that were previously only known to insiders. Insiders are all people who can get hold of a company's secret data.
Insider trading does not necessarily have to involve employees of the stock corporation!
Anyone who happens to come across non-public information (e.g. through acquaintances) that will influence the share price can use it to engage in insider trading.1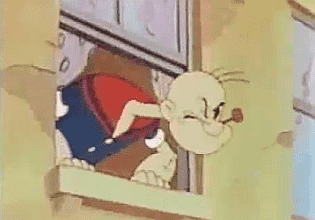 "If I trade insiders outside, am I an outsider trader?"
(Image from old Popeye comic "Quiet! Pleeze" 1941, public domain)
Translation of the term
The English term "insider trading" is also often used in German, it literally means "member trading" or "initiated trading".
But the word "insider" has already caught on in German.
Occasionally the term "insider dealing" is also used, the word "dealing" means "doing business" or "trading".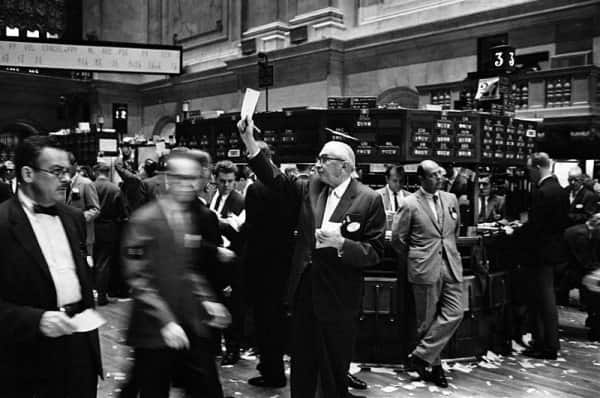 Not every trade by insiders is illegal. The picture shows traders on the New York Stock Exchange, 1963. (Image source: Library of Congress, public domain)
Legal insider trading by employees
Insider trading is not generally prohibited or punishable. Insider trading is permitted if employees register and thus publish their stock exchange transactions. In this legal insider trading, however, no inside information may be used.
What does that mean?
For example, a board member may not enter into insider trades on this information prior to an important merger that is not yet publicly known, even if he or she properly reports it.
Of course, it is difficult to prove whether insider trading was only carried out because of secret price-relevant information, which is why the investigations by the securities supervisory authorities (BaFin) are often inconclusive.
Which employees are considered insiders?
Insiders are high-ranking employees of a (mostly listed) company. When these employees buy or sell the shares in their stock corporation, this is known as insider trading. Such activities must be registered.
In Germany, an insider is anyone who has price-relevant information that has not yet become public.
A distinction is made between primary insiders and secondary insiders.
The former are company stakeholders such as employees, board members or important investors who have a stake in the company's capital. Tax advisors and lawyers are also included.
Secondary insiders are not directly involved persons who have received this information from the primary insiders.
Insider trading is a good indicator of what the major players in an AG think of their own company. If the boss buys masses of shares, then he is obviously convinced of good prospects. If, on the other hand, he sells regardless of losses, then things may not look so bright in the future.
Insider trading usually only plays a role in long-term investments; in the short term, trading can go against the insider trend for months, sometimes for years.
In case you are ask the question as a normal employeewhether you are insider trading, trading your company's stock or selling your employee stock, then you needn't worry.
As a normal employee you are not considered an insider, unless you get price-relevant inside information.
Only decision-makers on the board of directors have to register the trades, and in addition, only persons who have access to important, secret price-sensitive persons are considered to be primarily suspicious persons.2
These are Tax advisors, legal advisors, lawyers and other financial advisors.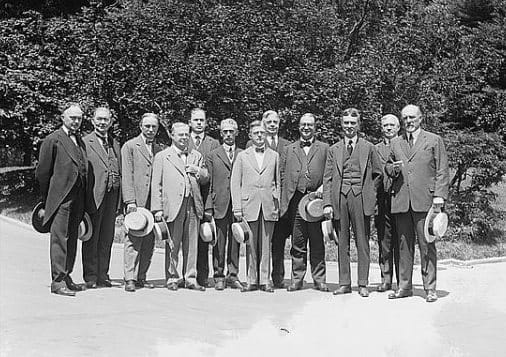 External lawyers can also be considered insiders. The picture shows lawyers and bankers from 1921.
(Image source: Library of Congress, public domain)
Don't forget that basically everyone as an insider trader can be punished if he somehow gets secret price-relevant data and uses it to conduct stock market transactions.
What is inside information?
Only information that is not made available to a broad group of the public is considered to be inside information.
If you receive an ad-hoc message by email in your company, this is not secret information, as ad-hoc messages are made public.
However, if you are the one who writes this report and uses explosive information from it before it is published, which will be highly price-sensitive, then this is insider trading.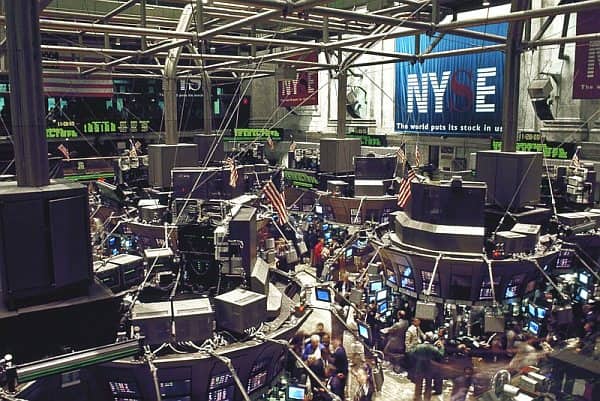 Inside information probably plays a major role on the trading floor.
(Image source: Library of Congress, public domain)
Examples of inside information
The most significant inside information is extremely important corporate events that will have a massive impact on the share price. These would be, for example, takeover bids, bankruptcy applications or important personnel changes on the board of directors.
Takeover bids
Bankruptcy filings
Personnel changes in the board
technological developments
Inside information can also affect business operations, such as research breakthroughs or the development of a new technology.3
Example: The lawyer as an insider
There are many examples of insider trading, but let's take a simple case as an example:
A lawyer is consulted by a pharmaceutical company about an upcoming press release. It's about a huge profit warning due to a large number of orders.
What happens now
The lawyer is of course clever, sells all his shares in this company and, as a good husband, even tells his wife, who also promptly sells everything.
The next day the profit warning comes out, stocks are down 35% and the two have saved a lot of losses through insider trading.
Just an unrealistic example?
Unfortunately not, this is just one of the 2014 cases the SEC has been pursuing. The two spouses were fined a total of $ 90,000, saving only $ 45,000 in losses.
In addition, the husband has agreed not to appear before the SEC as an attorney for a publicly traded company.
This example is emblematic of insider trading. Often it is not even about employees of the company, but casual acquaintances or even craftsmen who casually receive a tip from an insider at work.
The investigation is difficult.
How can you prove that a plumber bought the shares of a company before an important press release, just because he had cleaned the bathroom of a board member shortly beforehand?
The purchase can be tracked, but how is the regulator supposed to prove that he got information from the plumber?
Most of the illegal insider dealing is likely to remain hidden. If you don't gossip and do something cleverly, you will probably not attract attention. In addition, the penalties are laughable in my opinion.4
The sentences are rare and too short. The fines are hardly higher than the profits from insider trading.
The securities supervisory authority sees itself on the right track, but admits a number of unreported cases.5 I estimate that due to the difficult circumstances of the investigation, there is unfortunately a very high number of unreported cases.
Insider trading penalty
Insider trading is a criminal offense in Germany. According to Section 119 of the Securities Trading Act, he can be punished with up to 5 years imprisonment or with fines.
Paragraph 3 refers to the EU's Market Abuse Regulation (MMVO), which was passed on April 16, 2014. It came into force on June 12, 2014.
Quote:
With this regulation a common Legal framework for insider dealing, the unlawful disclosure of inside information and market manipulation (market abuse) and measures to prevent market abuse in order to ensure the integrity of the financial markets in the Union and to strengthen investor protection and confidence in these markets.
Up to 10 years imprisonment it can even happen if someone commits these acts commercially in a gang or in an activity with a financial supervisory authority, stock exchange or broker.
Germany: Insider trading in the WpHG
In Germany there are strict rules that prohibit insider trading.
Paragraph 38 of the Securities Trading Act (WpHG) states that any use of inside information for stock trading is prohibited. It is not only prohibited to trade on your own account, but also to pass on secret inside information that could be used for trading.
You must not leak such information to anyone else, and you must not recommend that anyone buy or sell shares on the basis of inside information.
Parts of the WpHG have become obsolete with the introduction of the Market Abuse Regulation, and the rest has been adapted to the European MMVO by the German legislator.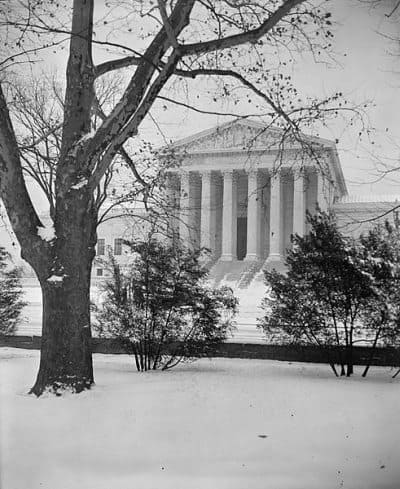 Even the US Supreme Court has had to decide many insider trading proceedings.
(Image source: Library of Congress, public domain)
Insider trading in the StGB (criminal law)
There are two paragraphs in the Criminal Code (StGB) that apply to the stock market, but neither has anything to do with insider trading.
Section 264a of capital investment fraud deals with incorrect, advantageous information in connection with capital investments. And of course, Section 263 Fraud, which is about fraud in general.
Both can play a role in the context of insider trading investigations, but insider trading is regulated separately from criminal law in the WpHG and MMVO.
Previously imposed penalties for insider trading cases
There have been a number of final convictions against insider traders. Most of them were in the United States and England.
But even in Germany, insiders have already been brought to court and punished.
Here some examples:
In 2017, of all people, the head of the German stock exchange, Carsten Kengeter, made a payment of 5.5 million euros forced to stop the investigation into possible insider trading.6
So there was no trial in this case.
He allegedly bought tons of stocks in connection with the merger with the London Stock Exchange before this information was made public.
In one of the best-known cases in 2002, Kim Schmitz, alias Kim Dotcom, was sentenced by the Munich District Court for insider trading in letsbuyit.com shares to 20 months probation and a fine of 100,000 euros.7
The German Federal Financial Supervisory Authority (BaFin) publishes a report every year on ongoing and completed insider proceedings.
Accordingly, every year around 15 cases completed by payment of a monetary condition or through legal process. Round however, three times as many cases are discontinued.
The United States Securities and Exchange Commission (SEC) also publishes many of your investigations, with far more details.
There have been a few known high-profile cases of insider trading in the United States:
The dates, names, and numbers are taken from the New York Times dealbook and the Wiley online library.89
Insider Trading News and Resources
The insider's transactions are listed for each stock on most finance websites. News is usually only available for extremely large insider trades.
I like to use Yahoo Finance to see insider activity on each stock. For example, here is the link to Apple's insider trading:
https://finance.yahoo.com/quote/AAPL/insider-transactions
To get there, look for the stock, then click on "Holders" and then on "Insider Transactions".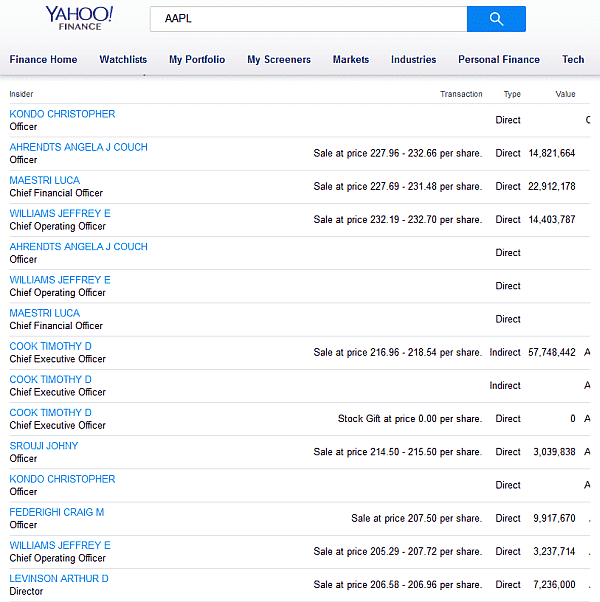 This is what the insider trading activities of Apple employees at Yahoo Finance look like.
(Image: Excerpt from the Yahoo Finance Insider view)
You can also simply include the abbreviation of the share in the link, where it says "AAPL", which is the stock exchange abbreviation for Apple Inc.
So the link for Tesla would be:
https://finance.yahoo.com/quote/TSLA/insider-transactions
But there are also many German finance sites that list the insider trading for each stock.
At Wallstreet-Online, for example, there is a nice overview of the latest insider activities for all German stocks. This is particularly suitable to be able to react to any insider trading, even with stocks that are not always observed.
But you can also look at the latest insider activities for each individual share.
However, this only seems to work with German stocks. This is also the case with finanzen.net, the insider trades of Commerzbank AG are linked. You can see that the board of directors used the low prices to buy a few shares in their own company.
That brings us to the last topic:
Are insiders a good indicator of future price developments?
Strategy: Insider activity as an indicator
Unfortunately, insider activity is not a reliable indicator: there are insiders who believe in their company until they go down and buy heavily. Just as little as we do, insiders know where the stock market is going.
Because in the short term, cyclical stocks in particular usually keep up with the overall market. Therefore, one should consider the activities of the insiders rather in the long-term fundamental analysis.
Let's take the example of Commerzbank AG, since the financial crisis this share has fallen sharply in price, even contrary to the positive stock market climate. Even so, the insider activity is almost entirely positive.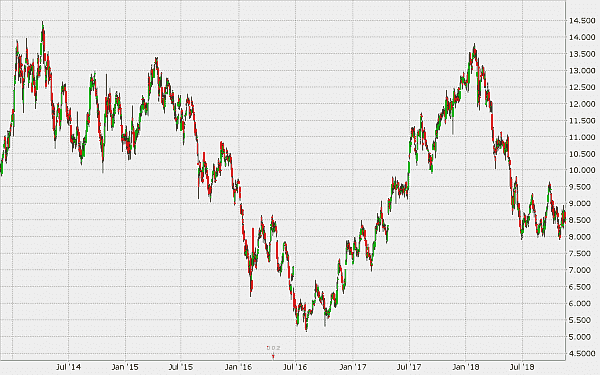 Despite the strong overall market, Commerzbank AG has gone through rough times in recent years.
(Image: share chart created with TWS 4.0.)
Obviously, the board of directors believes in the long-term success of the company. One must not forget, however, that those responsible are not short-term speculators, they think in terms of decades.
Conclusion: One should keep an eye on insider trading activities, especially for long-term investments.
However, before making any purchase, it is worth at least a quick look at the insider trades of the last few years in order to get a rough idea of ​​what the board of directors or other important investors think of your own company as an investment.
Note: I have checked this article for accuracy and correct sources.
Sources and references:
Seth C Oranburg: Oranburg's Corporate Law Compendium: Shareholder Rights. Independently Published, 2019, ISBN 1793005958.↩
James Ulvog: Tragedy of Fraud - Insider Trading Edition. Riverstone Finance Press, 2019, ISBN 1942066007.↩
Andrew Packer: The Insider's Dossier: How To Use Legal Insider Trading To Make Big Stock Profits. Publisher: Humanix Books, 2016, ISBN 1630060208 .↩
Vladimir Antonov: Tip and Trade: How Two Lawyers Made Millions from Insider Trading. Publisher: Ecw Press, 2011, ISBN 1550229869.↩
Handelsblatt | High number of unreported cases in insider trading↩
The world | Deutsche Börse buys its boss free↩
manager magazine | Kimble in front of the kadi↩
NY Times | Timeline: A History of Insider Trading↩
Wiley Online Library | Discussion of To Trade or Not To Trade: The Strategic Trading of Insiders around News Announcements↩