Bible verses about pride
«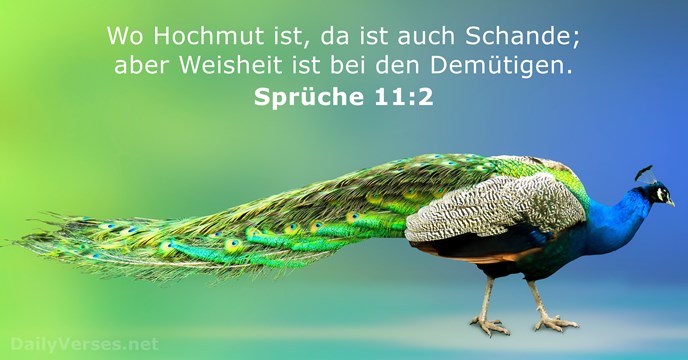 »
Where there is pride, there is shame;
but wisdom is with the humble.
The fear of the Lord hates evil;
Arrogance and arrogance, evil conduct
and wrong speech I am hostile.
Be of one mind to one another. Do not seek high things, but stick to the low things. Do not think of yourself as wise.
Man's pride will overthrow him;
but the humble will receive honor.
"But he who boasted, let him boast in the Lord". Because not the one who recommends himself is proven, but the one whom the Lord recommends.
But the LORD said to Samuel, Look not at his appearance or his tall stature; I rejected it. Because it is not how a person sees it: a person sees what is in front of his eyes; but the Lord looks on the heart.
Before the fall, a man's heart is proud;
and before one is honored one must be humble.
And he said, What comes out of a person makes a person unclean. Because from within, from the heart of the people, come the evil thoughts, fornication, theft, murder, adultery, greed, malice, malice, debauchery, envy, blasphemy, arrogance, unreason. All of this evil comes from within and makes people unclean.
For everything that is in the world, the lust of the flesh and the lust of the eyes and arrogant life, is not from the Father, but from the world.
And what is small before the world and what is despised, that God has chosen, what is nothing, so that he can destroy what is something so that no one should boast before God.
Therefore, I praise, honor, and praise, Nebuchadnezzar, King of heaven; for everything he does is truth, and his ways are right, and he who walks proudly he can humiliate.
But the brother who is low, boast of his height; but he who is rich, boast of his humility, for he will perish like a flower of grass.
Command the rich in this world not to be proud, nor to hope in uncertain wealth, but in God, who offers us everything in abundance to enjoy it.
And if I gave all my possessions to the poor and gave my body to boast, and if I did not have love, it would be of no use to me.