Comment on politics and refugees: petty, embarrassing, out of place
49 refugees have to stay on two ships in the Mediterranean for weeks in winter. The case shows the failure of Europe's heads of government.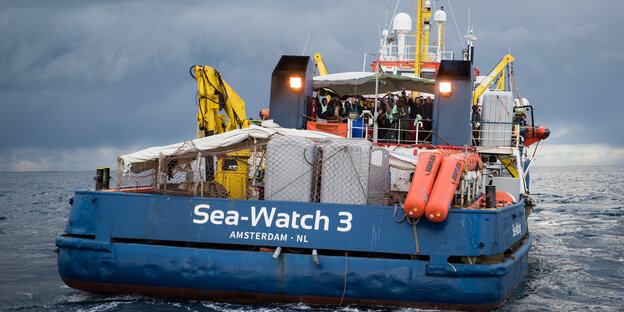 Waiting for news: migrants and crew members on board the Sea-Watch 3 Photo: Chris Grodotzki / Sea-Watch.org/dpa
Is it supposed to go on like this all year round? In any case, it is not due to a lack of willingness at the local level that the organizations Sea-Watch and Sea-Eye have to wait in the Mediterranean with 49 people rescued from distress on board. Several cities in Italy have agreed to accept the refugees, and German municipalities such as Berlin, Hamburg and Bremen should also be willing.
But the heads of state and government in Europe are more likely to allow traumatized people to stay on the ship for weeks in winter than to come to an agreement. This is a very vivid illustration of their own failure: For years, the heads of government of the European Union have not made progress in agreeing on a reform of the asylum law and finding a fair solution for all member states. The blockade of the Italian ports for ships with refugees has already been in place for six months - a human solution is not in sight. The sea rescuers now have to unload it.
49 people. Is Germany really so full that these refugees floating around on the sea can no longer be taken in? Of course it isn't. The fact that the German Interior Ministry insists on a "broad European distribution solution" through a spokesman in view of these few dozen people is petty, embarrassing and misplaced.
Because they are still not allowed to go ashore more than two weeks after their rescue on the Mediterranean Sea, some of the 32 refugees on the rescue ship of the German aid organization Sea-Watch are now refusing to eat, including children and young people. It is to be feared "that their psychological and health condition will noticeably worsen," said Sea-Watch. (afp)
Neither would Italy or Malta be overwhelmed. It is all about showing a hard edge so as not to run the risk of being considered as the country of arrival in the future. Just don't set another precedent of solidarity and humanity.
But now there is neither space nor time for the eternal discussion between the member states. There are municipalities that would take in people - and if in doubt, the work will be left to them anyway. If they don't come to an agreement themselves, Italy and Germany should at least give their cities the chance to act in solidarity.