"What do you live for?"
In his sermon, Episcopal Vicar Dr. Heinrich Schnuderl the theme of this year's World Day of Prayer "What are you living for?" on. His sermon on April 19 in Graz Cathedral for reading.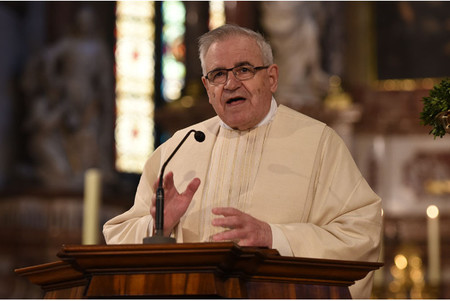 "What do you live for?"- This question brought us together here in Graz Cathedral today. We are asked again and again and ask questions again and again; Often there are quick answers: "What's your name?" We don't expect an answer to some questions: "How are you?" But then there are also questions that hit us, that touch us because they question ourselves, or those let us suspect that their answer would change something in us. Questions such as these are unsettling; we evade them; maybe we will suppress them, but they will come back - for example the question: "What are you living for?"
"What do you live for?" - Who is asking us this question? Is it talking to yourself? St. Augustine once wrote: "I have become a question for myself."Maybe someone else in me asks
1. During this time between Easter and Pentecost, I am often on the road as a corporate donor. When I see the many young people who want to be confirmed, I ask myself and them the question: "What are you living for? What do you live for? "
At St. The gospel of Pentecost Sunday is often proclaimed at Confirmation Mass. Jesus the risen one says to the disciples:"Receive St. Ghost!"We hear that through this encounter with Christ the apostles were filled with inner joy, endowed with new courage, and grasped by the Spirit of Christ. And we pray that this spirit will also be given to us: "In him we live, we move and we are" (Acts 17:28).
How can we speak of the Holy Spirit?Actually only in pictures: "He is the force of gravity of love, the pull upwards that resists the force of gravity downwards" (cf. Augustine, Confessions),Overcoming gravity. Paul speaks of "Fruits of the spirit: Love, joy, peace, patience, long-suffering, loyalty "and from the fact that the spirit in us is diverseTalentsbrings forth. Such gifts are given to every human being - and they are always directed towards others and given to us so that we can also communicate them to others.
But in this Gospel we also hear:"As the Father sent me, I am sending you!"That changed the disciples of Jesus back then, they went out, led people to Christ, founded communities of faith, congregations, and churches. - I keep asking myself: does baptism, confirmation, faith, being a Christian also change us, me, the confirmants?
2. In Styria we have been thinking in the last few months - with a view to our diocesan anniversary - how will we live as Christians in the future? What will the Church in our country look like in 20-30 years and how will it fulfill its mission? We don't want to turn the church and our churches into a museum. The anniversary should lead us on a new path. We want to "sow the future".
We don't know what the future will bring, what challenges we will face. The environment is changing, society is changing, and many things will also change in the church. We are approaching exciting and challenging times. Commitment to Christ and as a church is not a comfortable pillow, but a requirementPeople with daringwho go out and look for and break new ground. The Styrian Church needs people who understand the word of Jesus addressed directly to themselves: "As the Father sent me, so I send you!" This means everyone who has been baptized and confirmed.
Pope Francis only a few days ago voiced the suspicion that many Christians had withdrawn to supposedly safe places, and he recalled that locked rooms smell of mold in the end and make us sick (Gaudete et exsultate 133).We should ask ourselves: Have we settled down too much in such stuffy rooms? Francis names thistemptationto flee to a safe place, by name: self-centeredness, locking up in small worlds, dependency, repetition of fixed guidelines, nostalgia, pessimism, refuge in norms (134). In the reading from the Acts of the Apostles that we heard earlier, a deacon was presented to us as a contrast, Philip, who went out to the margins, answered a stranger's questions and showed him the way to Christ.
"As the Father sent me, so I send you!" This is the direction in which we should seek an answer to our question "What are you living for?".Christ also needs co-workers who understand it as their spiritual life mission to walk this path with him as a priest, deacon, in a religious community, in a pastoral or charitable profession.It's exciting, takes courage and has something of an adventure to it. But he's going with you.Let us pray with Pope Francis "for the grace not to hesitate when the Holy Spirit calls us to take a step forward; let us ask for the apostolic courage to share the Gospel with others and to refrain from turning our Christian life into a museum full of souvenirs "(139).
3. "WhereForare you alive? "- This question should not let us go, it should wake us up: to you the young, to us the elderly and old. But it is also accompanied by the other question: "Whereofdo you live What do we live on? "
The path that Jesus takes us on is one"Common way"(141). A few hours before his cross, Jesus told his disciples at the sacrament:"Do this in memory of me!"After his resurrection, he took up this fellowship again:"You recognized him when he broke the bread!"And they say of themselves: "We, you, we ate and drank with him after his resurrection from the dead."Wherever people are gathered in his name, he is among them.
We live from it and that prevents us from thinking that we can or have to do everything alone and ourselves. Communion with Christ, the living bread, is what we live on. This communion gives us the gift of the Holy Spirit. "To hear the word of God together and to celebrate the Eucharist together makes us more and more brothers and sisters" (142). But this service also needs people who perform it in the name of Jesus and say yes to it when Christ calls them: "As the Father sent me, so I send you!"
We are gathered to this fellowship at this hourelt:thank youGod for the many gifts and callings that are among us. Let us also thank the people who, in the commission and mission of Jesus, set the table of the Word and the Eucharist for us.And we askabout having the courage to let the Lord ask us, "What are you living for?"
Amen.
After the service, the participants were invited to encounters, campfires and agape in the courtyard of the Graz seminary.