How can we reduce our wedding expenses
Wedding fund / costs / savings tips
Cost plan «Saving tips» Wedding helpers »Musicians & attractions» Most beautiful wedding dances
How to reduce the cost of your wedding celebration
The main way to reduce wedding costs is to involve relatives and friends in the preparation and execution of your wedding celebration. But there are many other ways to save costs for the wedding celebration - the savings suggestions are on this page.
10 saving tips to reduce wedding costs!
Wedding savings tip 1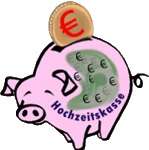 Don't do everything alone!
Involve a lot of helpers; Distribute the wedding planning and implementation and thus also the costs over several shoulders.
Wedding helpers not only save costs and reduce stress, they also have tradition and show that the bride and groom have a lively circle of friends. It used to be a matter of course that relatives, friends and neighbors organize the wedding and thus also take on financial burdens. Unfortunately, this tradition is increasingly being lost. Examples of the tasks (and costs) that the Circle of Friends can take on well can be found in the chapter "Helpers". There is also a letter with which you ask your acquaintances for participation: Wedding HELPER
Wedding savings tip 2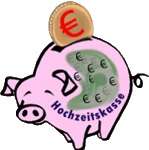 So ask for gifts of money!
Get money for your wedding to relieve your wedding budget!
Make your "money-gift wish" known verbally in advance. Then clearly express in writing the request for gifts of money in your wedding invitation. No, it is not strange or presumptuous to get money for a wedding. Here are a number of examples to show you how to ask for gifts of money in an elegant and unobtrusive way: gifts of money
Wedding savings tip 3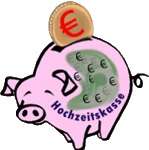 Don't buy everything new!
Borrow things you only need for the wedding! A number of shops specialize in lending out materials and items for wedding celebrations.
This does not only apply to dishes, tables and chairs. You can also borrow plants and artificial decorative trees from the gardener. Search the Internet under "Borrow items for the wedding"You will find many offers under the Ebay classifieds as well as event rental with articles for the wedding celebration in your region. You can also borrow items from other wedding couples who have just finished their wedding celebration. Find contact with others Wedding fairs are ideally suited for this purpose. You can certainly buy some things together or take over their items at low cost.
Wedding savings tip 4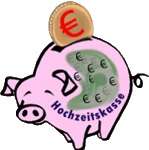 Look out for cheap wedding loans!
Some banks have more favorable interest rates for newlyweds.
So if you want to take out a loan to finance your wedding celebrations, inquire about these special conditions for weddings. First of all, ask your bank. If you have your current account at Sparkasse für Privatkunden, make an appointment with your customer advisor. He will tell you the conditions for such a loan or a similar one.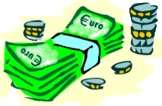 With all the wedding frenzy, you should prepare well for the interview with the bank's advisor. You should roughly estimate the cost of the wedding and know how much money you will need. You should also consider how the loan should best be designed for you. Free special repayments can be extremely interesting, especially for honeymoon couples who may also receive gifts of money. It should therefore be possible for your loan to be "out of order" and to pay back money without any additional fee. As a result, the interest component is lower and you will be finished with the repayment more quickly. You should also obtain not just one, but several comparable offers. And finally: don't be afraid to ask about experiences in your circle of friends. Maybe someone has a good tip for you.
Wedding savings tip 5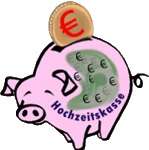 Games can make money for the wedding fundraiser!
Have money made games at the wedding reception.
Of course, you do not lead these games yourself. At the wedding party or on the bachelorette party, you do not act as a game leader for other games. They can play as a couple; but the management (moderation) of all games is left to friends and relatives. There are a number of good game ideas that can be used to make some money. I'll explain such wedding money games to you there: Money games for the wedding fund
Wedding savings tip 6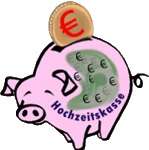 Inexpensive overnight accommodation
Organize private accommodation for foreign guests and let the guests pay for hotel accommodation themselves.
You do not have to pay for the overnight stays of your external guests. It is not common. In any case, the outside guests should be able to see from your invitation how the question of overnight stays has been resolved. I will show you more information about what you have to consider when accommodating the guests here: ACCOMMODATION
Wedding savings tip 7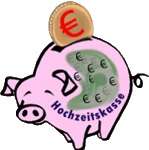 Bring food and drinks with you to the wedding venue!
Bring a few things with you - also to the restaurant!
At least the champagne for the champagne reception, but also the cake and the wine with the meal you can bring yourself to your wedding celebration in many locations. You then pay a corkage fee (corkage fee, also known as a stubble fee, or a corkage fee). Clarify this with your host. More information about what you should consider when choosing a wedding restaurant can be found in the chapter: Restaurant.
Wedding savings tip 8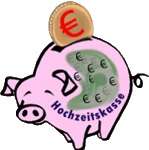 Buy little things cheaply
You need a lot of accessories for the organization of your wedding celebration. Accessories are additional little things that are not absolutely necessary, but which are very beautiful and put some things in the right light. These are, for example, heart-shaped balloons, chair covers, figures for the wedding cake, photo props, napkins, plastic champagne glasses for the reception in front of the church and much, much more. Do not buy these things expensively in special wedding shops! Special wedding shops are often too expensive! In the meantime, so-called Euro shops have a large number of such little things for the organization of celebrations (and especially for the wedding party) in their range. We actually discovered decorative materials that cost ten euros elsewhere for 1 to 2 euros. So that you don't have to walk from shop to shop, find out beforehand on the websites of inexpensive shops such as TEDI, Philipps, Mäc-Geiz, kauf • DA in the "Party accessories" section:
Wedding savings tip 9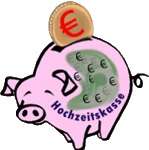 A buffet is cheaper than a menu!
Note that a buffet is usually cheaper than a wedding menu served at the table. A well-put together wedding buffet is not necessarily less celebratory than a served menu. You can find more about this here: Menu
Wedding savings tip 10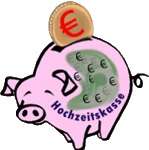 How to plan wedding photography and save!
The wedding offers many motifs that you want to capture in the picture. You can't do without a professional wedding photographer. But there are many good ways to save sensibly here too.
The bride and groom certainly have friends and acquaintances who can also act as photographers. A maid of honor can, for example, take photos while choosing the wedding dress and while doing hair and make-up. Friends can take pictures in the registry office if the professional photographer is engaged for the church wedding and the wedding celebration. Also consider distributing single-use cameras and asking guests to send you their recordings. Hobby photographers need a good briefing, a plan and a planning meeting with the bride and groom, during which all photo requests are discussed. For taking photos at the wedding and for planning and saving with the entire wedding photography, there is our extra page: Planning and saving photography
Now also note this:
DETERMINE WEDDING EXPENSES
The most beautiful wedding dances
CHECKLIST 2
Topic overview