Helps reading while sleeping
My tips on how to make reading aloud your favorite bedtime ritual #Raffle
*** Advertising ***
No, I don't have a golden solution for how children always fall asleep quickly and immediately. They don't always do that here either, they come out thirty-five times because they just can't fall asleep. The subject of falling asleep is one of those things. Some claim that small children have to learn to fall asleep first. Rather, I believe that we parents have to learn to give our children what they need to fall asleep. Because every child (and even we adults) needs an individual falling asleep ritual. I'll give you tips on how to find your sleep ritual. In addition, at the end of the day I can give away 2 cozy sets consisting of a book "When the moon counts the stars" and soft hippopotamus bedding from Freds World.
Find the right companion to fall asleep
So as a parent you try to get a rhythm in the first few months of life. Always the same evening routine to signal: Now is bedtime. Cradle something gentle in your arms? To sing? Or does the quiet sleep music help to gently accompany the baby to sleep? Our two boys were completely different.
Mr.Sjardinski has always loved music. He had a little hedgehog with a music box that he needed to go to sleep. And often I sang to him for a long time before the hedgehog was used. When we were just a year old we looked at cardboard books together. And at some point - at the age of 3 and 4 - we were already reading longer stories. He couldn't get enough of fairy tales or certain series like Max for example. Still, it always took a long time to fall asleep. It took Mr.Sjardinski forever to fall asleep, but managed to do it on his own quite early on. Simply saying "good night" is enough when our reading ritual is over.
Every beginning is… not easy
It was completely different with Rabaukowitsch. I wasn't allowed to sing, I even got my mouth shut. He liked the sounds of the hair dryer - or soft snores. As monotonous as possible. To do this, he needed physical contact. And so we parents alternately lay for many many minutes every evening, sometimes more than an hour, next to a little bully and practiced to be as boring as possible. In all honesty, I freed myself from annoying myself for not being able to do my own program. I learned to rest and doze off myself during this time. The quieter I was, the faster I fell asleep.
At the age of two, the radio plays moved into the children's room, which could then also be played in the evening. And only then did the reading work out. The bully now only needs a short story, but then wants to cuddle for a long time and then listen to a radio play. He prefers to fall asleep when someone is still in the room.
A book gently accompanies you to sleep
Maybe that's why he likes the story of the moon that counts the stars so much? When the moon counts the stars namely makes the sleep accompaniment itself an issue.
A star rises for every child who falls asleep. The moon counts every evening. But today one star is missing. A child has not yet fallen asleep. So the moon goes on a search - through town and country, wonders about some animals and finally finds the restless child. He tells him a story about the moon and the stars ... and finally helps the child to sleep. These lines take children's wishes seriously and give them - strengthening and calming - a nocturnal companion to watch over them.
I do not fall asleep.
Feel alone here in bed.
Dear moon, take care of me!
Please stay with me tonight
Books on the subject of falling asleep and saying good-night, and later everything to do with night, were very popular here at the beginning of our reading ritual. These books are usually not that exciting, they focus on sleeping and dreaming and on the side deal with the normal children's fears of the dark and being alone.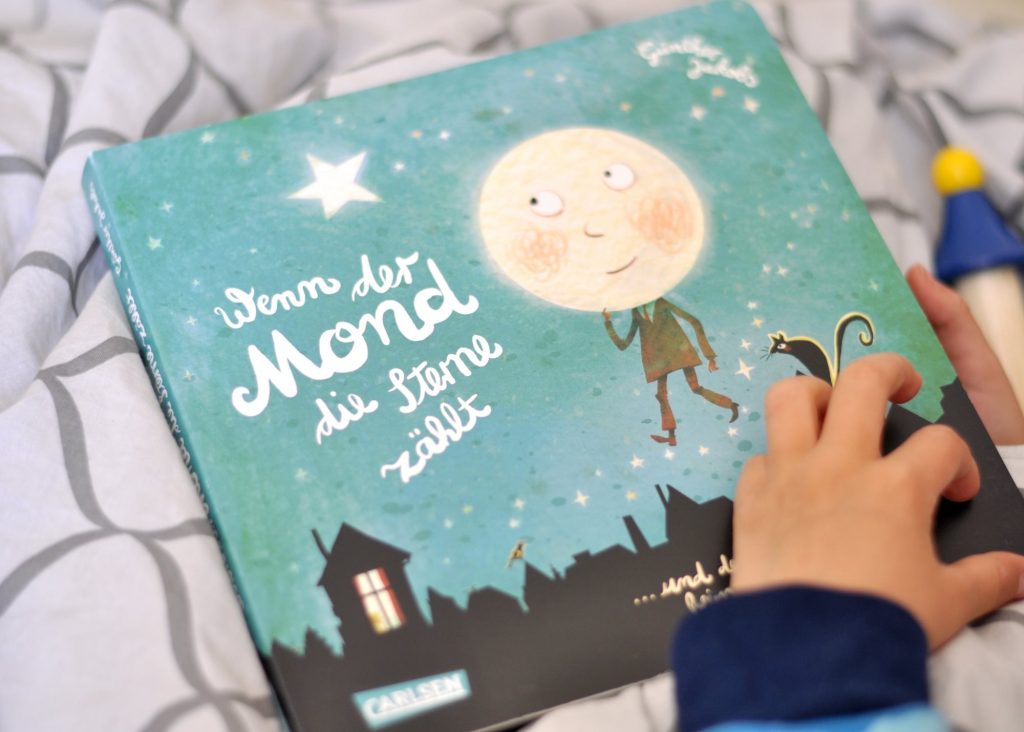 Falling asleep is actually a long process in which you have to find out what the child likes and what ultimately works.
The way to the evening routine
When is the right time?
What overstimulates the child beforehand?
How long do we need for the routine in the bathroom?
What can the child do alone, e.g. get dressed?
Do you have anything to drink beforehand?
What does my child need at night, e.g. cuddly toy, drink, slumber light, etc.?
What is going on and what is still too exciting or too long (age, topics)?
Do books on the subject of "falling asleep" help you fall asleep better than others?
How long do you read aloud? A story, a book, a chapter or more?
Is there any other program offered before or after, such as singing or radio plays?
Does the child find sleep alone or should one stay with it?
Do both parents participate in the sleep routine or only one? Can a child wish who reads aloud?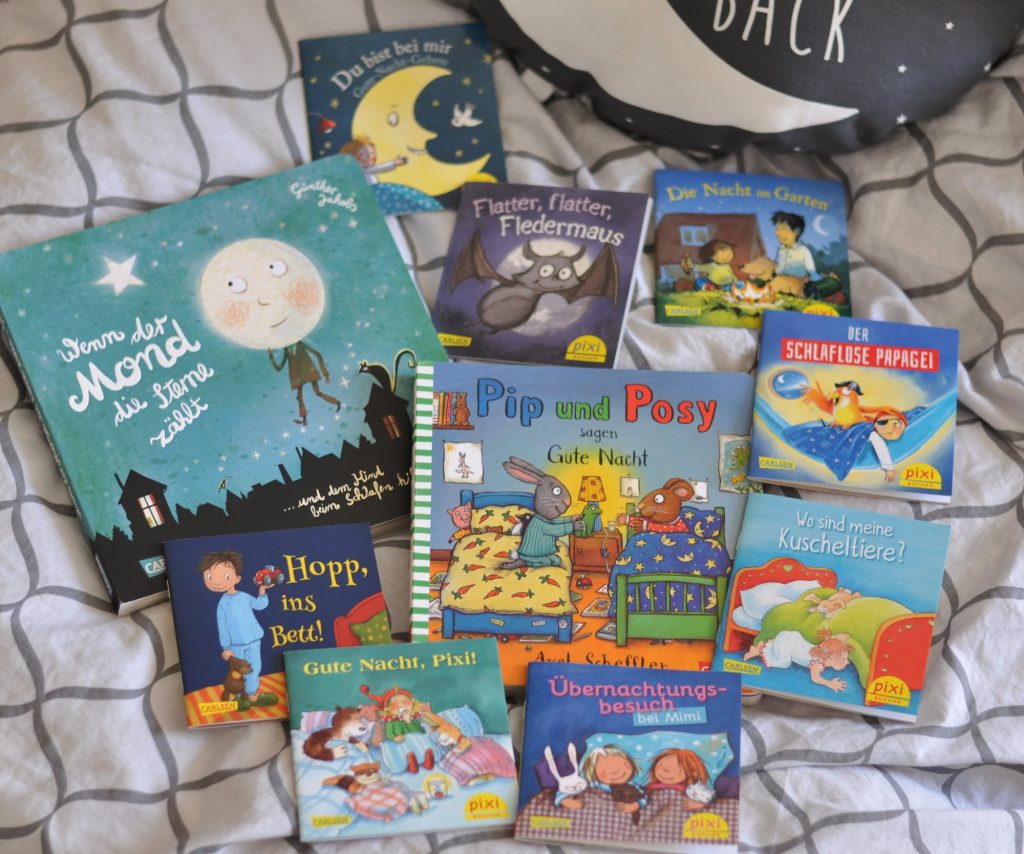 Of course, this always allows for changes. While Mr.Sjardinski moved into his own room at the age of 6 months and slept well there, it took Rauauko almost 3 years before he felt really comfortable in his own bed. And again and again we had to adjust our bedtime rituals a little.
So finding a sleep ritual is a long road that requires patience and calm. But when you've found a relaxed path, it's something everyone looks forward to at the end of the day.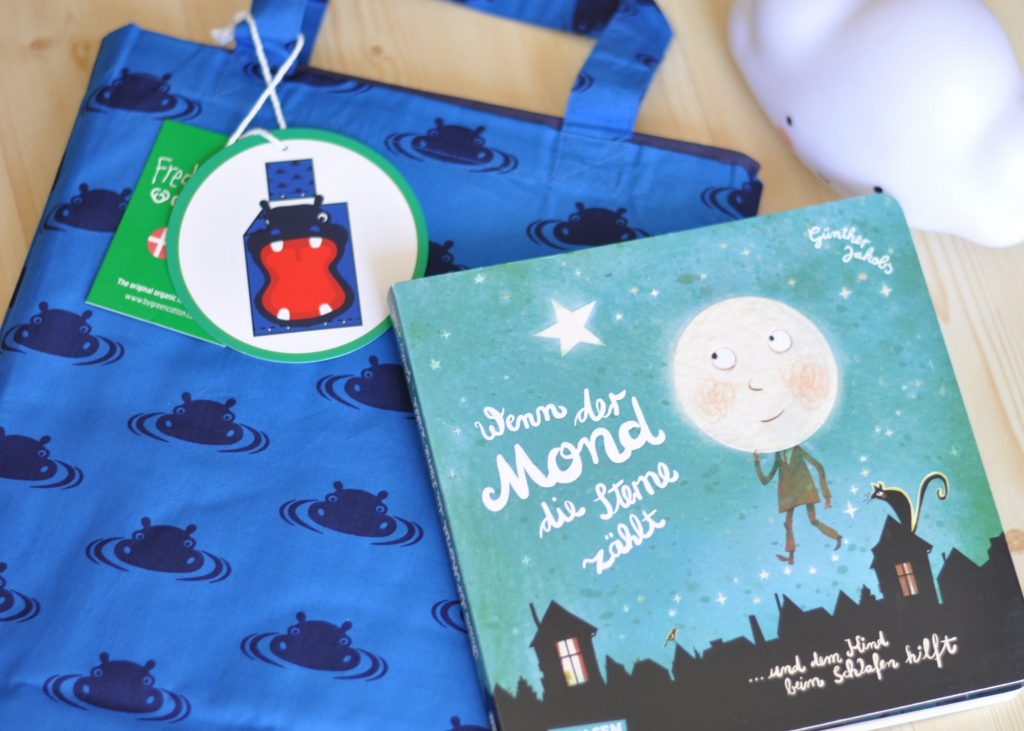 Raffle of 2 sleep packages made of a book + cozy organic bed linen
I hope you didn't close your eyes while reading. But maybe you feel like a cozy bedtime ritual? I am allowed two cuddly ones Bedding sets with a cute hippopotamus along with the book When the moon counts the stars giving away. The bed linen is made from 100% organic cotton from one of our favorite labels, Freds World by Green Cotton.
Junior package consists of book and the Hippo bed linen from Freds World in size 100 × 140 cm and for the pillow 40 × 45 cm, GOTs certified, with press studs, comes packed in a fabric bag.
Package baby consists of the book and the Hippo bed linen from Freds World in size 70 × 100 cm and for the pillow 40x45cm, GOTs certified, with snap fastener, comes packed in a fabric bag
What to do Just tell me which set - JUNIOR or BABY - you need and why you absolutely want to cuddle in this great bed linen.
I would be happy if you follow me on Facebook or Instagram.

What else you should know:
The competition runs until May 13, 2018 at 11 p.m.
You can take part in the competition on the blog or Instagram. For each channel you get one ticket and therefore have a double chance of winning.
The lot decides.
You should be over 18 years old.
You should have a postal address in Germany.
If the winners do not report within 5 days, the respective prize will be raffled.
The profit cannot be paid out.
I will announce the winners here and on Instagram.
I'll keep my fingers crossed for you!
When the moon counts the stars
♥ Author: Günther Jakobs
♥ Publisher: Carlsen
♥ Age: from 3 years
♥ ISBN: 978-3-551-17092-7
♥ Pages: 24
♥ Price: 9,99 €