Determine your own mobile phone number | that's how it's done
You can get your phone number in 1 minute
Most consumers know their account number by heart, but do not know their own cell phone number. If you don't have a premium number that is easy to remember, you will quickly fall into the trap of everyday life. Especially when you sign new contracts or bring your car to the workshop, you are usually asked for the phone number. And hardly anyone has himself in the phone book! You can easily find this out in just a few simple steps. No matter whether for Android, ancient cell phones or the latest iPhone. We show how you can get your number at any time.
There are several technical ways to find out your own mobile phone number. We also give some tips on how you can quickly access them in the future. Here we go!


1. Check the cell phone for yourself
The easiest thing to do is to look into the device. Unfortunately, you have to walk the path 1-2 times in order to be able to remember again if necessary. In the following we have described the option for Google's Android operating system and Apple's iOS. Depending on the version, the name can vary slightly, but the path is at least always similar.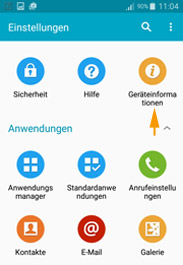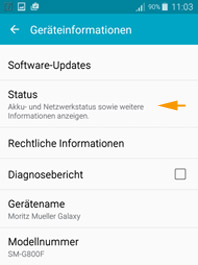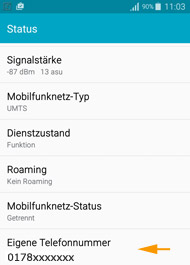 1.1 Phone number for Android-Smartphones show
Owners of an Android device can access the information they want with just 4 clicks. Please go first to "Settings" "Device information"(Possibly also" Via the phone "). There you will find various information about the smartphone, such as the model number, the device name or the installed Android version. Now please click on the menu item "status". Here, for example, the type of cellular network currently being used (e.g. LTE or UMTS) is displayed. Finally, a little further down, at "Own phone number"The information you are looking for. Finished!


Unfortunately, the phone number is not displayed with all providers. So if there is an "unknown" in the place mentioned, try another option if necessary.
1.1 Phone number for Apple- Show smartphones or tablets
IPhone or iPad users can proceed in a similar way, the route is even shorter. Please select the menu item "Telephone" under "Settings". Your own phone number is then displayed as the top item. Finished!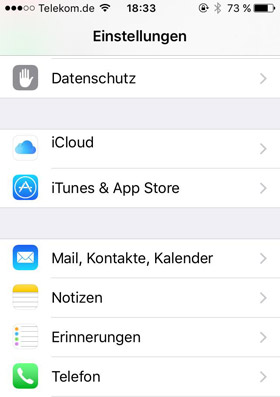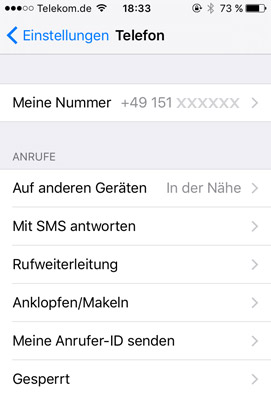 2. Request the number by code
Probably the second easiest and fastest way is via a relic from the old days, more precisely the GSM cellular network. What are meant are the so-called USSD codes (Unstructured Supplementary Service Data). These always start with a cross # or asterisk *, followed by up to 4 digits and a terminator, like # again. For example # 001 *

This is entered like a phone number that you want to dial. The following 3 screenshots show the input as well as the result. Instead of the "xxxxx" shown here, your personal phone number will of course be displayed. These are for illustration only.




Danger: Depending on which mobile phone provider (network) you are using, a different number has to be selected. In the case shown here it was * 135 # in the Telekom network. In Germany there are currently three network providers but dozens of mobile phone brands each of which use them. Congstar e.g. transmits in the telecommunications network, Smartmobil on the other hand via O2. Therefore, please search for your provider and the associated code below.


Telecom:
* 135 # -> call button
In the same network:congstar, Callmobile, ja! mobil, Edeka Smart, Norma
Vodafone:
* # 62 # -> call button
In the same network:Callya, Otelo, partly 1und1, BildMobil, Lidl Connect
Note: Strictly speaking, this is the speed dial which shows the call forwarding. If this was not changed by the user, it corresponds to their own phone number ...
O2 Telefónica:
* # 62 # -> call button
In the same network:e.g. SIM.de, winsim, Blau.de, Ay Yildiz, Aldi-Talk, DeutschlandSIM, Fonic, Tchibo Mobil, Mediamarkt & Saturn, Smartmobil, Yourfone, PremiumSIM, Netto, maxxim
3. Dial the free service number
There is also a free 0800 service number, which reveals your own telephone number. This is: (0800) 9 37 75 46. In our test, it worked with almost all providers. However, if set up, the number suppression must be deactivated. Just dial * 31 # in advance ...


4. Call someone
Admittedly, the "tip" is certainly the last resort and a bit embarrassing, but still practicable as long as you have not activated number suppression. Of course, it is better to do it via path 1-3 ...
Further information:
»Current LTE smartphones
»Compare LTE tariffs
»To the LTE forum
All information and tariffs on this website are to the best of our knowledge and according to
careful research. However, we do not guarantee correctness and completeness! © LTE-Anbieter.info
Yes, this website also uses cookies. Everything about data protection
✖