What's in a floating golf ball
Equipment overview


Golf balls
Special models
Air balls

Hollow plastic balls with holes were designed solely for training on small areas. They are therefore conditionally also suitable for your own garden. The low weight, especially the air flowing into the holes, ensures a short flight distance. In addition, these balls practically do not break anything.
Floating training balls

These types of training balls hardly differ from normal golf balls. However, their specific weight ensures that these golf balls float on the water. Whenever a range is designed in such a way that the golf balls are hit on an artificial or natural lake, this design ensures that these balls are easy to collect again. Due to the low weight compared to normal golf balls, these balls fly a little less far, but good and bad shots can be differentiated just as with conventional range balls. Floatable range balls cost around € 0.48 each.
Range balls
What comes out of the ball machines of the driving ranges is sometimes rock-hard, flummisch soft or so worn that you mistake these balls for ping-pong balls. Since the ball requirement on a driving range is exceptionally high, the operators can be forgiven for resorting to balls that are a little cheaper, to put it carefully. You can only be angry if you have discarded balls from other clubs in the basket. Then you at least know where the training of club members is more important. You can usually get range balls in a 300-piece package from around € 0.33 per ball.
To the balls:
Hard balls don't wear out as quickly. They are therefore very popular. Balls with a soft rubber shell do not fly that far and are therefore often used on short driving ranges. Anyone who has reached a certain level of play will not be able to enjoy these balls. At least for the training of the short game, ambitious golfers get range balls from a well-known ball brand. For example, Titleist offers the Pro-V1 with a range imprint at more favorable conditions. The Callaway golf ball HX Hot Practice is available for around € 1.35 (72 pieces for € 97.20, seen at www.golfagentur.de)
Blank golf balls
Do you want to design your golf ball yourself and therefore find advertising imprints and article names annoying? No problem. There are so-called blank golf balls without a print. For example:
Pathfinder XL - blank golf ball - per 100 for € 59.00 (see www.golfagentur.de)
Trick golf balls Triple Trouble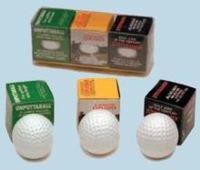 The popular set of 3 contains an "Exploder", an "Unputtaball", which is impossible to putt straight, and a "Jetstreamer", which sends a long line of paper towards the fairway instead of the ball.
Price € 11.50
---
important links
Well-known golf ball manufacturer
Bridgestone
Callaway
Nike
Pinnacle
Precept
Srixon
TaylorMade
Titleist
Wilson
Yamato
Other golf ball manufacturers
Nassau
swan
Lakeball provider
usedegolfbaelle.de
Atlantis Lakeballs