How can I improve my KISSmetrics
Neil Patel Interview: Patience is everything and shoppable content is fabulous!
Neil Patel is the co-founder of Crazy Egg, Hello Bar, and Kissmetrics. He advises companies such as GM, NBC, eBay or AIRBNB and regularly writes columns for Inc.com, entrepreneur.com or the Content Marketing Institute. - In any case, he is THE digital marketer of the 21st century, one of the most important influencers on the internet and an "analytics junkie" as he calls himself. But what he is most known for (and loved) is his ambition and commitment to make his knowledge accessible to everyone and to share it. In this way, he helps brands (including and especially small ones) to grow, generate sales and grow out of their infancy.
That could be enough good reason to interview Neil. But I personally had two more. There are a lot of content marketing blogs out there, but its one of the select ones I read on a regular basis. Why? I've been a marketer for years, I've seen a lot of trends come and go. I want to be sure that if I sacrifice my time, resources and company budget to someone, I will also be rewarded with learnings that I will see in the ROI. Neil focuses on KPIs and analytics. He understands that content marketing isn't just about looking good and shiny, but ultimately also about traffic and sales, just like any other marketing channel.
But what was the second reason? I had the chance to hear one of his private speeches at my previous company a few years ago, and I still remember how incredibly impressive it was to me that Neil's knowledge of optimization and growth hacking tricks seemed endless. And of course, I can't learn enough about how e-commerce content providers can improve their bottom line.
So: Yeah We spoke to Neil about content marketing strategies, KPIs, and SEO.He also shared with us what he learned from building his website neilpatel.com. So read, learn and share with others!
Read, learn and share! Knowledge is power.
Ula: Neil! We met a few years ago when you were just setting up Kissmetrics and CrazyEgg. As far as I can remember, you were also involved in the creation of HelloBar and QuickSprout. What is happening to you today? What are you currently focusing on?
Neil: At the moment: only CrazyEgg and HelloBar. At Quick Sprout we're working on some new software right now, so it's all more on the developer's desk at the moment. And then of course there is my very private project, neilpatel.com, where I pass on all my knowledge and everything I have learned about content marketing and SEO to the community.
Ula: Many retailers and brands today know that content marketing is "The Thing" - something you absolutely have to do. What they then usually do is start a blog, write an article or two, maybe share it on Facebook, and then, if there are not significant results immediately, stop the whole project with a shrug and say: " It does not work!"
Neil: Content marketing doesn't work either if you get it wrong. In any case, it is not an "overnight success story". You have to make sure from the start that you are getting it right. Especially at the beginning, when you write articles, you link to other articles and sources quite often, right? To back up the number you're using or to stabilize your thesis, whatever. If you do, why not let these sources know that you mentioned them? Send an email saying, "Hey Neil, I'm a fan. I linked you. If you like, check out our last article. " And that was it! You will find that some of them will share your article. You can even go further and say P.S .: If you really like the article, I'll be really happy if you share the article. " Things like that work really well!
Ula (laughs): What do you think marketers should measure at the beginning? Which KPIs should you keep an eye on?
Neil: First and foremost, traffic! If you have relevant traffic, you can take a look at conversions. This can be a mirco conversion like an email address or a lead. Macro conversion could be a sale, a new customer, or a long term benefit for the customer.
Ula: Now that you mention it, one of the biggest goals in content marketing is to generate traffic to the online store, blog, or wherever. What is the most effective way to achieve this goal? To write a lot of content, but to produce less particularly valuable content or to focus on a particularly broad distribution strategy?
Neil: Content always has to be valuable for the reader, so you have to be consistent. But distribution is just as important: spend half of your time on content creation and the other half on distribution. You will never be successful without distribution.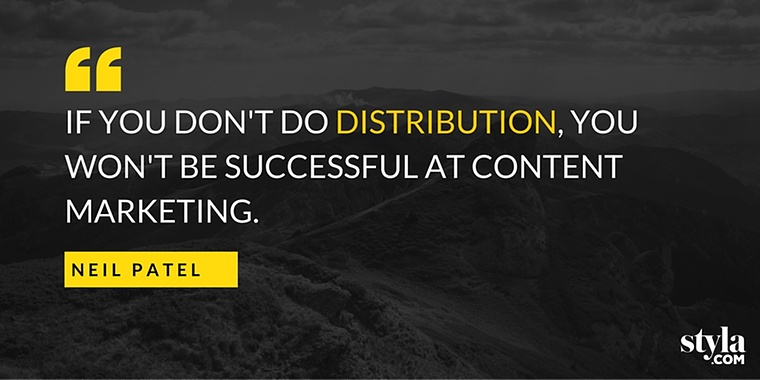 Ula: How often should you publish something?
Neil:At least once a week would be ideal and if you have more time, you can confidently increase the frequency.
Ula: The ultimate goal is to convert traffic into conversion - from content readers to customers. Based on your experience, what would you say, how long this trip takes on average? Or to put it another way: When do content marketing activities usually start paying off?
Neil:Hm, I would say it could take at least 6 months, a year is even more likely.
Ula:So you have to think long term here?
Neil: Yes absolutely. It will take most people even longer to see results. I mean, I can generate a return on investment after just 3 or 6 months. But most people just get it wrong, they are too impatient. You try content marketing for a month or two and then give up. That's not how it works. You have to stay consistent.
Let's take an example: When I started my own project, neilpatel.com, my goal was to get 100,000 visitors to my blog every month. But I have to be honest: I was a little lazy in the beginning. I wasn't even really keen to get started. I published a blog post or two in the first month and even in the months to come I haven't really improved on that. But after three or four months I thought, okay, what the heck, just give it a try. Maybe you can do it in just a year. So I got into it, started writing 4 posts a week, each around 3, 4, 5 thousand words long. That worked! Now I'm reducing that a bit. About 2000 words per article so that I can post more often, up to 7 times a week.
Ula: And what traffic are you generating with it at the moment? More than 180,000 visitors, right?
Neil: Exactly. But it took almost two years. Now everything is growing faster overall, of course, because it is now a well-oiled machine. But I could never have done it without patience. Now I can allow myself to have really ambitious goals. I plan to have half a million visitors to my blog by the end of the year. Next year I want to crack the millions. But it will probably cost me 2 years. That's why I'm trying to expand right now. I am in Brazil, in all Spanish-speaking regions, and I plan to be present in Germany, France and Italy. But as I said: the key to success in content marketing is patience.
Ula: Absolutely, I agree with you! Let's talk about SEO: When creating content, don't forget about SEO measures. How do you ensure that content is not only inspiring, but is also way ahead in search results?
Neil: Integrate your keyword into the title of your post! Quite apart from that, you will likely intuitively incorporate the right keywords into your text if your content is valuable to its readership because you know what they need. Lots of people think that SEO is a huge amount to worry about. Basically, you don't have to do that if you are producing good content, because SEO is then woven into it intuitively. And from a technical point of view, most of the CMS systems or content marketing platforms that you work with or use for blogging have everything preset: from the URL structure to the tags. It's really all about writing really good content.
Ula: Right. Styla also enables simple SEO implementation. By the way, while we're at Styla: Have you ever heard of the shoppable content trend? Pinterest recently launched the "Buy Now" buttons, Instagram also integrates similar options. Do you think there is a future in the e-commerce landscape? What we're doing here at Styla is to transform the reading experience of a print magazine into the online world and then to make these aesthetic magazines shoppable by integrating e-commerce systems. So you can focus on creating really good content that encourages customers to click and buy.
Neil: This is great and exactly reflects the needs of our time: the product gets a soul, a story is told, that connects you emotionally with the product, you like it, you buy it and you live longer from this experience. This is really fabulous.
Ula: Especially if your target group is rather young. Some studies say that Generation Y no longer wants to know anything about classic advertising. Brands have to reach their target audience much closer, not with impersonal advertising or the like.
Neil: Yes! Young people just think differently. We all think everyone goes on Google, searches, and then buys. Don't get me wrong, I love google like crazy. But the kids are not like us. They are on Pinterest, see what they like there and click directly on "Buy". Things have changed so much in the last 10 years. Snapchat, for example. Personally, I don't use it, but I see how incredibly powerful it is. I don't really get it, but young people love it. So we marketers have no choice but to deal with it and translate this trend in a meaningful way.
Ula: You were recently in Germany. What did you see? Do you see any particular challenges for the German market?
Neil: Definitely! There is great potential in Germany, people are hungry for good content and education. But I also believe that a lot of content marketers just don't create enough good content yet.
Ula: Do you think it is sufficient for German companies to only create German content, or should they also publish in English?
Neil:In general, I think: start with one thing! Start with German content and if that goes well, you can think about adding other languages. Because it is exhausting and expensive to produce multilingual content.
Ula:Thanks Neil. That was a great conversation!
Neil: My pleasure! See you soon!
Neil Patel is the co-founder of Crazy Egg and Hallo Bar. He helps companies like Amazon, NBC, GM, HP and Viacom grow their sales. The Wall Street Journal named him one of the top influencers in the digital age, Forbes Magazine recognized him as one of the top 10 online marketing experts and Entrepreneur Magazine celebrated his company as one of the 100 most brilliant companies in the world. But the honors don't stop there: Barack Obama named Neil Patel one of the top 100 entrepreneurs under 30. He is also officially one of the top 100 entrepreneurs named by the United Nations. Neil was even honored by the United States House of Representatives.