The wise mode precedes ninjutsu in Naruto
Farming materials: How to get a lot of ninja treasures - Naruto Shippuden Ultimate Ninja Storm 4
To unlock new costumes, items or ninja cards in Naruto Shippuden - Ultimate Ninja Storm 4, you have to visit different shops in adventure mode. Besides Ryo, serve you materials as currency that you get through various actions in combat or by completing bonus requirements. The ninja treasures are divided into five categories:
Kunai
Shuriken
Fonts
Anbu masks
Ninja blades
These materials are available in bronze, silver, gold and platinum. You need all variants for alternative costumes and other items. If you visit a Bandai warehouse in Konoha, you can find these materials at Ninja treasure swap exchange for the desired product. In this guide we explain how you can farm materials as quickly as possible.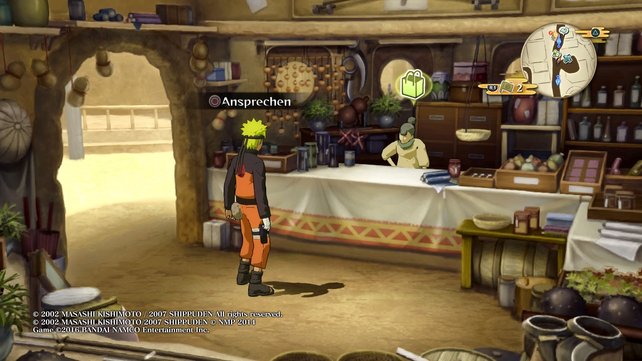 There are several shops in Konoha that offer items and costumes.
Naruto Storm 4: How to get materials
Various actions provide you with materials. Here is a brief summary of all the options:
Use combos in combat
Complete bonus requirements
Destroy objects in adventure mode
Collect ninja treasure packages
Daily registration bonus in online mode
Complete bingo book goals in online mode
In the following we explain how you get the materials.
Use various combos and jutsus in combat
Regardless of which mode you play, as long as you have a good fight, you will receive materials. Set more Combos, Jutsus or Ultimate jutsus of your character. An armor breaker also usually brings one or two materials.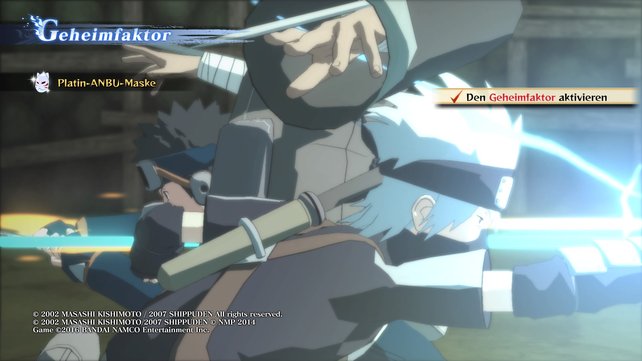 There is a platinum Anbu mask for the secret factor between Kakashi and Obito.
On the left edge of the screen you will see which Ninja treasures you receive. Most of the time you get bronze, silver or gold materials for these actions in combat. There are seldom secret factors for which you have category materials platinum receive.
There is a particularly quick way to farm materials. Proceed as follows:
Starts the mode Free fight and selects the VS duel.
Play alone against a computer, choose individual combat and set a round.
In the character selection screen you set that Handicap in your favor (majority of the balls are red).
Set the difficulty level to "very difficult" - so you will get more ryo at the end of the round.
Choose any characters (we recommend a ninja who can fire his Ultimate Jutsu from a distance) and any stage.
In the fight you now jump once or twice to the right, lure the opponent out of cover and fire an ultimate jutsu at your opponent. This will go down with one hit.
Have you completed the fight, it rains random materials. In addition, you will receive 15,000 to 20,000 ryo for completing a fight. Repeat this process to farm tons of ninja treasures.
Complete bonus requirements
In story and adventure modes, there are different ones for each mission Bonus requirementswith which you can get materials. You can also see these during the fight in the pause menu.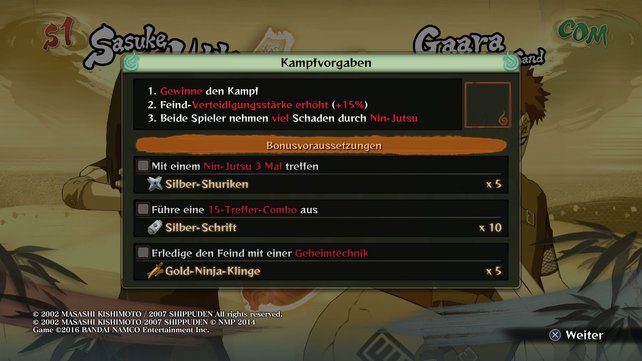 Before each fight you will be shown the bonus requirements.
For example, you have to land a 20-hit combo, hit your character's Nin-Jutsu three times, or end the fight with an Ultimate Jutsu. These bonus requirements are easy to master and give you a lot with little effort materials. Some missions even require completion of these objectives for an S rank.
Fragile items in adventure mode
As you roam Konoha or Sunagakure, you become more and more up fragile vases, boxes, or other items bump. You can destroy them by standing in front of them and pressing the button displayed - yes, there is a tutorial in the game for this too ...
In these items you will find items such as ninja tools and, with a little luck, materials. In the open game world, keep an eye out for markings on the floor (yellow and orange stripes). Here you can also pick up items.
Earn materials in online mode
After you have gained enough combat experience in story and adventure modes, you can measure your skills against other players in online mode. If you log in every day, you will receive a so-called registration bonus every time. After every fifth day you even collect money Ninja treasure packagewhich contains many materials.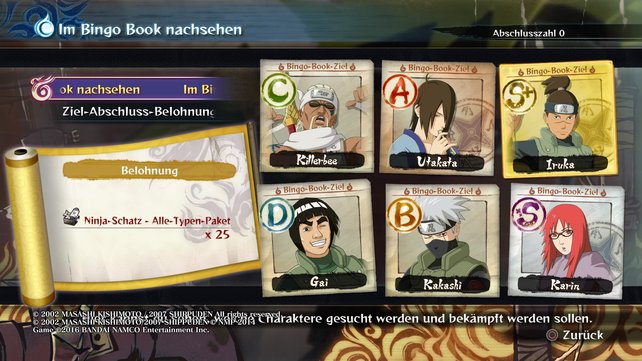 The bingo book: Here you are shown new targets every week that you have to hunt online.
This offers you another possibility Bingo book - here a bounty is placed on certain characters. If you kill a player who uses one of the displayed ninjas in combat, you will receive a bonus. In addition, the characters are rated with a rank. The higher the rank (D. low - S. high), the more materials you dust off.
We also have an overview of all trophies and successes in Naruto Shippuden Ultimate Ninja Storm 4 created for you.
Have you seen this Naruto SUNS 4 video?