London wants to hold on to corona easing despite the Indian variant
British Health Secretary Matt Hancock has defended the government's opening plans in London despite local outbreaks of the Indian variant of coronavirus in the country. If the higher transferability of the mutant turns out to be low, there will be almost no impact on the relaxation schedule, Hancock told Sky News. "We just don't know, so it is appropriate to keep following the roadmap, but people have to be vigilant and careful," the conservative politician said.
From Monday onwards, meetings of up to six people in private households should again be possible in the largest British part of the country, England. Indoor restaurants, theaters, cinemas and museums are also allowed to receive guests again - even though a sharp increase in infections from the Indian virus variant B.1.617.2 has been recorded locally.
Berlin made the kingdom a risk area
The federal government therefore classified the United Kingdom as a corona risk area again on Friday. Overall, however, with a nationwide seven-day incidence of around 24 new infections per 100,000 inhabitants within a week, Great Britain currently has comparatively few cases.
According to British experts, the Indian variant is possibly up to 50 percent more contagious than the virus variant B.1.1.7 that has prevailed in the country so far. If this proves to be true, the timetable for further opening steps could stall, Prime Minister Boris Johnson warned on Friday. Johnson actually wanted to lift all corona measures in the country on June 21. The government will decide on June 14th whether this should actually happen.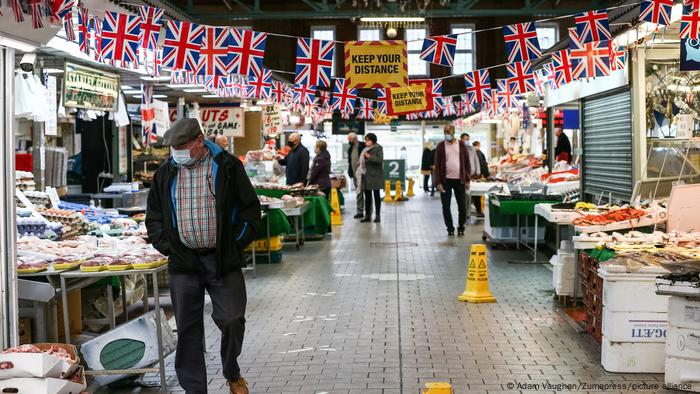 Corona-compliant customer traffic in the market hall in the north-west English city of Bolton
In particularly badly affected areas such as Bolton in northwest England and the London district of Hackney, mass tests are intended to help contain the spread. In addition, the interval between the first and second vaccination for people over 50 is to be shortened from twelve to eight weeks across the country.
Seven-day incidence in Germany at 83.1
The German health authorities reported 8,500 new corona infections to the Robert Koch Institute (RKI) within one day. For comparison: a week ago the value was 12,656. On Sunday, however, the number of cases reported by the RKI is usually lower. According to the RKI, the number of new infections per 100,000 inhabitants reported within seven days is now 83.1 nationwide (Saturday: 87.3; previous week: 118.6). This leaves the seven-day incidence below a hundred for the third day in a row. Across Germany, 71 new deaths were recorded within 24 hours, a week ago there were 127.
sti / as (afp, dpa)