What are the famous American hunting knives
CUT LIKE GOD IN FRANCE
The modern designed pocket knives from Deejo have a worldwide fan base. Luc Foin and Stéphane Lebeau, the two founders, rely on a special recipe for success.
The knife brand Deejo, founded in 2013, is a success story. The creative minds behind the products, the two Frenchmen Luc Foin and Stéphane Lebeau, have known each other since they studied together at the business school in Clermont-Ferrand. And they see some things differently than other knife manufacturers.
How is the name "Deejo" pronounced?
Lebeau: We pronounce Deejo English. Since the beginning of the project, we wanted to make our pocket knives everyday companions. So we thought we could give our company a first name. This makes our knife a friend we can rely on. Since our company is internationally positioned, we looked for a simple first name and quickly landed on "Joey", the name of a protagonist of the famous American series "Friends". But problems quickly arose: It was difficult to register a first name as a brand or as an Internet domain. So we kept working on "Joey". In the course of the creative process "Joey" became "The Joey", "TheJoey", "DeJoey" and finally "Deejo". In 2013, when we entered Deejo in search engines, the page was almost blank. We finally had space to tell our story.
Create my deejo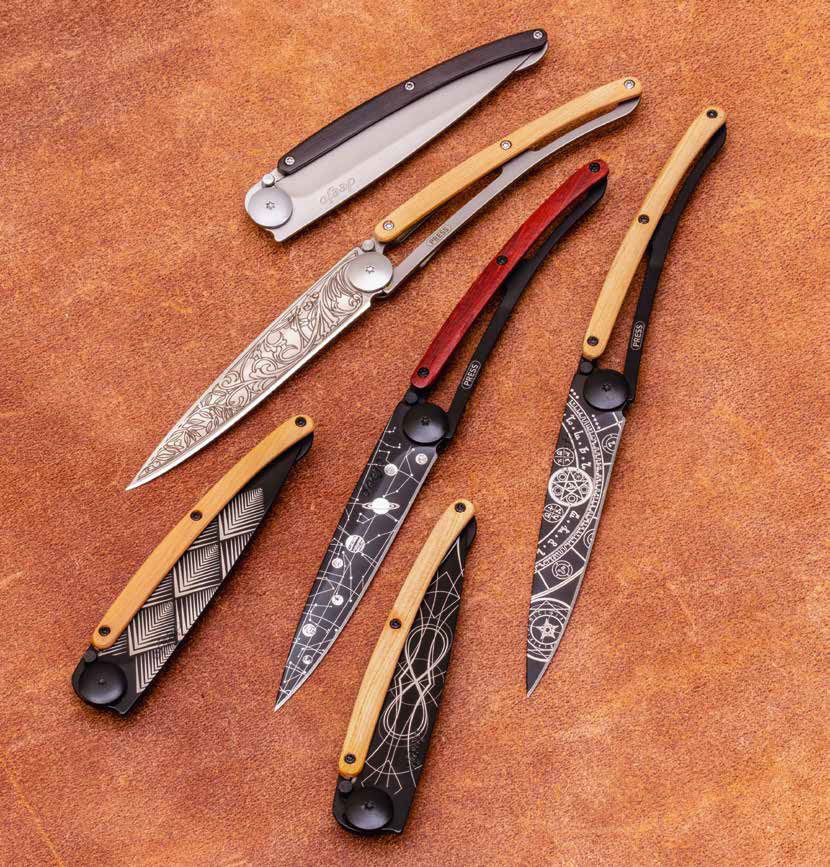 Were you an avid nature lover and adventurer yourself when you founded your first company for outdoor products in 1995?
Foin: Before we became partners, Stéphane and I were long-time friends. I come from the French Alps, he comes from Dijon. We both love nature and travel, but not in terms of sport. We like to look at. Some people go climbing in the mountains, we are there to admire the landscape. Whenever we work on a product, the aesthetics and an emotional connection to the object are just as important to us as its performance. Personally, I am a great lover of things that remind me of beautiful moments.
How did the idea of ​​marketing ultra-light pocket knives come about under the independent brand Deejo?
Foin: Originally, Stéphane - he is the one who designed our knife - wanted a knife that was ultra-light not because of its size or the materials used, but because of its design. It was supposed to be a pocket knife that had the convenience of a steak knife. Even so, it should be as easy as possible to meet the needs of hikers and mountaineers who have been our main customers. In addition to the functional lightness - Deejo knives are named after their weight of 15, 27 or 37 grams - there is also a visual lightness. Our ultra-light knives are barely noticeable when you carry them. You don't hesitate to take your deejo with you wherever you go.
Was the configurator on my.deejo.fr, with which everyone can design their own personal Deejo knife, part of the product concept right from the start?
Lebeau: Much more than just a tool, Deejo should above all be a fashion accessory. Deejo represents a lifestyle that is fun. So that this accessory can be adapted to as many styles as possible, we wanted to meet almost every taste. Our idea was to offer our knives like a T-shirt. A T-shirt is available with a round neck or V-neck, made of normal or organic cotton, black, white, yellow or red, with or without a print. There are three different sizes and different looks (mirrored, titanium gray or titanium black). In addition, our knives have different handle strips (5 types of wood, 8 bright colors and carbon) and a tattoo on the blade. For logistical reasons, we were rather limited in the selection of our motifs in our sales outlets. An online configurator was the solution for limitless options. All of our possible combinations became reality. The idea for the 3D MyDeejo configurator was born! We have enriched the customer experience on our website with technologies known from video games. The number of tattoos grew quickly, and our customers can even add a personal message to their deejo.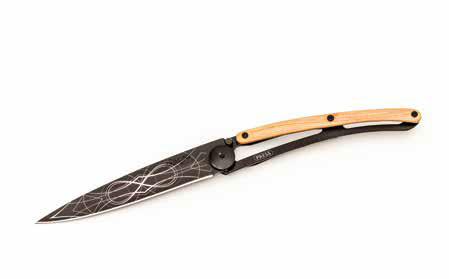 Explain to us the process if someone orders a customized knife on my.deejo.fr. Are the knives assembled at a central location and sent from there all over the world?
Lebeau: In order to be able to guarantee very short delivery times, our knives are "prefabricated". We store a large number of individual parts. Once a customer has confirmed their order, only the final assembly steps are carried out: the desired handle is attached to the knife, the personalization (engraving of the tattoo and the text) is added, and a quality check (sharpening, polishing, mechanical checks) is carried out . These steps are carried out individually and manually in our workshops in Torcy (Greater Paris). Around twenty people are currently employed there. Any order placed before 12:30 p.m. will be dispatched the same day. The delivery time is 48 or 72 hours, a maximum of four days if the destination address is on the other side of the world. We can deliver several hundred knives a day.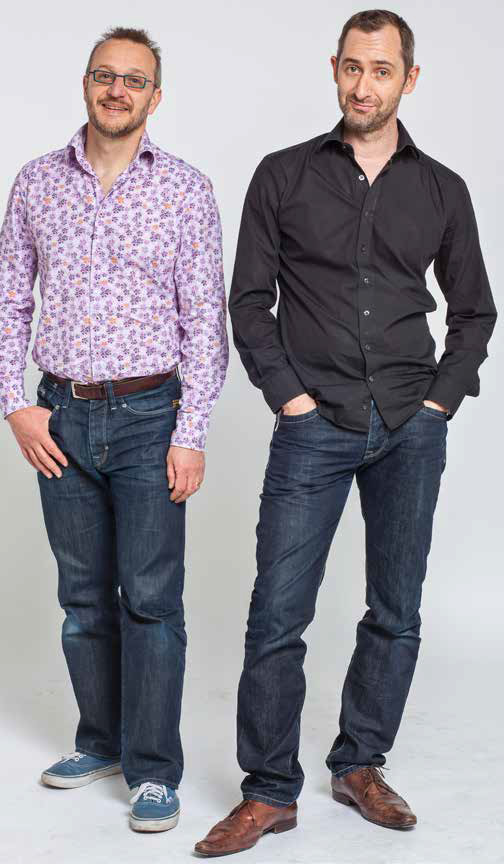 Are there different preferences among your male and female customers?
Foin: There are really only a few differences, and for good reason: Even if women make up more than half of our customers, they often buy a deejo for their partner. Therefore, the selection of a tattoo motif, whether made by a man or a woman, is relatively identical. Most of our knives end up in the hands of one man.
The tattoo series offers a large selection of different image motifs. Whose pen do these creative designs come from?
Lebeau: In the beginning we worked with various illustrators. Our idea was to reproduce motifs from typical tattoo worlds (tribals, seafaring, wildlife, etc.). We were particularly inspired by the "Tatoueurs tatoués" exhibition at the Musée des Arts Premiers in Paris. Today we have an in-house artist who also works on more current topics, but always in line with tattoo codes.
In France it is quite common for restaurant visitors to bring their own knife. Do you think that this trend will also prevail in other countries?
Foin: In France, as elsewhere, it is an old tradition that has been lost over time. We like to say it's a dusty habit that we want to breathe new life into. I like to make a comparison with watches. Time is everywhere, on our smartphones, on our computer monitors, in our cars, on the coffee machine or on the stove in the kitchen. Therefore, there is no need to wear a watch on your wrist. And yet so many people keep doing it, not because it is a matter of necessity, but of elegance, desire and joy. The same applies to our pocket knives. You can be satisfied with the "canteen knives" that are served to you while you eat in a restaurant. However, I assure you that it can be a lot of fun to unpack your pretty knife (which only resembles you!) And enjoy a good meal or peel fruit for your child with that perfect blade. It's a question of taste - and style!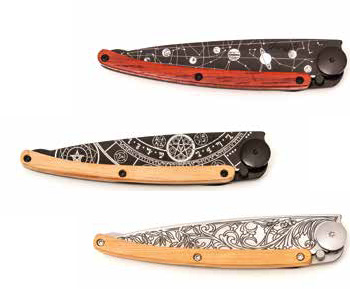 For some time now you have also been offering classic steak knife sets in Deejo design. Are there any plans for more Deejo products?
Lebeau: Behind this question lies the question of the use of a knife. A deejo knife is not a pointless object, but a useful object. Its use is ancient, and it is one of the first man-made tools for hunting and eating. Deejo knives - whether pocket knives or table knives - are deeply connected to the joys of eating. The pocket models are mobile, and the table models are more popular at home or in restaurants. There is an obvious link between these two products and our expertise. We do not intend to add more daring products or licenses to our offering tomorrow.
Create my deejo