What if Gandhi were still alive today?
Gandhi's teachings continue to inspire to this day
Mahatma Gandhi's life and work have become myth. Its popularity is a worldwide phenomenon. From Martin Luther King, Nelson Mandela and the Dalai Lama to Aung San Suu Kyi: they all like to see themselves as "Gandhi's heirs" and described Mahatma Gandhi as an inspiration and a warning at the same time. And even the American President Barack Obama proudly proclaims that he is a "Gandhian" - even if this comparison is limp for many.
But Mahatma Gandhi, perfectly embodied by Ben Kingsley in Richard Attenborough's Oscar-winning film, was not always the glorified, radiant hero who is still emblazoned on all Indian banknotes today. He too had his dark sides. He quarreled with himself, especially at a young age, and is said to have often appeared angry and commanding towards his wife Kasturba at the beginning of his marriage. His development into the spiritual and political leader of Indian independence was a process. This is what makes him so human and fascinating for many.
Universal theses
Gandhi's theses are convincing, free of contradictions and consistent - and therefore still modern today, says the American Gandhi researcher Michael Nagler: "He had the courage to go against the trend of the time. He managed to rediscover a long-forgotten wisdom and that is how it was to be packaged so that it could be used in our modern times, was understandable for everyone. " In doing so, he made one of the greatest discoveries in human history: "Namely, that non-violence can be practiced as a weapon by anyone around the world, and that in any situation."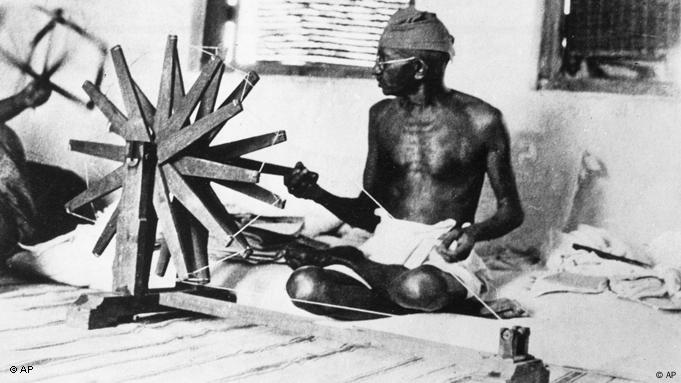 For Gandhi, self-determined life also meant making his own cotton clothes
Gandhi's teaching rests on three pillars. These are: non-violence (ahimsa), persistent adherence to the truth (satyagraha) and individual and political self-determination (swaraj). Gandhi himself was not particularly fond of the respectful address Mahatma, "great soul". He wanted to reconcile and studied the teachings of Buddha and the Prophet Mohammed in detail. He was of the opinion that true faith unites the members of the different faiths: "All I see is that life asserts itself in the midst of death, the truth in the midst of falsehood and the light in the midst of darkness. From this I gather that God Life is the truth and the light. And he is love. He is the highest good. "
Stony path in life
Gandhi was born Mohandas Karamchand Gandhi on October 2, 1869 in Porbandar in the Indian state of Gujarat. At first he is very shy and not a good student. After studying law in London and his first unsuccessful attempts as a lawyer in Mumbai, he traveled to South Africa in 1893. Having discriminated against himself because of his skin color, he founds the newspaper "Indian Opinion" to give the 60,000 Indians there a mouthpiece.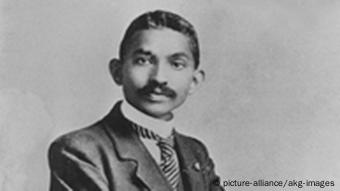 Gandhi around 1894 as a young lawyer in South Africa
Suddenly the once shy Gandhi becomes an uncomfortable opponent: not only in the courtroom, but also in politics. In 1914 he returned to India and in 1920 took over the leadership of the Congress Party. Then in 1930 his most spectacular action: Gandhi protested with a salt march against the fact that Indians are neither allowed to produce nor sell salt and that it is still taxed by the English. In 1942 Gandhi was arrested for demanding the immediate independence of India. He spent a total of years in prison.
Gandhi's selfless commitment is unprecedented to this day, says sociologist Ranjana Kumari from New Delhi: "Of course, in the age of capitalism and globalization, where India is also becoming more and more materialistic, it is difficult to respect and practice the basic values ​​of Gandhi." Only a few could do it, says Kumari: "But if only one percent of the people in India did this, it would help a lot. Otherwise we only commemorate Gandhi on January 30th, the anniversary of his death, and on October 2nd, his birthday. "
Lasting fascination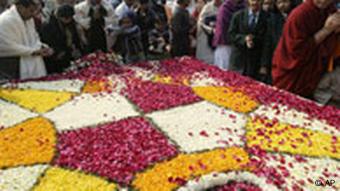 Flowers in honor of Gandhi - he is revered in India to this day
In 1947 British India became independent from Great Britain. The country is divided into the predominantly Hindu India and the predominantly Muslim Pakistan, to which today's Bangladesh still belongs. Gandhi promises Muslims equality in India. For this he was murdered by the Hindu nationalist Nathuram Godse on January 30, 1948.

For some, Gandhi is still an icon, almost a saint. Others find his theses irrelevant. And yet he is unforgettable more than 60 years after his death: inspiration and warning at the same time.
Author: Priya Esselborn
Editor: Ana Lehmann