How old are Kentucky Derby racehorses
In the Land of Horses: Kentucky Derby, Horse Breeding & Adventure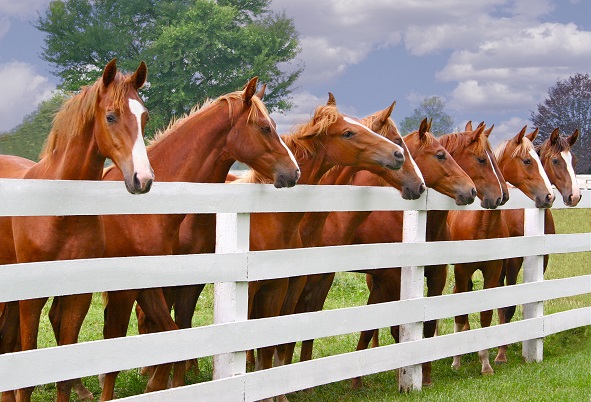 Info / recommendations | Kentucky | 08/28/2018 | Photo: Kentucky Tourism
Kentucky is horse lover's paradise! Not only the famous Kentucky Derby, which is held annually at the Chruchill Downs racecourse in Louisville, is in the interests of Kentucky travelers with a passion for horses.

Horse country Kentucky
The passion for horses and horse racing is almost omnipresent. Horse paddocks with white fences and white barns adorn the landscape. Kentucky has almost 400 thoroughbred studs alone. The show horse breed "Kentucky Saddler", which is now known around the world as the American Saddlebred, comes from Shelbyville, which is east of Louisville. If you want to marvel at the "Kentucky horse", you should look out for one of the 90 studs - preferably in spring when the cute foals can be admired. In addition, the Kentucky Mountain Saddle Horse (North American gaited horse breed, a close relative of the Rocky Mountain Horse) comes from Kentucky and the neighboring Appalachians. Besides Canada, Kentucky is also the main breeding area for American Standardbred - the most important trotters in the world in terms of performance. Lexington, east of Shelbyville, has around 450 stud farms. Here, as in Louisville, there are some top attractions for horse lovers. But before we get into the details, here's a video from the Kentucky Tourist Office to get you started.



Kentucky Derby
When Queen Elizabeth attended the 144th Kentucky Derby in 2007, she said it was making a childhood dream come true. The Churchill Downs, on which the legendary horse race is held, is really the absolute highlight for fans of horse racing. It is also called "Run for the Roses" and is a horse race for three year old thoroughbreds. It represents the start of the Triple Crown, with the horses having to prove themselves in three disciplines. Churchill Downs is named after Henry Churchill, who leased 32 acres of land to his nephew. He was none other than the nephew of William Clark (from the expedition duo Lewis and Clark), who saw his chance for a new racetrack when two of the city's racetracks had to close. Clark sold the property in 1894 due to financial difficulties. Under the new owner, bookmaker William E. Applegate, who made some changes, the circuit began to prosper.
At this race, you can enjoy a stylish mint julep, a cocktail with bourbon and mint that Green Clark already liked. The Kentucky Derby takes place on the first Saturday in May. Admission tickets are usually difficult to get even a year in advance. Of course, the race calendar of the track, which opened in 1875, is full and there are numerous dates when you can experience the famous race track in action. The Kentucky Derby Museum is also recommended to fans for its 360-degree video screen, among other things. The "greatest two minutes in sport" are documented here in high-resolution quality.



Keeneland
Lexington's Keeneland Racecourse isn't quite as old as Churchill Downs, it opened in 1936. Important races such as the "Blue Grass Stakes", which are considered preparatory races for the Kentucky Derby, are held here. Some films were shot here such as "Seabiscuit - With the Will to Success" with Tobey Maguire, Jeff Bridges and Chris Cooper, "Dreamer - A Dream Come True" with Kurt Russell, Dakota Fanning and Kris Kristofferson and "Secretariat - A Horse Becomes Legend "with Diane Lane and John Malkovich. All three films show the true stories of racehorses. Keeneland is not just a racetrack, however. There is also an auction house and a horse racing track. If you visit Lexington and are interested in horses, you should pay a visit to Keeneland, preferably in the morning for breakfast, which is served in the Track Kitchen with a view of the racetrack. Horse Park is the second must-stop for people who love horse riding in Lexington.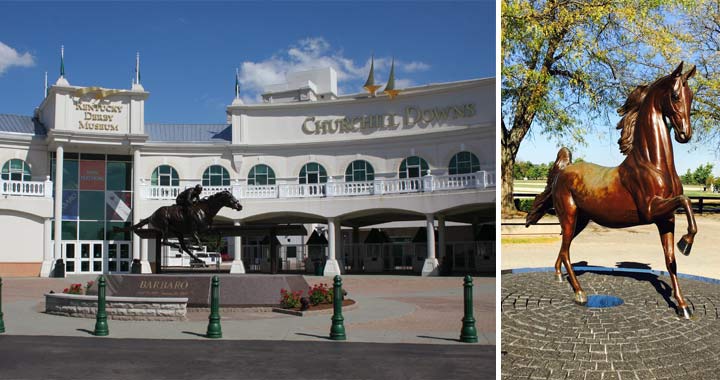 Source: © Kentucky Tourism
Kentucky Horse Park
An absolutely great experience for everyone who likes horses! The Horse Park in Lexington, which you can see in the video above, is a mixture of horse ranch and educational theme park around the popular four-legged friends. There is, among other things, an international horse museum (a Smithsonian offshoot), a show in which traditionally dressed riders present rare and common horses to the world, sculptures and some champions, famous horse seniors, who spend their quiet retirement here. There is also an arena, a stadium and the headquarters of the "National Horse Center" association. There are also equestrian games as well as some educational events and competitions.