What is 3D interior design
Interior design software | Design your own floor plans in 2D and 3D
How about working as an architect without any previous CAD experience and designing your new home from your home office? With the architecture software from Cadvilla this idea becomes a reality. It is an intuitive software with which you can undertake and visualize the entire interior architecture and room design in 2D and 3D.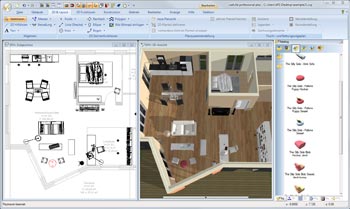 Numerous equipment and furniture libraries give you infinite freedom in design, which you can implement yourself with all the details. If you want to integrate your own pieces of furniture into the interior plan, you can simply download and position them from third-party catalogs. Cadvilla also has many tools that encourage your creativity and allow rooms to be planned down to the smallest detail on the computer. For the sake of simplicity, you design in 2D, while the 3D model is automatically built in the background. Have you placed everything and want to see the result for yourself? On a visual 3D walk you will experience your self-designed rooms up close!
Make preparations for interior design
Before you can fully dedicate yourself to your 3D room planner, a few small preparations are necessary. The most important step is the actual house planning. This allows you to create the rooms that you can then design according to your taste. It is only a few steps from the idea to the lovingly furnished dream house. It is best to proceed as follows:
First, plan the floor plan of the house.
Then configure the rooms in terms of shape, size and height.
Include doors, windows, and stairs, as well as patio doors.
Plan all light switches as well as electrical outlets.
Check your work in the 3D model with a virtual walk-through.
Make any changes you want or save the project.
You have now laid the foundations of your house or apartment and can now begin with the actual interior design and furnishing. Make yourself comfortable in your home office and dedicate yourself to the creative area of ​​your room design. You can use the 3D furniture libraries included in the program or download various designer furniture from third-party providers from the Internet.
2D and 3D planner - top functions for individual rooms and entire houses
Cadvilla is one of the few programs in which you can fall back on free furnishing libraries from a wide variety of topics and areas. There is also the option of importing 3D furniture and decorative furnishings into the architecture software by downloading them and then integrating them into your rooms. Follow our tips in the support area and work as your own architect who plans his own ambience and adds decorative details. We recommend that you insert the desired interior in 2D, ideally. The 3D representation is generated automatically and then gives you the option of visualization during a 360 ° pass.
Extensive furniture libraries generate enthusiasm
In our software you will find a wide range of standard furniture and furnishings from well-known manufacturers. You can also import everyday items, lighting solutions and decorative details from the libraries directly into the floor plan. To do this, simply click on the favorite interior and drag it to the desired position.
Use your own furniture to set up by downloading it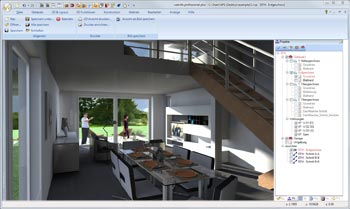 As an alternative to the furniture library, you can also furnish your interior with furniture from third-party suppliers on the Internet. These can be found on portals such as the 3D Warehouse, where they are usually made available for download free of charge. Simply search for a suitable 3D object and then import it directly into your furniture library by downloading it from cadvilla professional. All common formats such as 3DS, Sketchup, Collada or Lightwave are supported. How to do this in detail and how to use your favorite designer, furniture styles and ideas Outside in our CAD room planner, you can find out in our support tips.
Different levels for different furnishing ideas
When planning the facility, we recommend that you use different levels. With this option you can create different creations in the room planner and at the end compare which interior you like best. You can make the individual levels visible or invisible as you wish and view them in direct comparison. All visible levels are shown in the 3D model of the floor plan and thus give an even better impression of the living room and bedroom during a virtual inspection.
360 ° hike for an authentic feeling of space
Make yourself "on the way" and visit your furnished room in the photo-realistic 3D representation. Our interior design software Cadvilla creates spatial experiences and gives you a feeling for the effect of the interior design. Do you want even more authenticity? Then use the option for decoration, place people in the 3D model or use plants to create harmony and a warm aura.
Compare, share and print results
All functions in our 3D CAD planner can be operated intuitively and offer great added value. In addition to professional floor plans, you can plan your interior design with furniture from the libraries, create your interior with designer furniture from downloads and texturize the surfaces of walls and pieces of furniture individually. Cadvilla is simply a pleasure and simplifies room design immensely. Compare different planning results, share your creativity with friends or print out the fully designed rooms for the moving helpers.