How does a cell phone get power
The 6 best tips for charging the battery on the go
1. Crank charger - use your muscular strength
Crank charger - use your muscular strength
That can be exhausting: If you don't want to rely on your own reliability when it comes to regular charging, you can rely on your muscular strength. Power can be converted into energy with special chargers - greetings from the physics teacher. With a crank you generate energy for a few minutes, which is stored in the battery of the charger. Then you can connect your smartphone and watch how your self-generated energy charges the cell phone's battery. You can get crank chargers for as little as 5 euros, such as the Tookie travel emergency charger. The crank charger from SAPE is slightly more expensive, but it also has more functions.
The advantage: You can combine your daily training with charging your smartphone and take the handy device with you wherever you go. The whole thing is well suited for emergencies, but the battery cannot be fully charged with mere muscle power.
2. Charge your mobile phone on your bike
Charge your mobile phone on your bike
Anyone who travels a lot by bike can use a small device to generate energy for their smartphone while riding. Many cyclists already generate energy that is converted into electricity on the bike - via the hub dynamo. This actually supplies the electricity for the lighting, but can also supply energy for the smartphone. To do this, you need a bicycle dynamo charger that is able to convert and store the electricity from the dynamo. Corresponding devices are available from 25 euros, and many are even waterproof. We recommend the bicycle dynamo charge controller from Kemo.
The advantage: If you are out on your bike anyway, you can also charge your smartphone at the same time - without any further effort.
3. Full power with the power bank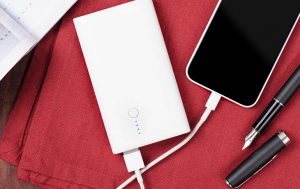 Full battery thanks to the power bank
Very classic: the good old power bank. Many power banks have a very large capacity and are at least so handy that they fit in every handbag. If you invest a little more money straight away, you will benefit from the mobile power dispenser for a long time and get models with more than 20,000 milli-ampere hours. This means that the smartphone can be charged many times on the go. If you don't want to get your own power bank, you can simply borrow one in some cities - with Ampero.
The advantage: With your own power bank you are independent and can charge your smartphone anytime and anywhere. However, you have to remember to charge the power bank regularly.
4. More battery charge with the power of the sun
More battery charge with the power of the sun
Festival goers in particular will love this charging option: solar panels for smartphones. From 10 euros you can buy a solar panel and suitable charging cables for various smartphones. We recommend models from ADDTOP or RLERON, which are known for their high quality and high capacity. It is very easy to use: Connect the panel to the smartphone and place it in the sun. Those who want to be prepared for rainy days can also opt for a device with a battery.
The advantage: You don't have to think about charging two devices and you can easily charge your phone in good weather.
5. Disconnect power from the car or laptop
Branch power from the car or laptop
Notebooks or cigarette lighter: With the right adapters, you can charge your smartphone on the go without a power socket. In the car, you simply use an adapter for the cigarette lighter. When choosing the adapter, the quality is most important. If you have a charged laptop with you, you don't have to worry about the power supply of your smartphone. Simply connect the charger to the computer and off you go. Fortunately, many manufacturers ship the cable and socket adapter as separate parts with the smartphone.
The advantage: You can get a lot of electricity with relatively little money. However, this only works with a car and laptop nearby.
6. Wireless Power Share: Charging from cell phone to cell phone
Wireless Power Share: Charging from cell phone to cell phone
The latest trend in the smartphone world is called Wireless Power Share. This means that you can charge another with one cell phone - simply by holding it to the back. The technology was first used in the Huawei Mate20 Pro. Samsung has also equipped its spring devices Galaxy S10 Plus, Galaxy S10 and Galaxy S10e with the feature. However, there is one prerequisite: In order to charge your mobile phone with another smartphone, it must be Qi-capable, otherwise the transmission will not work.