Modi only focuses on foreign policy
Pragmatic foreign policy expected under Modi
India's nearly 180 million Muslims fear the Hindu nationalism of India's Prime Minister-elect, Narendra Modi. Since his youth he has been part of the radical Hindu cadre organization RSS, whose ideology is based on extreme Hindu nationalist principles. Many also remember 2002, when Modi, as head of government of Gujarat, idly allowed almost 1,000 Muslims to be killed in anti-Muslim pogroms.
But now that the head of the Hindu nationalist BJP - equipped with the strongest government mandate in 30 years - takes power in India, he will not play the Hindu nationalist card, experts believe. "Modi may have started his career with a far-right agenda, but he must and will now move towards the political center," says Sreeram Chaulia of the Jindal School of International Affairs in Delhi. The new head of government must also present himself more moderately in foreign policy, says C.S.R. Murthy, political scientist at Jawaharlal Nehru University in Delhi. Modi, who only speaks Hindi in public, has little experience on the international stage: "He still doesn't understand the nuances of foreign policy enough to conduct negotiations. He needs time and good advice to do this. In addition, it is still unclear who will be his foreign minister , and how much independence Modi will allow him to do. "
As a first official act, Modi must now keep his election promise to get the country's ailing economy back on its feet, according to Murthy. Average growth of around five percent over the past two years has not been enough to provide jobs for the 13 million young Indians who enter the labor market every year. In addition, the manufacturing sector currently only provides 15 percent economic output - little compared to 31 percent in China. This is where Modi's experience from twelve years as head of government in Gujarat could come into play: There he enabled domestic and foreign investments, built a modern infrastructure and created jobs.
USA and Europe are swinging around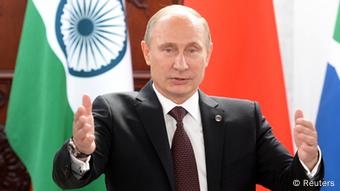 Modi has not agreed to lean towards the West - Putin is also tempting
To achieve this goal, Modi will need stable and mutually satisfactory relationships with its main trading partners, the USA and Europe. Washington, which refused Modi an entry visa after the Gujarat riots in 2002, is now trying to fix the relationship. President Obama has already invited the new prime minister to the United States, says Christian Wagner from the Science and Politics Foundation. The South Asia expert assumes that both sides have a strong interest in maintaining their good relations.
The European states - including Germany - that had also given Modi the cold shoulder after the Gujarat pogroms, normalized their relations with him as early as 2012. Many members of Modi's BJP admire the economic models of the USA and Europe, especially that German example. One can therefore assume that closer cooperation with these countries is at the top of Modi's list of priorities, according to political scientist Murthy. He assumes that the new head of government will soon visit Washington and Europe. "Modi would certainly like to travel there. Perhaps with these visits he also wants to signal to the people in his home country that the past has been forgotten."
But there are other signals as well. After the results of the parliamentary elections were announced and Modi received the congratulations, Russian President Putin was one of the first to receive a response from Modi. He tweeted: "The Indo-Russian friendship has withstood the test of time. We will continue to strengthen our relationships in many areas." Hindu nationalists have not forgotten their traditionally close ties with Moscow and openly admire Putin's tough leadership style. However, India has so far stayed out of the Ukraine crisis.
Rival China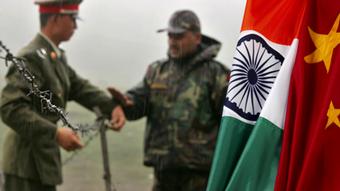 Further confidence-building steps with China are necessary
Relations with China are strained by unresolved border disputes, the Dalai Lama's asylum in northern India and the Indian "Look East Policy" with which India is trying to counter the growing influence of China in Southeast Asia. The Indians are also a thorn in the side of China's military support for Pakistan and the strategic development of Chinese bases in South and Southeast Asia.
The problems with China will come, believes Christian Wagner, for example if there are incidents or increased border violations on the controversial demarcation line between India and China ("Line of Control"). Swaran Singh, political scientist at Jawaharlal Nehru University in Delhi, is more optimistic: "The new government will likely focus on aspects of social development, with China as its main partner. Narendra Modi has visited China several times and knows the Chinese leadership. That will become help to smooth the partnership and to defuse some of the recurring irritation. "
Pakistan: chance for rapprochement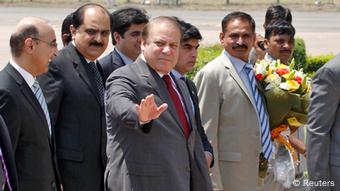 No exaggerated expectations - Sharif in New Delhi
Modi's inauguration on Monday (May 26, 2014) could offer a favorable opportunity for rapprochement between India and Pakistan. Modi had invited his counterparts from neighboring countries to the ceremony, including Pakistan's Prime Minister Nawaz Sharif. After a long hesitation, he accepted. This is the first time a Pakistani head of government is taking part in the swearing-in ceremony of an Indian Prime Minister. Observers hope that the difficult relations between the warring neighbors will improve.
Relations are characterized by unresolved conflicts over the Kashmir region claimed by both sides - and by three wars over it in the past 67 years. A slight thaw ended abruptly after the 2008 terrorist attacks by Pakistani Islamists in Mumbai.
In his election campaign Modi had announced a tough line in the Kashmir conflict and also declared that he wanted to reconsider the renunciation of a nuclear first strike against Pakistan ("no first strike policy"). These statements left him little diplomatic leeway, says C.S.R. Murthy. "I suppose Modi will not want to enter into dialogue with Pakistan until Islamabad shows concrete progress in condemning terrorists in their own country or infiltrating Pakistani terrorists into India. I see no chance that they will Talks will resume as Pakistan wishes. "
Christian Wagner assumes that Modi wants to further develop economic relations with Pakistan. But now it is Pakistan's turn, because India has already granted Pakistan most-favored nation status. Islamabad, on the other hand, is still reluctant to grant India the same trade policy advantages.
But there are still many pitfalls. Pakistan's powerful military and India's Hindu nationalists have always feared closer bilateral relations and could block a rapprochement between neighboring states. Another terrorist attack in India or renewed violence in Kashmir could thwart any attempt at reconciliation. Because then Modi would be forced to no longer give top priority to trade relations and investment promotion, then his foreign policy would also be under the auspices of Hindu nationalism.