LAX is a hub for every airline
Who flies the DHL parcels in Europe?
Seville, New York or Moscow - every day, millions of parcels start their journey anywhere in the world, only to be transported all around the globe to their recipient. Every shipment is unique and can never be accurately predicted. To ensure that every parcel reaches its destination as quickly as possible, DHL has set up a sophisticated network around the globe that converges on the European continent at Leipzig / Halle Airport. Every package that has started its journey somewhere in Europe and is destined for another country will find it difficult to escape the Saxon hub. So that this logistical masterpiece can be successfully mastered day in and day out, the company relies on a large number of partner airlines who put their fleets in the service of the yellow logistics giant. Currently, up to 20 airlines are regularly in use for DHL at the European hub in Leipzig alone. This article is dedicated to the main actors.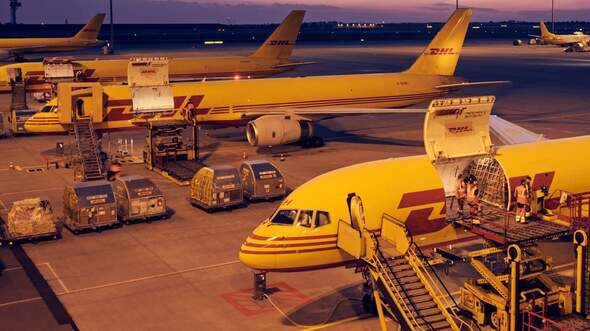 German Post AG
Under cover of the night: so that the express freight can be delivered the next day, most of the flight movements take place at night.
From tourist bomber to cargo shooting star
Short-haul freight machines usually only fly a few routes per day. The time window in which express freight is transported usually only extends from the late evening to the early morning hours. If the airline does not aim to have the aircraft in the air as many hours a day as possible, as is the case with classic passenger planes, for example, increased fuel costs are less significant. Buying new, fuel-efficient aircraft is therefore not so financially viable. As a result, many retired passenger aircraft have been breathed new life into DHL. The entire fleet of Airbus A300s and Boeing 757s consists of converted machines that used to transport passengers. A complex conversion, consisting of the installation of a large cargo hold loading door and the conversion of the cabin, turns a previous vacation plane into a fully functional freighter.
In addition to its own Airbus A300 and Boeing 757, DHL also makes extensive use of the capacities of external partners. Regardless of whether ASL, Cygnus or West Atlantic - DHL Air's continental European network is extremely diverse and colorful, as the following picture gallery shows.