What things make you sad about Haridwar
Via India to the high mountains in Nepal and back!
Travel time: March - August 2009 | by Jan Schäfer
The children's village, Bhakunde, 3 months volunteer: The last days in the village
The last days in the children's village
Actually, I had planned a lot for the last two weeks in the children's village. I wanted to do a learning circle with some elementary science experiments and I wanted to do a teaching method at Shamrock School. But when I arrived after the trek, I learned for the first time that the children were now on vacation until I left. Two months ago I asked when the children would get their next vacation, and I was told September. Since working with chemicals is simply too dangerous for me here, I decided to demonstrate the few experiments that can be carried out with the harmless things (ice, water, soap and sodium chloride) in a small experimental session. It's a shame that it couldn't be a real learning circle, but I think this time the children even learned something from my explanations. Since there was (finally) not so much to do for me, I decided to just enjoy the last few days in the village, but at first it wasn't so easy for me in terms of health.
At first I had problems with my trekking bladders. Unfortunately, one was in a place that is impossible to keep clean here and even disinfecting twice a day with beta-soda ointment could not prevent a short period of painful occurrence.
Then two nasty geysers came to life in my face. These clogged sebum glands became thick as gummy bears and they sat too deep for my blunt sewing needle to reach. In Kathmandu I got myself a cannula and my facial muscles twitched uncontrollably when I rammed the thick needle into my right cheek in front of an incredibly dirty bathroom mirror. But apart from a lot of blood and pain, I didn't get anything. My region under the eye only swelled even further and my field of vision was impaired as a result. It was only after more than 10 days that I was able to reach the pressurized pus chamber and you will not believe what a disgusting, relieving feeling it was when almost 2 milliliters of pus shot out of my cheek. Sorry for the details, but I'm so happy to have gotten rid of this chronic pressure.
The next construction site, the long-running hit and hotspot of the entire trip, the stomach ...
After I had already broken on the trek and the loperamide (which simply switches off all gastrointestinal activities! Sometimes really useful) brought me safely to Pokhara, I experienced a kind of silent diarrhea. Regular stomach pains, heartburn, no appetite (that's always my sign that I'm really sick) and sometimes a slight fever, but no diarrhea ... Well, she disappeared without medicine after 4 days
And then, as the crowning glory of the story of suffering, I brought stowaways with me when I arrived at the children's village. When I was under my cold shower on the first day, a small insect with a thick, red and flat abdomen suddenly crawled up my chest. Shit, I knew right away that it was a head louse ...
Then the itching started ... really annoying ... I felt so atey ... so completely unclean. The house mothers were happy and so I was deloused by 4 practiced hands in 2 sessions, but the parasites were simply in the majority and to fuss every single one of the 1000 eggs out of my hair would probably take days. When Chandra (health assistant by trade) finally arrived, I first ordered delousing hair detergent. To date I've already used 4 packages of the stuff. At the moment I don't have any adults, only louse larvae and a lot of eggs on my head, which I first have to hatch and grow so that I can numb them with the detergent and then rinse them out. Great right? It doesn't itch as badly as it did in colonial times, but somehow it's always a little bit everywhere. In 2 weeks I will probably be rid of the beasts, as I will interrupt their life cycle with my washing. Hae Hae ... you bloodsuckers die!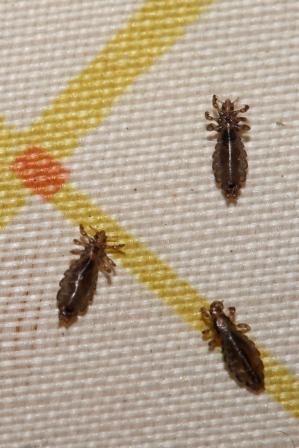 The horror on 6 legs ...
Well otherwise the first days after the trek were really nice because I didn't have that much to do. On the first evening we went for an evening walk about which the children should write a story. We strutted barefoot through the many small streams and warm flat ponds that the monsoon had created in recent weeks. The entire landscape is now covered by many small waterfalls that distribute the water between the rice field terraces. When the girls helped the neighboring farmers to set the rice, I decided to help them. And so I stood in the warm mud of a small terrace with a bunch of rice plants in my hand and stuck the rough plant into the mud with my index finger. (Not so near, not so close; was my complete introduction to the art of rice planting)
After three quarters of an hour crouching, we had at least planted an area of ​​my old apartment in Marburg with 5 helpers. Of this, however, a maximum of 10 square meters went to my account. It was definitely a lot of fun to chat a bit (my rudimentary Nepali always gets a nice laugh) and to enjoy the hallucinogenic evening atmosphere.
The Kathmandu Ride
Since I've never been to the Youth Hostel in Kathmandu and I was supposed to take pictures of all the children there anyway, I had to bite into the dusty apple again and somehow come to Kathmandu. Actually, I wanted to go there alone by bus, but Chandra offered me to take me on his motorcycle. A motorcycle ride from Pokhara to Kathmandu ... probably sounds very romantic and exciting, but it is mostly the latter. Because you have to remember that you share the pothole with dozens of trucks for which catalytic converters and unleaded gasoline are foreign words.
The distance from Pokhara to Kathmandu is only 200 kilometers long, but as you probably already know, the bus takes about 6-11 hours for the journey. We made it in four and a half and then it only took us 1 hour to go downtown.
While I was hurrying through the green Himalayan landscape, pressed so close to Chandra, I noticed what I had forgotten while packing. Sun cream ... and good old Clara burned my unprotected forehead, which until now was only used to pony shadows. So I crawled under my rain jacket in the brightest sunshine so as not to arrive as an Englishman.
In Kathmandu you are really the king of the road with a motorcycle. When everything is in place (and that happens around every corner) you can still find a loophole with the bike. I was pretty used to the chaos on the streets, but on the motorcycle it's a bit more blatant and all too often I've seen us in the grave, but Chandra is really a very good motorcyclist and his steel donkey has really good brakes.
I even witnessed a small accident up close. During a typical aborted single threading action (the one who blocks the path first always has the right of way), I suddenly felt my left foot rubbing. A motorcyclist braked too late and hit us in the side at low speed. We were able to support ourselves, but the front wheel of the braked man buckled and the two riders fell off the bike. After a few gestures and looks, however, we immediately drove on because it was her problem.
What is much more uncomfortable than the traffic stress, however, is the smog and dust in the street air. Sometimes I kept all accesses to the outside world closed while we drove through a thick black cloud of exhaust gas. Because my eyes were still often so tearful that I couldn't see anything, even though I already have huge wind deflectors in front of the peepers. After such a 7 hour exhaust battle you look something like this ...
Do I look like shit? The photo doesn't really show how much dirt I had in my face. Especially the left cheek and the forehead were more black than pink ... (I was only considering whether to put the picture in at all, but as an objective documenter, you have to be honest and admit that you are ugly.)
Our first stop was the Youth Hostel, which luckily lies a little outside the city center in a rural area on a hill.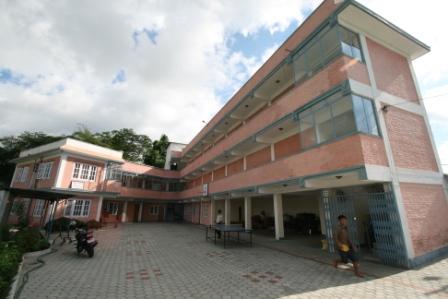 The Youth Hostel in Kathmandu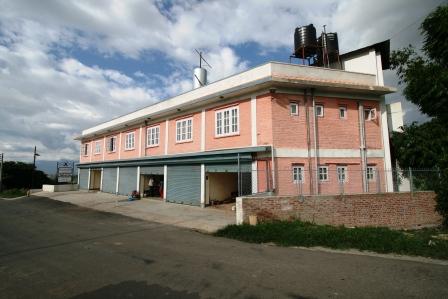 ...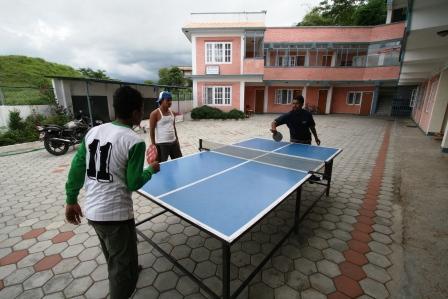 ...
...
We received a warm welcome and delivered half a backpack full of letters from the children in the village. I showed Biseh a few guitar chords and we had our evening Dhal Bhat in front of the TV.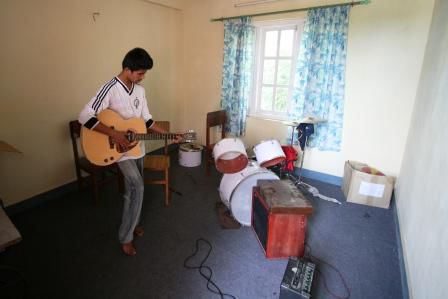 the music room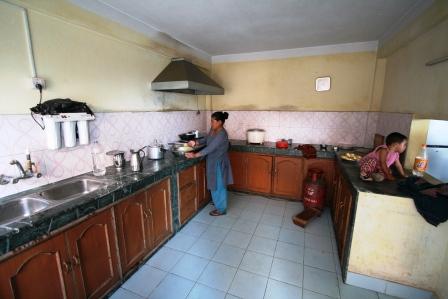 the kitchen
The next morning, the photo shoot on the brightly lit roof of the large building was announced.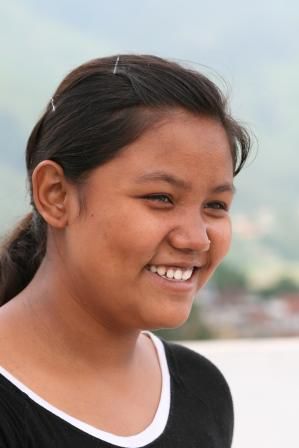 Sangita Gurung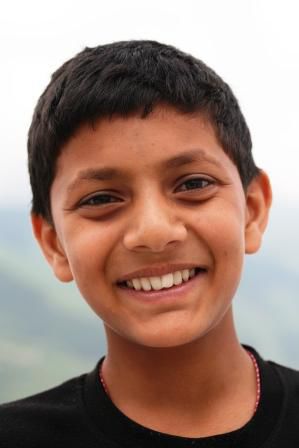 Sunil Baral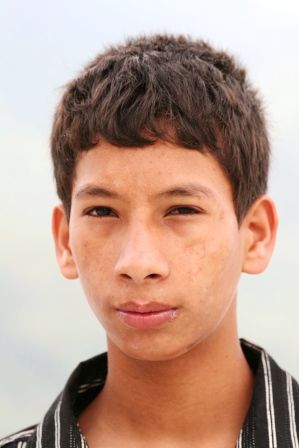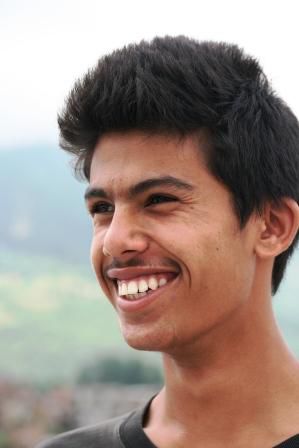 Rahul Lamichhane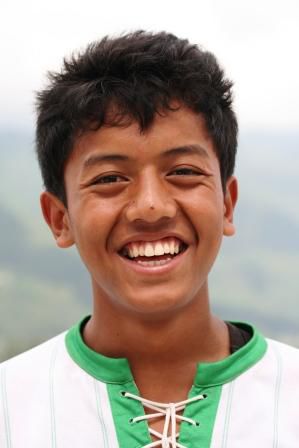 Shibu Gurung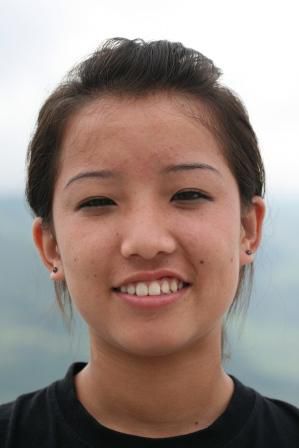 Sunita Gurung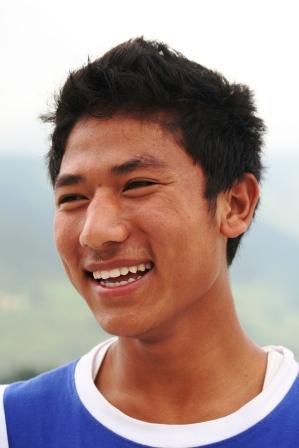 Sagar Thapa
Manuja Adhikari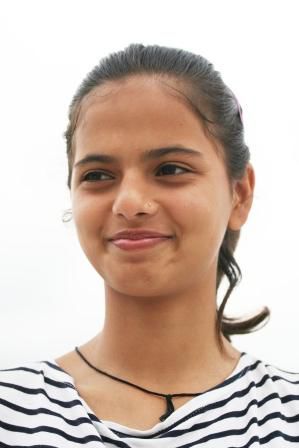 Manju Baral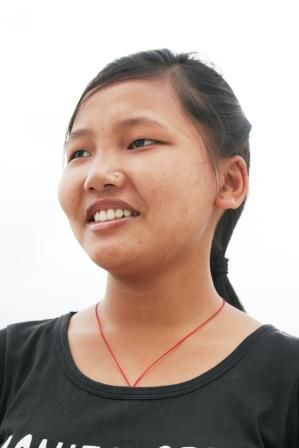 Jeenita Gurung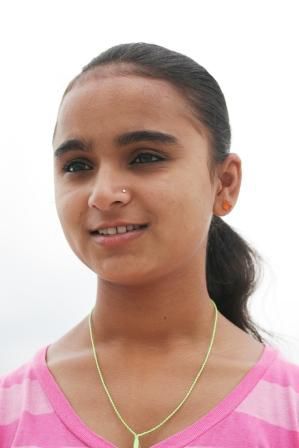 Durga Poudel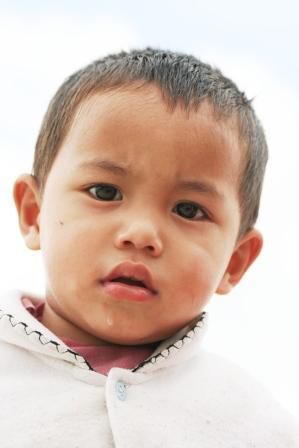 Son of the cookess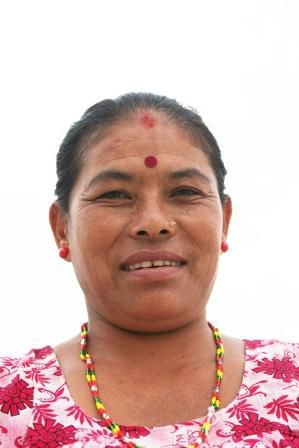 Mama Gee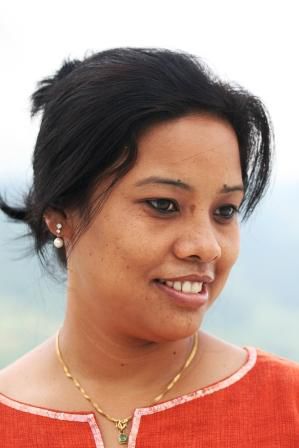 ...
Durgas Eye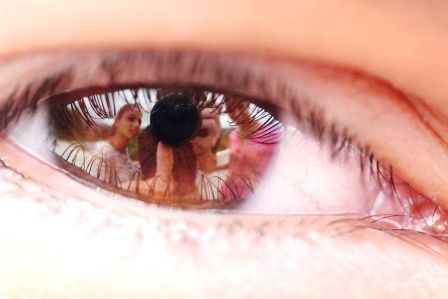 Manuja's Eye
Then we went by bike to Bhaktapur, the last of the 3 cities in the wide valley that I had not yet visited. Since we both had no idea how to get there, we had to ask ourselves. It is easy to see that Chandra had exactly the same problems with asking away as I did when I was traveling. He, too, asks several people on every corner to find out the general opinion.
At the entrance, Chandra experienced what it is like to be a tourist in Nepal for the first time. While he could just stroll through the beautiful entrance gate to the city center, I was stopped again and they asked me to enter 750 rupees. But even Chandra's attempts to negotiate the price didn't bring anything in this case, I almost didn't go in, but then I would have been angry with myself later and so I went to the ATM to withdraw money.
On the beautiful Durbarsquare we continued when it was not possible for Chandra to get rid of a stubborn khukuri seller (traditional knife). I told him 7 times that I don't need one, don't want one, don't have the coal and couldn't transport it, but for the next hour and a half it was stuck to my backside all the time. Why are these people so pushy? Unfortunately you really have to be negative to every Nepali who speaks to you in these areas. I don't enjoy it any more than you do ... Just stop it, I just want to enjoy the atmosphere here and we Europeans will get in touch when we want to buy something, don't worry. I thought the off-season would also be noticeable here, but there are always enough tourists in Kathmandu.
Nevertheless, I still found a full hour to look around the old city.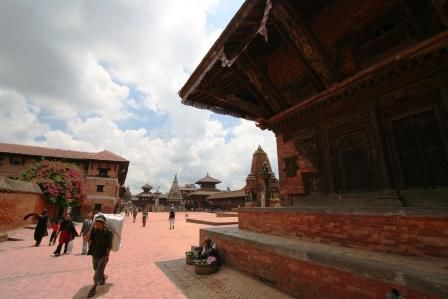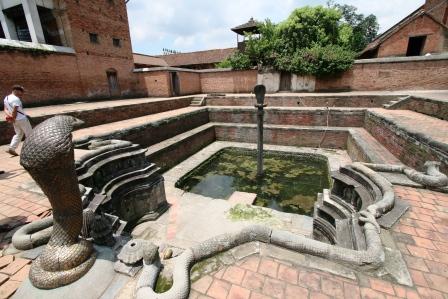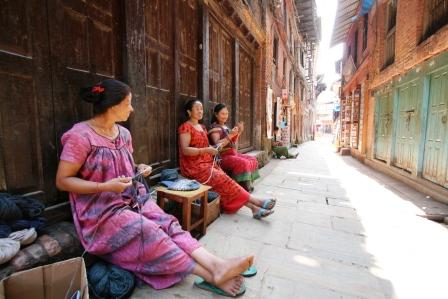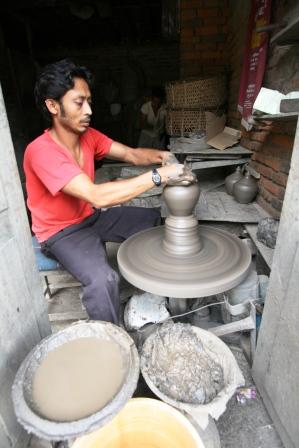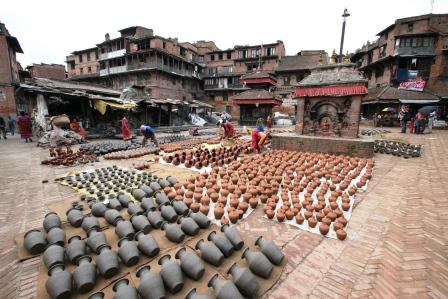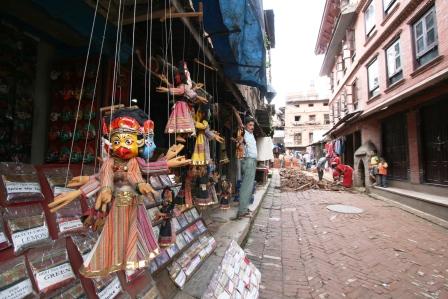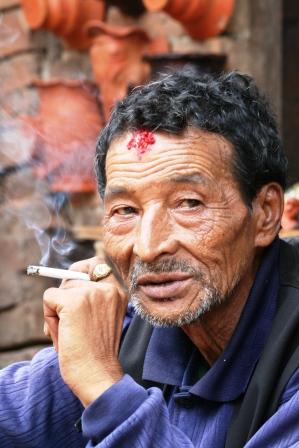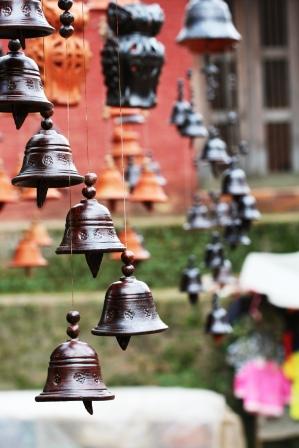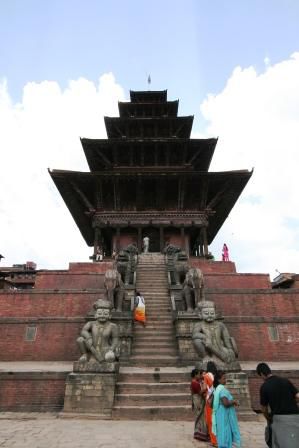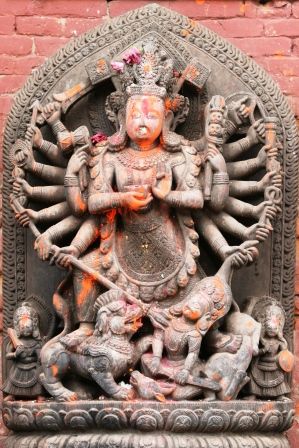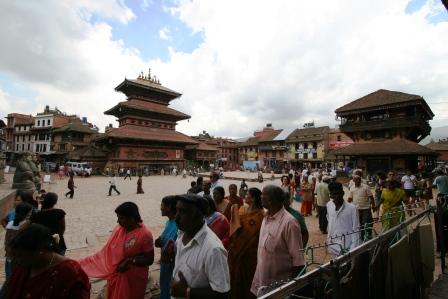 After that, Chandra wanted to visit the National Museum. Here again: Nepali 100, foreigners 500. If Chandra had pretended to be my guide, he would even have gotten in for free. We even messed around a little with our fictional guide-tourist scam, but then decided, for the money, to have a delicious meal with an alumni of the children's village.
We spent the night with Chandra's new in-laws in a house in Kathmandu. On the first floor, 11 people lived in 3 rooms, a kitchen and a bathroom on around 50 square meters. I was even asked if I wanted to sleep alone, but I didn't want to squeeze 7 people into one room just because the Westerner needs his privacy. So I spent the night with Chandra, his brother-in-law, his brother and one of the children in a room. Unfortunately, the evening and morning programs were largely determined by the television set and so I wasn't able to find out much about these nice people.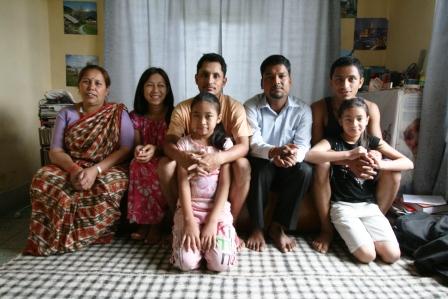 Thank you for everything!
The next day I went to the other side of town early, because Tanka had told me about a botanical garden with lots of orchids. The nice thing about these gardens is, they are cheap (only 100 rupees for me, 10 for my camera, 10 for Chandra and 2 for his motorcycle) and since Nepali are not exactly nature fanatics, you are here to yourself. But unfortunately I was more than disappointed by this national botanical garden.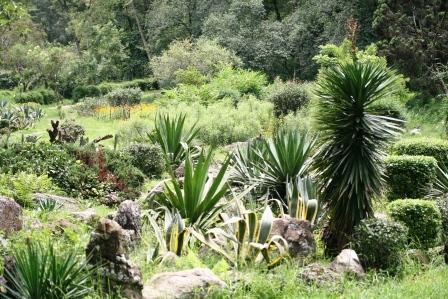 The pictures now pretend to be much nicer. It was difficult to find anything worth photographing at all!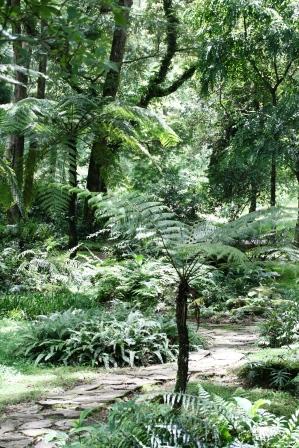 The fern garden was even one of the highlights!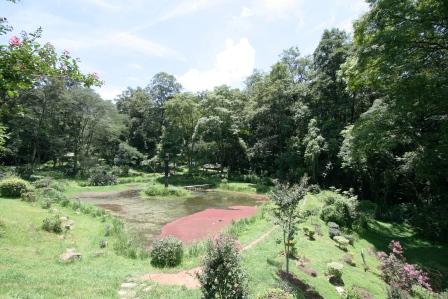 ...
The much-praised orchid house was unfortunately only a 5 meter long shelf full of flower baskets, but only one of the 400 orchids was in bloom.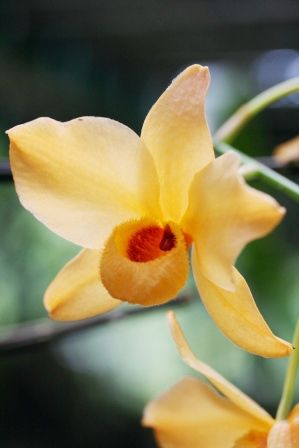 Well, at least she looked good for that!
the tropical house
The other greenhouses were really nothing special either. Either I already knew the plants, or the houses were closed or empty. Then we went to the Japanese Garden. But after 10 minutes we hit the border of the park and hadn't even noticed that the jungle landscape behind us was supposed to be this garden. (I always thought they were so accurate and arranged)
Even the tropical house did not house a single flower that was worth a photo and so we were on our way home after only one and a half hours. It's a shame ... you could do a lot with the garden, but somehow nobody cares. (Here I just want to say that I am really happy about our local garden culture)
Actually, I assumed that after this visit (it was only half past one) we could leave for Pokhara directly, but now Chandra explained to me that we would have to go to a hospital in Kathmandu again (why don't you tell me that?) And so there was again only dust, noise and asking around for 2 hours. When we reached the small building (which was more like a practice), the doctor in charge was not there and the allergy test we wanted to get was only available in Bhaktapur. Now it was 3 and we still had to get out of Kathmandu to be able to leave for Pokhara. The decision was difficult, but I was able to persuade Chandra to leave because I don't particularly like big Asian cities.
The way out of Kathmandu was again very amusing and cancer-promoting. Before the city limits we drove along a 2 kilometer long traffic jam, which should give a newcomer a waiting time of at least 2 hours and behind the city limit the same thing again. A leaden avalanche of sheet metal snaked its way up the serpentines to the high plateau and we had to wait for a lot of traffic jams on the way down, as some accidents on the side of the road or peeing truck drivers paralyzed the traffic.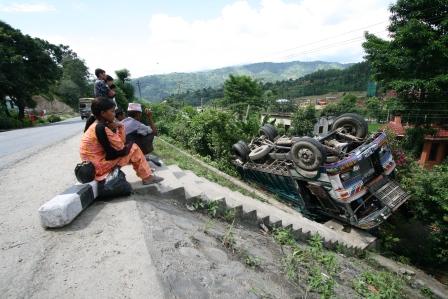 Ouch!
The way back seemed to me a lot longer than the way there, but it was much nicer, towards the evening there was less and less going on on the streets and towards the end it was really fun to sit in the curves while you whizzed into the sunset. (Well we only drove 100 km / h once, mostly we didn't have more than 60 things on it, but on a Nepalese street it works really fast, especially when a bump throws a 30 centimeter high and family planning is hard on the back seat ) After 2 hours of driving, we started to do our first gymnastics exercises on the bike to fill our bloodless buttocks with emotion again. Looked less heterosexual in tune
But we wanted to arrive at the times and when we reached Pokhara at 9 o'clock, I treated ourselves to a delicious, cool blond (Nepal Ice).
When we arrived at the children's village at half past nine, we were welcomed like superstars and we distributed our letters from Kathmandu to our fans like autograph cards.
What else happened?
I tried to crack my ammonites
In an internet cafe in Pokhara, a friendly Nepali told me that the hard stones can be blown up with a quenching bath. So I quickly stood in the kitchen and heated the stones over the gas flame of the stove. Then I let them fall into a bucket of cold water and lo and behold, they all got nice cracks. Then I sat in front of my room and carefully smashed the stones. I was very lucky with my first ammonite and with the first gentle blow a real miracle occurred. A perfect clock-like ammonite shape opened up in front of me, and it was even partially covered with fool's gold. I was so happy. The perfect souvenir for at home, a found and self-exposed perfect ammonite.

Then I tried my second, but unfortunately it shattered very badly and I could not reach a break edge on the housing wall. As I sat there exposing my 300 million year old mollusks, I received help. I first showed the helper my treasure and made him aware that it was ready and that it should not be exposed any further. I even showed him the cracks where it would break if you worked on it further. And I know that this person definitely speaks enough English to understand that. I was asked about my Kathmandu trip, but before I could answer, my hard-working helper had already cut my beautiful ammonite into five parts. This time I was really pissed off and I got the nastiest look I ever had. (I just feel punched). How can something like that happen? And for this beautiful ammonite scrap I got my heels (really) bloody.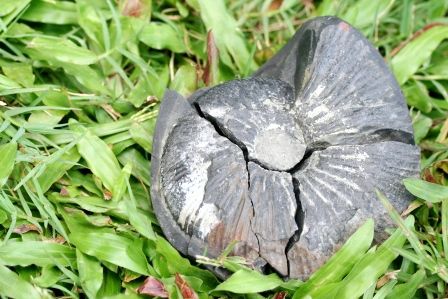 In Memorian of a Perfect Ammonite
The solar eclipse
On July 22nd, 2009 (today) a solar eclipse took place in the Southeast Asian region. I'm pretty sure you probably couldn't see them in Europe. Well, it was supposed to take place from 6 a.m. to 8 a.m. (the children were instructed not to leave the houses during this time) and I was standing in the starting holes at half past five with a tripod, cable release and 1000-fold neutral density filter. But a low-hanging thick cloud cover made a gray line through my calculations. It's a shame ... otherwise I might be able to show you a corona (I couldn't find out whether it was a total or only partial solar eclipse) or a few clouds of eruption.
Pictures were taken
To say goodbye, I placed an order for 100 photos (1000 rupees), looking ahead in matt, as they would be matt after 10 minutes of children's hands anyway. Each child got a portrait and I made a poster with the most beautiful snapshots from the time in the village. (Unfortunately, after only one day on the wall in House A, a picture is already missing, without a trace! After four days, 3. Alex should hurry up if he wants to see another picture)
Unfortunately, with so many children I did not have the right overview and so I unfortunately had to trust some dead-sad children for the next photo load. Sorry, but you already get your picture. And they really all got their picture. But most of the pictures are probably already broken ...
The monsoon is here
At this point I can write a little something about rain.
Rain, falling water, mother of all life, sustainer of the cosmos and mortal enemy of every wedding.
Heavy downpour, which turns every square meter of soil into a pond ...
Gentle, finely distributed and slowly falling spray, which finds its target in the most impossible corners on my book pages.
Loud roaring rain of drums, which even trumps my fully cranked in-ear headphones.
Soft stroking rain, which you only notice that it has stopped when it starts again ...
Long-lasting, monotonous rain that oscillates between I-want-to-stop soon and I-can-go-on-like-for-weeks.
As you can see, you can see quite a few showers here, because after Brazil, Nepal is the country with the highest annual rainfall.
The monsoon is not like the Europeans know it from films like Forest Gump. It doesn't just start, it rains for 2 months and then it's over. No, it starts very gradually and it rains at least twice a week. Sometimes only 2 hours, sometimes 4 days, but in between it is always very sunny and above all hot.
We were at the Mangotree
With my 4 most loyal friends we went one day and stormed the hill on which there is a huge Ficus bengalensis next to the mango trees.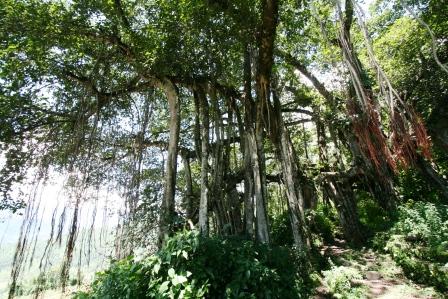 And that's probably all a big tree (and on the right side of the picture there is still a whole piece of the tree!). Really the quaintest and most impressive creature that I have seen so far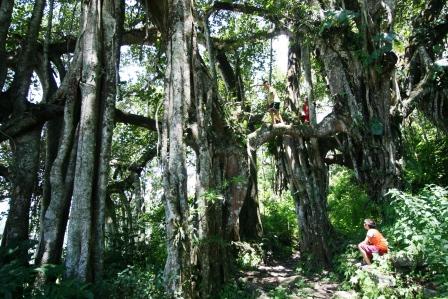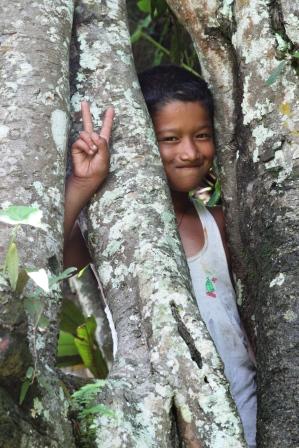 Japendrah in his element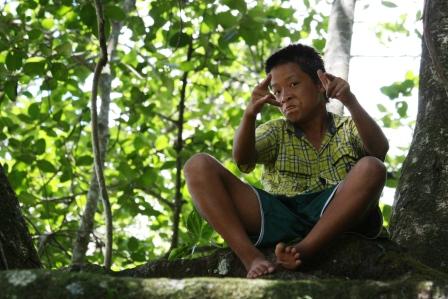 Udip at a height of 10 meters
Dill
Since this climbing tree, which has grown like a high ropes course, forms stable air roots, it is a great practice area for every hobby Tarzan.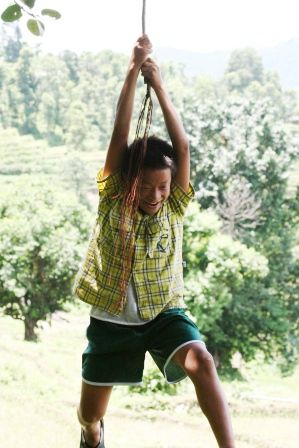 Aaaaiyaiyaaaa ...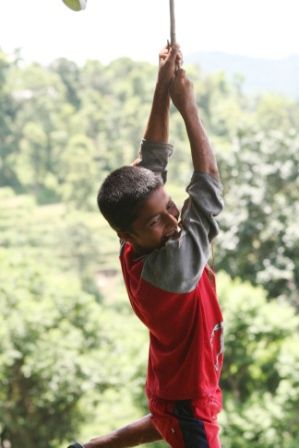 Modon on a robe ...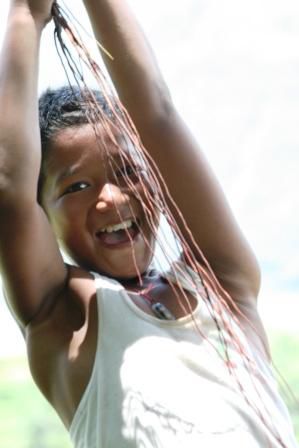 Yippi yippi yeah yippi yeah ... you know the rest of the text ...
Unfortunately, most of the mango trees had already been harvested, but looking for something the children found a few individual fruits in the tree. Here the Zwille could finally be used for something useful, because the fruits were hanging so high that we saw no other option than to shoot them down with sticks or stones.
The just mirabelle-sized mangoches were very fibrous, but in terms of taste they were the best fruit I've ever eaten. Sweet, fresh, juicy and very aromatic!
And we went swimming a lot again
The cesspool we had bathed in 3 months ago had now turned into a clean, slow stream. We now sometimes just walk a few hundred meters upstream, only to let the current drift us down the river from our back. I have never enjoyed swimming in the wild as much as I did here (it goes without saying that there is a river in Germany that is 23 degrees warm, unless you swim in the wake of a nuclear power plant). It is so pleasant to walk through the green desert of the rice fields Let yourself drift and stare at the bright blue sky, while you glide through the current under the puffy cumulus clouds.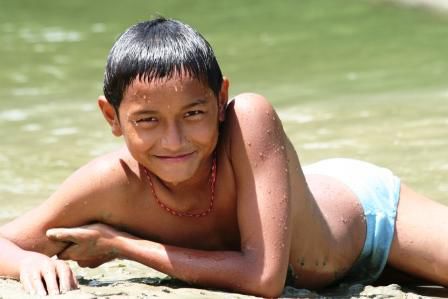 Dhorti in pose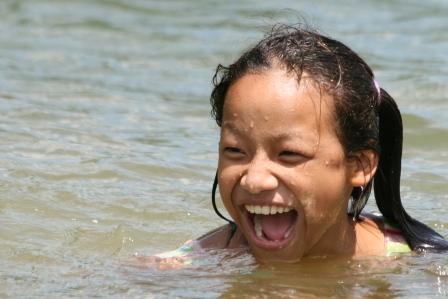 Poonam ...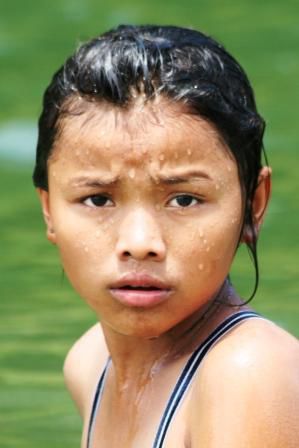 Deepa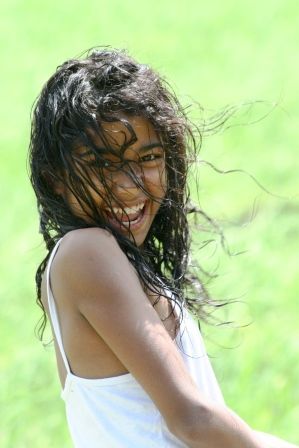 Bimala
Durga has had a duckling for two days. The little one was a hit when going for a swim and it's so clingy when bathing. If you lift your back a little out of the water, it automatically waddles on your shoulder and begins to care for your feathers. Just sugar-sweet the little one.
We named him (or is it one of them?) Mr. Donald Duck ...
While the boys were fighting their mud fights again (okay, I was usually the instigator) I wanted to bring the girls closer to swimming. Deepa, Anju, Poonam and Bimala cannot swim and so I started swimming with transport so that they can get a feel for the rhythmic, powerful movements that one should perform while swimming. Tomorrow I will first practice shallow water diving with them to make them less afraid of water.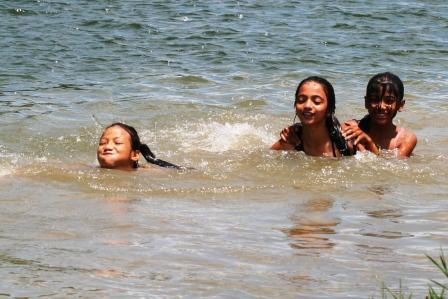 Dog paddling is not that easy for them ..., but God knows they are not afraid of the water!
...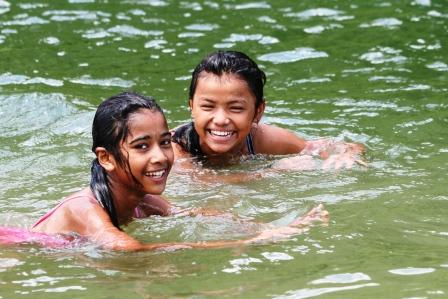 ...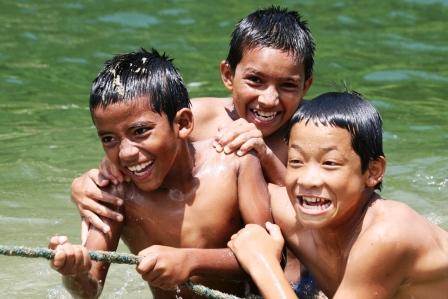 When it comes to rafting someone across the river, Santosh, Surye and Udip give it their all!
And we let the flashlights dance again
At the end there was another LAPP session for the older children in the village (with the little ones around, it's just too dangerous, because always remember: tripods make cameras very quickly, very badly)
We are not yet in top form in our drawing skills and we are not as good with the spelling either (I apologize at this point for the 527 spelling mistakes I probably made, but I barely have the time to correct them and I confess also that the Duden is not exactly my bedtime reading). Nevertheless, the children and I say thank you with these pictures for the great and eventful time we were allowed to spend in this idyllic village.
...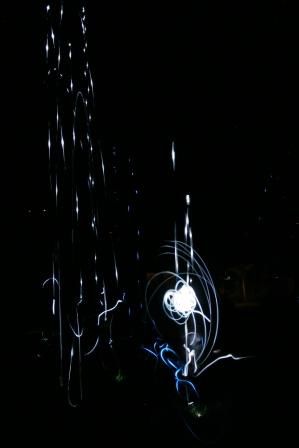 Art by Durga Pun, Bhim Raj Gurung and Udip Rai ...
The children and I say THANK YOU with these last pictures! Thanks to all employees, organizers, association members, previous volunteers and other people who made this village and the FWHC possible. Thank you Alex for letting me be a part of it, and I hope I was able to bring this beautiful village a little closer to the readers with this report ...
What's the matter?:
Photo playground of the world, I'm coming! 3 weeks in India, then 3 weeks in Nepal, then 3 months of work in a children's village (Pokhara). I hope to meet many interesting places, people and situations.
Details:
| | |
| --- | --- |
| Departure: | 14.03.2009 |
| Duration: | 6 months |
| Homecoming: | 29.08.2009 |
Destinations:
India
Nepal
Chitwan National Park