What is the best bait for trout
Trout at the trout pond
Fishing> Fishing for target fish> Trout on the trout pond
If you want to be successful at the trout pond, you should take a few tips to heart. As with other fishing methods, there are a few things to consider. In addition to the bait, the fishing method must also be tailored to the trout's biting behavior. A big difference between German and Dutch ponds should also be mentioned. German ponds are mostly allowed to fish with two rods, in the Netherlands most ponds are only allowed to be fished with one rod.
Rod for the trout pond
There are special trout rods in different lengths. From over three meters to small, sensitive rods, there is almost everything on the market. Angle pickers are also ideal for trout fishing.
I personally prefer short, sensitive rods. However, when fishing in large, spacious trout ponds, I also use long rods to get the float far out. Unfortunately, there is no rod that covers everything.
Reel for fishing for trout
A small stationary roller is used as a roller. The role should run smoothly and have a good brake. A small free spool reel can also be used for bottom fishing.
line
Monofilament cord with a diameter of 0.14-0.18 millimeters is sufficient.
Bait for trout
Both natural and artificial baits are suitable as bait.
Here is a selection of baits:
Maggots, mealworms, bee maggots, forelli or power bait. Often combinations of these baits are also very catchy - a ball of power bait and a large mealworm underneath. With this combination I have already caught very well.
But be careful here too: artificial dough is not allowed everywhere.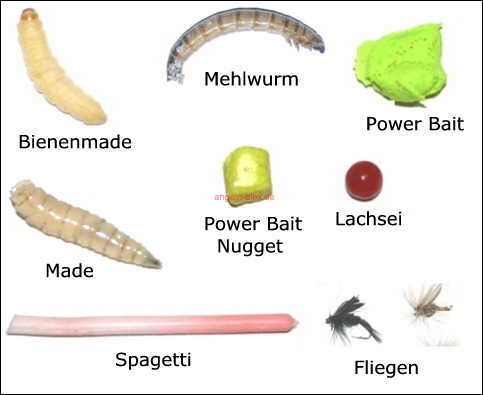 Fishing methods in the trout pond
In addition to traditional trolling or spin fishing, trout can also be fished on the bottom. I explain these methods in more detail. Trout can also be easily outwitted with the fly rod. Some pond systems even have separate ponds for fly fishermen.
Trolling
Trolling is very active fishing. Either the bait is pulled through the water on the pose assembly or on a sbirolino assembly
When towing, a triple swivel should be used to avoid twisting the leader. The vertebra should also be protected with a rubber bead. The assembly is caught up again and again after ejection. This way, the pond can be fished piece by piece. The retrieval can be done quickly or slowly. If you use a pose, you can also let the assembly rest in between and only catch up slowly. Installation see picture below. Small wobblers, spoons, spinners or twisters are used for spin fishing. But be careful - fishing with these baits is prohibited in many ponds.
Bottom fishing for trout
Self-hook assembly is best for bottom fishing. Whereby the bait is not offered on the bottom but above it.
To give the bait the necessary buoyancy, a styrofoam ball is mounted on the hook. Before casting, however, check whether the bait is actually floating. Otherwise use a larger styrofoam ball. If you use floating dough as bait, you can do without the styrofoam ball.
Now determine how far the bait drifts through the length of the leader. As a rule of thumb, the bait should stay in the lower third of the water. Means at a water depth of 1.8. Meters, a 60 cm leader is sufficient. See picture below.
Locations of the trout
Anyone who knows the preferred locations for trout catches better. Of course, the time of year also has an influence on the location of the trout. Since most of the trout ponds are artificially created, it is harder to find the spots. Here are some help.
In the cold season, trout tend to be near the bottom. Rather near the surface in warm weather. Successful spots can also be water inlets or fountains, as this is where oxygen enters the water. Shelters or water plants can also be attractive.
Tips for the trout pond
If you want to make a hooked dough from forelli, put your forelli in a bowl. Add water until the forelli is covered an inch. Now soak overnight. Then pour off excess water and add oil to the dough until the dough is nice to knead. This is how a super hooked dough was created.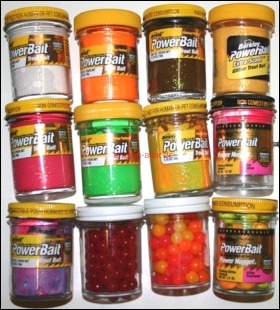 Choice of different types of powerbait
© Fishing with Alex - Tips for fishing for pike, trout, carp and pikeperch - Imprint | Data protection | Contact | Sitemap