Donald Trump is a China savior
Corona crisis: Trump attacks China
The novel corona virus could have been stopped in China before it spread across the world, US President Donald Trump said at his daily press conference in the White House. That did not happen. "And now the whole world is suffering from it."
If the pandemic is simply the result of accidental "mistakes", there is nothing that can be done about it, Trump continued. "But if they were knowingly responsible, yes, there should be consequences." And he added the question, "Was it a bug that got out of hand, or was it done on purpose? There's a big difference."
"Ashamed"
Trump's government says it does not rule out the possibility that the virus was accidentally spread from a laboratory in Wuhan, China, where bats were examined. China's Foreign Ministry rejects this theory as "scientifically unfounded".
In any case, the government in Beijing should have allowed US experts to investigate the events on the ground, Trump stressed. "They didn't want us there. I think they were ashamed. I think they knew it was bad."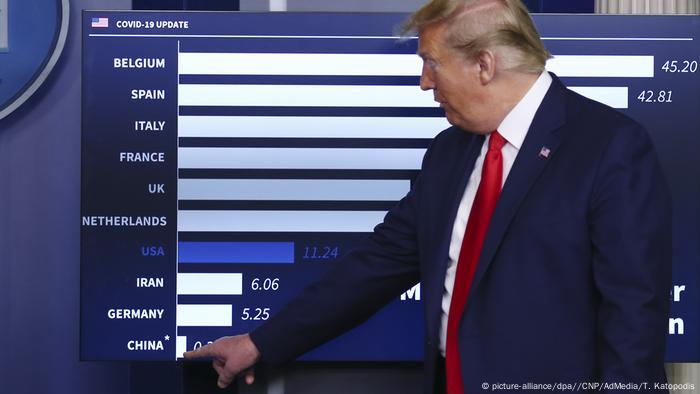 Donald Trump: "Does anyone really believe these numbers?"
The US president was convinced that China, not the US, had the most deaths in the pandemic. "We are not in the first place, China is in the first place," said Trump. "They are far ahead of us in terms of the dead, we are not even close to each other." To the address of the journalists he added: "You know that, I know that, you (the Chinese) know that" - but the media did not report it.
"Impossible"
The official Chinese figure, according to which there were only 0.33 deaths from the coronavirus per 100,000 inhabitants, is "impossible," said Trump. In the United States, according to the government, there are currently 11.24 deaths per 100,000 population. In total, more than 35,000 corona deaths have already been counted in the USA, in China only around 4,300 so far.
The head of the Institute of Virology in the central Chinese city of Wuhan rejected Trump's allegations. "There was no way the virus came from us," said Yuan Zhiming in an interview with state television that was circulated in the Chinese media. "We know exactly what virus research is going on in the institute and how viruses and samples are handled," he said. Nobody was infected with the Sars-CoV-2 virus in his laboratory. It is understandable that his laboratory in Wuhan, the origin of the pandemic, arouses people's associations. "But it is bad when some try to mislead people," said Yuan Zhiming.
wa / al / sam (dpa, afp, rtr)