Stellina Jolly, Nafees Ahmad Climate Refugees in South Asia: Protection Under International Legal Standards and State Practices in South Asia (International Law and the Global South)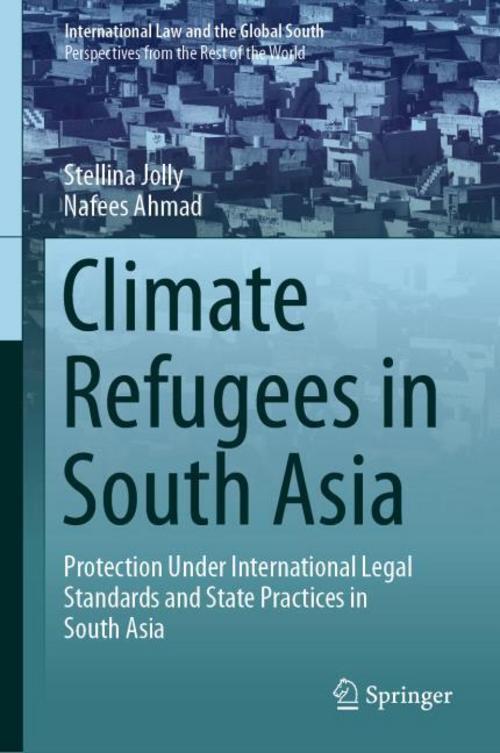 Stellina Jolly, Nafees Ahmad - Climate Refugees in South Asia: Protection Under International Legal Standards and State Practices in South Asia (International Law and the Global South)
Art No.:9811331367
ISBN 13: 9789811331367
B-No: INF1001144786
SubTitle: Protection Under International Legal Standards and State Practices in South Asia
Release Year: 2019
Published by: Springer
Edition: Hardcover
Cover: Hardcover
Cover format: 241x160x22 mm
Pages: 304
Weight: 623 g
Language: English
Author: Stellina Jolly, Nafees Ahmad
Product group: Hardcover / social sciences, law, economics / law / international law, foreign law

Used - very good, slight traces of storage,


Free postage within Germany!
Description:

This book addresses the forms of legal protection extended to people displaced due to the consequences of climate change, and who have either become refugees by crossing international borders or are climatically displaced persons (CDPs) in their own homelands. It explores the legal response of the South Asian Jurisdictions to these refugee-like situations, and also to what extent these people are protected under current international law. The book critically examines and assesses whether States have obligations to protect people displaced by climate change under international refugee law (IRL) and international climate change law (ICCL). It discusses the issue of climate migration in South Asia, analyzes the legal and judicial response initiated by South Asian nations, and also investigates the role of SAARC in relation to climate change and climate refugees.

Drawing on the International Legal Standards and States' Practices in South Asia regarding climate refugees, the book shows how IRL, ICCL, and IHRL (international human rights law) have been used to address and identify the gaps in the global legal protection framework concerning the contours of the normative debate on climate refugees, climate change displacement, migration, forced migration, susceptibility to climate change, typology of climate change-induced displacement, role of the SAARC and its municipal legal systems, approaches to climate change, human mobility and developing a hybrid regional law, or advocating a legal alternative of equal measure in a region characterized by diversity and multiculturalism. The book offers valuable takeaways for students, researchers, consultants, practitioners and policymakers alike.


Author information:
<br /> Dr. Stellina Jolly is an assistant professor at the Faculty of Legal Studies, South Asian University (SAU), New Delhi, India. Her teaching interests include international environmental law, conflict of laws and bio-ethics. She has published an edited collection titled 'Private International Law: South Asian States' Practice', published by Springer in 2017. She has undertaken projects and consultancies with various organizations including the Rajiv Gandhi Foundation, European Union etc. She was awarded an educational grant on Civil Society Law from ICNL and USAID. Her publications include articles in the International Journal of Family Law and Policy (Oxford), European-Asian Journal of Law and Governance (CPG), UNESCO Journal of Bio-Ethics, International Journal of Public Law and Policy (Inderscience), and ISIL Year Book on International Humanitarian Law and Refugee Law (ISIL) etc. She has served on the editorial boards of several peer-reviewed journals, including the Indian Journal of Human Rights, the International Journal of Bioethics and the NUJS International Journal of Legal Studies and Research. Stellina has been a Resource Person and External Reviewer for the Ministry of Law, Government of India sponsored Research Project on Judicial Reforms since June 2016 at the Indian Institute of Management (IIM), Kashipur. Further, she has been a visiting professor at the Indian Institute of Public Administration (IIPA), Indian Society of International Law (ISIL), and National Law University Delhi. <br /> <br /> Dr. Nafees Ahmad is an assistant professor at the Faculty of Legal Studies, South Asian University (SAU), New Delhi. Holding a doctorate in international refugee law and human rights, his work focuses on global forced displacement and migrations, climate refugees & climate change human displacement, policy, asylum, durable solutions and SAARC issues. He has introduced a new Program at the SAU called Comparative Constitutional Law of SAARC Nations for LLM along with international human rights and international refugee law. His publications include papers in the Asia-Pacific Journal of Human Rights and Law (Brill), Kings' Student Law Review (King's College London), Groningen Journal of International Law (University of Groningen), ISIL Year Book on International Humanitarian Law and Refugee Law etc. His book on international refugee law and human rights is in press. Dr. Ahmad is also an active blogger, writer and Op-Ed contributor to many international sites in the fields of forced migration, refugee research, human rights, international relations and diplomacy etc. Dr. Ahmad has been a Resource Person and External Reviewer for the Ministry of Law, Government of India sponsored Research Project on Judicial Reforms since June 2016 at the Indian Institute of Management (IIM), Kashipur. <br /> <br />