Is history an art humanity or a science
To the movie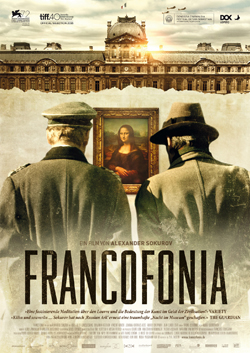 Theatrical release: 03.03.2016
FRANCOFONIA
A film by Alexander Sokurov
"Rich, complex, provocative" (Screen Daily): Celebrated frenetically at its world premiere in Venice, the new film by old master Alexander Sokurov tells, between fiction and documentation, of the rescue of the Louvre treasures from German access during World War II. A dreamlike meditation on history, war and art, humanity and aesthetics.
The Louvre at the time of the German occupation: Director Jacques Jaujard has to deal with Franziskus Graf Wolff-Metternich, head of the so-called "Art Protection" of the Wehrmacht - opponents from whom more and more accomplices in saving the museum's treasures from access Become Nazi Invaders. With the center of gravity of this wondrous story, Alexander Sokurov (FAUST, RUSSIAN ARK) unfolds in images of suggestive beauty, with surprising sequences between historical location and dreamlike association, a beguiling meditation on art and power, history and beauty, moving confidently in space and time. FRANCOFONIA lets us experience in an inimitable way that a museum is infinitely more than a place to store art exhibits. Against the background of the history of the Louvre and its works of art, Sokurov stages his unique, multi-layered, idiosyncratic vision with the masterful use of a wide variety of cinematic and narrative means: The Louvre becomes a living example of what art - amid the most destructive war that experienced the world - told us about ourselves.

In creating FRANCOFONIA, Alexander Sokurow was able to count on the multiple award-winning and OSCAR »-nominated cameraman Bruno Delbonnel (INSIDE LLEWYN DAVIS, FAUST, AMÉLIE) - and the unconditional support of the museum with unrestricted access to its rooms. The Louvre and its works of art are not the backdrop here, they become protagonists in a dialogue with the director, with his, with himself, with us - and not least with the ghosts who wander through the rooms of the Louvre: Napoleon and Marianne im The tension between history and art, power and freedom.


FRANCOFONIA
With Louis-Do de Lencquesaing, Benjamin Utzerath and others

Script and direction: Alexander Sokurov
Camera: Bruno Delbonnel
Editing: Alexei Jankowski, Hansjörg Weissbrich
Music: Murat Kabardokov
Producers Pierre Olivier Bardet, Thomas Kufus, Els Vandevorst
Production: Idéale Audience, zero one film, N279
Coproduction by Arte France Cinema, Musée du Louvre

Bold and confident, a fascinating essay, a meditation on art, history and the idea of ​​humanity about itself. With this refined, complex, completely captivating film, Alexander Sokurov has once again created a dreamy night in the museum after Russian Ark, a cinematic prose poem, the newsreel material is interwoven with ghostly floating images of the streets of today's Paris and staged game scenes. Marianne sits next to Napoleon and looks closely at the Mona Lisa - what a luxury to be able to do without crowds! THE GUARDIAN

A wondrous film, philosophical narrative, documentary, resurgence, reverie. Sokurov has created a melancholy, lyrical poem. LE NOUVEL OBSERVATEUR

An unpredictable, sparkling film, alternating gloomy and comedic: Excerpts from German newsreels can seamlessly merge into feature film scenes, Paris postcards come to life, even the French national icons Marianne and Napoleon jump out of the pictures and start dialogues with their director. Sokurow succeeds effortlessly in mixing documentary images or researched material with pure fiction and from there switching back to abstract reflection ... It remains a difficult business "to drag art across the ocean of time", as it once said in Francofonia . From this point of view, Sokurov's essay film is a very European panorama - exactly the right format for a museum like the Louvre. THE STANDARD

A free-floating, poetic essay, very personal and beguiling. Sokurov and Bruno Delbonnel have designed a rich and varied palette of textures and tints that are constantly creating new visual surprises. VARIETY

If the genre of the essay no longer exists in today's cinema - Sokurov reinvents it with this free wandering in time and space. With this poetic, masterfully made film, Sokurov illuminates what is the interface between epochs and people, countries and feelings: art as the lingua franca of western civilization. LES INROCKS

A crazy night at the museum ... Francofonia is less of a sequel to Russian Ark than a kind of answer. Sokurov's ideas and thoughts have a philosophical depth and a richness that can hardly be found in today's cinema. When he shows us a pink finger reaching for the hand of a marble statue, we can feel time itself being shorted out. THE TELEGRAPH

NOTES FROM ALEXANDER SOKUROV


THE ARKS
What would Paris be without the Louvre? Or Russia without the Hermitage? Imagine an ark on the sea laden with people and great works of art - books, pictures, music, sculptures, even more books, music recordings and more. The wood of the ark is not tough and there is a crack. What are we going to save? The living people? Or the silent, irreplaceable testimonies of the past? FRANCOFONIA is a requiem for what has perished, a hymn to human courage and spirit, to everything that unites humanity.

A WORLD WITHIN A WORLD
The museum community is probably the most stable part of the cultural world. What would we be without museums? Museums show us that there was once a great and glorious culture - much bigger and smarter than anything we can create today. The level of the Louvre, the Hermitage, the Prado and the British Museum always seemed dizzying to me. I first visited the Hermitage when I was 27 years old. It was very late, but I had no other opportunity because I come from a very simple family and have a very simple background.

THE EREMITAGE
When I learned at the time that we had been given permission to shoot RUSSIAN ARK in the Hermitage, I was intoxicated by the possibilities. I was literally intoxicated that the Hermitage and Mikhail Piotrovsky treated me and the team so well. I was happy to work there and it seemed to me that under these conditions we could create a hymn to this world. The museum is a world within the world. By making films in and about museums, we invite people from different cultures to encounter these original works of art.

THE LOUVRE
I was immediately thrilled when the opportunity arose to film in the Louvre. For me this was a return to my dream of doing a cycle of art films with the Hermitage, Louvre, Prado and the British Museum. It was wonderful that the Louvre management responded so enthusiastically to our project. And it was pure pleasure to have the opportunity to work with my extraordinary and famous colleague, the great artist and cameraman Bruno Delbonnel. This combination of circumstances is a miracle in itself.

NAZI SOLDIERS IN THE LOUVRE
The sight of Nazi soldiers in the galleries of the Louvre is disturbing to people. These soldiers in a temple of art? A paradox? But why should that be a paradox? Soldiers are human beings, they only wear boots and helmets. In fact, the Louvre galleries were empty at the time of the occupation. Her works of art had been removed and hidden some time before. People sensed that there would be a Second World War that would involve all of Europe. In Leningrad, Paris and London, people looked for shelters - holes in the ground, places of refuge, thick walls and spaces deep underground - to hide works of art. People began to understand: If we go down, so will our art - our hopes, our prayers, our God.

THE BOMBING OF PARIS
Paris, the city of museums and deeply rooted humanistic culture, the cultural capital of the Old World. If Paris had been bombed in World War II, what would that have meant to us? The end of all things, an irreparable event, a turning away from life. Oddly enough, it didn't happen. Everything else was bombed and burned, soldiers looted and military trucks carried away the spoils of war. It happened everywhere except Paris. Paris was a saving oasis. In old photos from the time of the German occupation we see soldiers in a café or on their way to the theater, young women and men on the streets walking or cycling. It seemed as if the peace, the glorious peace, had broken out.

JACQUES JAUJARD & FRANZ GRAF WOLFF-METTERNICH
If you look at the documents from this period, two people stand out immediately: Jacques Jaujard, the director of the Louvre, and Franz Graf Wolff-Metternich, one of the representatives of the occupying power. At first it seems as if they were enemies, but gradually it becomes clear that they were not enemies, but had a lot in common. Their getting to know each other, their confrontation and their cooperation in the Second World War form the main part of FRANCOFONIA. These two extraordinary personalities, almost of the same age, had the same calling: They wanted to protect and preserve works of art. Who were these two men, and who did they represent as humanist high-level administrators? What practical initiatives did you take to defend the works of art? In the circumstances of a merciless war, is it possible to defend humanistic values? Even during the most difficult phases of the war, these two men - not even particularly influential - managed to stop the aggression and preserve the Louvre's magnificent art collection. How great is our regret that nothing similar happened in the Soviet Union, in Poland and in the rest of Eastern Europe?

A PATH WE ALL HAVE TAKEN
FRANCOFONIA is not a historical film in the classical sense. This is not about a scientific approximation, even if it is very important to me that the historical facts are correct in detail. I didn't have a political concern, but rather an artistic one. More precisely: I wanted to convey an awareness, a feeling for a time, for its intonation and language, based on the biographies of my characters - people with their own special circumstances, people who fought for the protection of culture and art by using the they overcame pressing circumstances and difficulties.

In my mind's eye, this film seemed like a path, a path that we have all taken and will take again, a path that our fellow travelers next to us can understand and empathize with. A path that enables us to switch between the past, present and future in our own and individual way, guided solely by thoughts, reflections and associations. FRANCOFONIA is not arranged chronologically, but rather a collage that often follows the twists and turns of a constantly changing thought process.

A SHIP IN A STORM
In FRANCOFONIA, the author corresponds with his friend who is on a ship carrying an important collection of museum art. The fact that the ship is fighting the storm - like fate in its purest form - has something inevitable: it comes as it has to. One could guess that the ship could have avoided the storm, but for some inexplicable reason it didn't turn off or maybe couldn't. The containers sink into the sea. The argument, the dialogue between the friend on board the ship and the author in his home is an act of thought, a stream of consciousness.

ART AND HISTORY
When we touch art, we inevitably touch history. Art is so linked to history, to the historical process, that history unfortunately has a destructive influence on art. It would be nice to be able to separate the art from the story, but that's impossible ... The characters are part of that story and part of life. Napoleon and Marianne are neither normal nor symbolic figures for me. For me they are living characters. All spirits are alive when they exist. And I believe in the existence of ghosts and all beings that inhabit houses.

FRANCOFONIA
I liked the sound of "Francofonia", the tone. Just like music permeates a film. The title "Francofonia" tells something about what I was looking for, it evokes a French accent, with German and Russian also having their place in the film.

DOCUMENTATION AND FICTION
Our challenge was to bring together what we filmed with the archive material in an artistic structure. We had to rid the archive material of the made-up, artificial images. Everything that can be seen of Paris during the occupation is one hundred percent fictional. The people on the street, in the cafés - this is absolute narrative cinema. We did the same thing when we filmed the Louvre from the roof. It was more of an art project than a documentation. But behind every documentary image there is an artistic effort. It is inevitable. It is no coincidence that many documentary filmmakers want to do narrative cinema. All of this is located in the same place in reality. We can treat the material we film or have artistically or with a formal, non-artistic attitude.

A STUDENT
It still seems to me that everything I do is flawed. My relationship with film is that of a student. I am a student in this process. I learn from those I can learn from. And these films are like lessons for me. Thanks to my wonderful, made-up teachers, I try to complete classes and pass exams and tests. The result of all of this is not known to me.

Regular game dates

city
movie theater
Of
To
Unfortunately no missions at the moment!