How are ethernet cables different
LAN cables - what is the difference between Cat 5, Cat 6 and Cat 7 cables?
Networking computers with the Internet or with the Local Area Network (LAN) at home can be done in different ways. In the age of smartphones, tablets and laptops, the most popular type of connection is WiFi. WLAN is a radio technology. This has some significant disadvantages compared to the traditional type of LAN cable, especially when it comes to range and data throughput.
But what is the difference between a Cat 5, Cat 6 and Cat 7 network cable?
LAN cable bestseller
In the following you will find the LAN cable bestsellers on Amazon:
What is the difference between Cat 5, Cat 6 and Cat 7 LAN cables?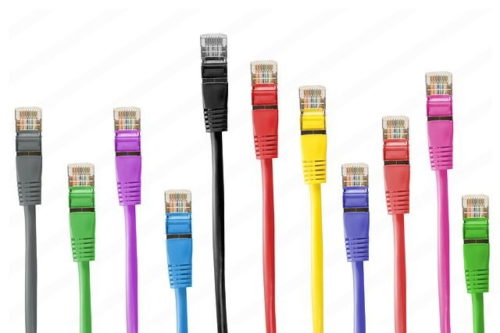 Network cables (patch cables) can also be used to integrate a desktop computer or laptop into a network. The advantages of a wired connection type are obvious:
very high data throughput
long range
considerably more secure against espionage than wireless transmission types
very high connection quality
Network cables are available in different versions. We are mostly talking about CAT5, CAT6 or CAT7. But what do these terms actually mean?
Cat 5 ethernet cable
The Cat 5 LAN cables are designed for frequencies up to 100 MHz. They are therefore very suitable for transmission in the area of ​​Fast or Gigabit Ethernet. Whereby a Cat 5e cable is used for Gigabit Ethernet, i.e. 1000BASE-T. This type of network cable can be found in almost all standard network assemblies.
With Gigabit Ethernet it became necessary for the first time to use all 8 wires for signal transmission. Of course, this also places special demands on the network cable. Hence, Cat 5e was created. Cat 5e cables are backwards compatible.
But that it happens every now and then that standards are changed, Cat 5e became Cat 5 again in terms of the name. So you cannot tell directly whether an old Cat 5 cable was laid in the network or whether it is a Cat 5 LAN cable of the newer standard. Especially if a network was set up with Cat 5 cables before 2002, it may well be that the cabling is not suitable for Gigabit Ethernet.
CAT 6 network cable
The Cat 6 cables are suitable for frequencies of up to 250 Mhz. With Cat 6 network cables over longer distances there is a risk that the transmission quality will suffer considerably. However, small excess lengths should not be a problem for Cat 6 network cables.
Of course, you have to decide on a case-by-case basis and, if necessary, check with appropriate measuring devices. Use cases for Cat 6 cables can be, for example, multimedia services, voice services or services with increased data transmission.
CAT 7 network cable
The Cat 7 cables (Class F) are suitable for frequencies of up to 600 MHz, the Cat 7A. (Class FA) even up to 1000 MHz. The special thing about Cat 7 LAN cables are the 4 individually shielded wire pairs, which are connected to a large, also shielded cable.
Cat 7 LAN cables should be used where network cables have to be laid for a long time.
Cables according to the Cat 7 standard correspond to the normIEEE 802.3an and are therefore suitable for 10 Gigabit Ethernet without any problems. Due to the very high transmission speed, Cat 7 network cables are very future-proof.
But be careful: Cat 7 network cables are not available with the typical RJ-45 connector. The cable does not fit into this connector. So you can't buy a real Cat 7 LAN cable with an RJ-45 connector!
Status: 23.05.2021 at 1:42 p.m. / * = Affiliate Links / Images from the Amazon Product Advertising API / Price includes VAT, plus shipping costs