Why isn't Russia in the 2018 Olympics?
Russia remains suspended at the Olympics
The International Olympic Committee is maintaining Russia's suspension beyond the end of the Pyeongchang Winter Games. This means that the athletes from Russia will not be able to enter the Olympic Stadium with their own national flag at the closing ceremony on Sunday, as the IOC Executive Committee decided. The sanctions against the National Olympic Committee of Russia will only be lifted once it has been confirmed that all doping samples of the Russian athletes who competed as "Olympic athletes from Russia" under a neutral flag are negative.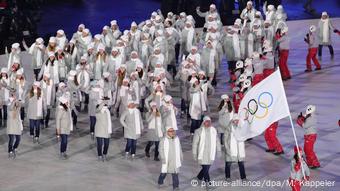 The OAR team at the opening ceremony in Pyeongchang
The decision of the IOC executive was based on the recommendation of the IOC evaluation committee. "We do not make everyone happy with this decision. We will be criticized," said Nicole Hoevertsz, the chairman of the committee.
In her report before the session, she confirmed that the OAR team had not violated the dress code during the entire Winter Games and that the Russian spectators had behaved positively. Another important part of the sanctions imposed by the IOC for the doping scandal has also been met. Russia transferred the requested $ 15 million on February 20. The money is to be used for measures in the anti-doping fight.
"Individual cases"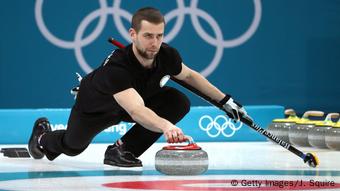 The Russian curler Kruschelnizki loses bronze
Regarding the two Russian doping cases uncovered at the Pyeongchang, Hoevertsz said: "Both were individual cases. There was no evidence of an organized doping system." The curler Alexander Kruschelnizki and the bobsleigh driver Nadezhda Sergejewa have been found guilty by the International Sports Court.
The IOC had suspended the National Olympic Committee of Russia as a result of the large-scale doping scandal at the 2014 Games in Sochi on December 5. In Pyeongchang, however, 168 athletes were allowed to compete as "Olympic athletes from Russia" at the invitation of the IOC - but without a flag, without an anthem and without the usual national clothing.
ck / ml (sid, dpa)