Children still play in sandboxes
From what age does a sandpit make sense?
Here you can find out from what age a sandpit is the right play equipment for your child and what tasks the parents of sandpit children have to face.
When should a child be allowed to play in the sandpit?
It is a recurring question: At what age does a sandpit make sense? Many parents put their children in the sandpit for the first time when they have learned to sit down or crawl on their own. It is a wonderful experience to play in the sand with the initially clumsy offspring and watch the child get to know the sand and its properties.
From the age of 1 small children can play in a sandpit, but the sandpit does not have to be a taboo for younger children either. Even the little ones can let sand run through their fingers. In young children, however, should always a supervisor must be present. Supervision is important to prevent accidents or the children from eating too much sand.
All children learn very quickly that sand is bad. But a few grains always end up in the mouth at first. A little sand in the mouth will not harm the child (please consult your pediatrician)! Nevertheless, as a parent, you naturally want to make sure that the daily dose of sand and dirt is not too large.
From the age of 3-4 the little ones can play largely alone in the sandpit. The sandpit should still be set up in such a way that you can keep an eye on the kids at all times with a look out of the window. You can find more about the selection of the location here: Set up the sandpit
How long do children play in the sandpit?
The sandpit is used regularly by children to play until primary school age. When the interest in digging in the sand ends varies from child to child. There is no age limit. Some children can still enjoy an afternoon in the sandpit when they are 8 or 9 years old.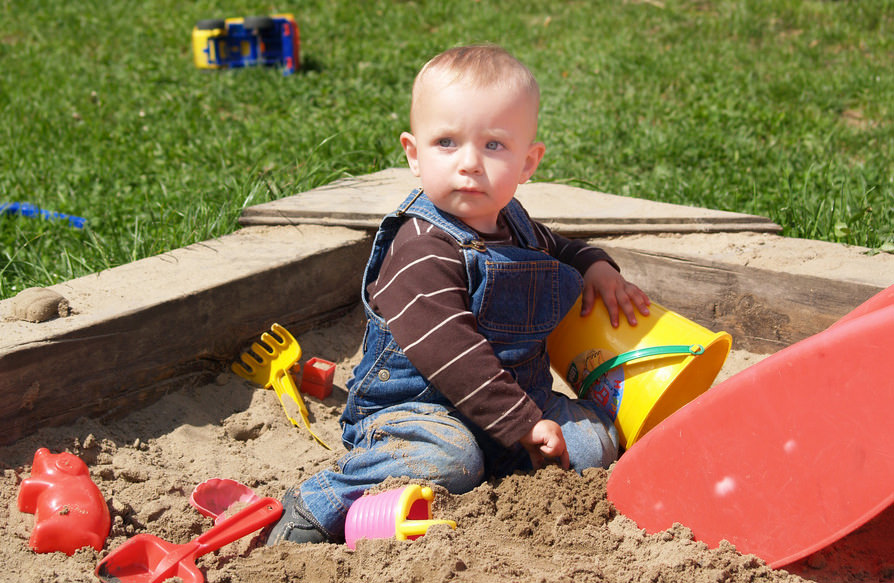 The 1st birthday with a sandpit
The sandpit is a nice gift for a child's 1st birthday. A sandpit is often given as a gift by relatives and close friends of the family. The gift is especially nice when the birthday takes place in the warm months and the little ones can try out the gift right away, under the eyes of the birthday guests.