The Elder Scrolls V Skyrim: Remaster Version File Size Revealed
Those responsible at Bethesda Softworks will be releasing a remastered version of the role-playing game "The Elder Scrolls V: Skyrim" for the PlayStation 4, Xbox One and the PC in a few weeks' time. Of course, some technical and graphical improvements will be offered. But how much space will you actually need on the hard drive?
In the meantime, an indication of the file size has appeared in the entry for the game in the Xbox Marketplace. The "The Elder Scrolls V: Skyrim - Special Edition" is said to be 22.75 gigabytes in size. In addition to the main game, you will also receive the expansions "Dawnguard", "Hearthfire" and "Dragonborn".
The official say about the game: "Skyrim has received more than 200 'Game of the Year' awards, the Skyrim Special Edition brings the epic fantasy milestone to new life with astonishing wealth of detail. The Special Edition contains the game including add-ons and offers new features such as revised graphics and effects, volumetric bundles of rays, dynamic depth of field, screen space reflections and much more. "
The Elder Scrolls V: Skyrim - Special Edition will be released on October 28, 2016.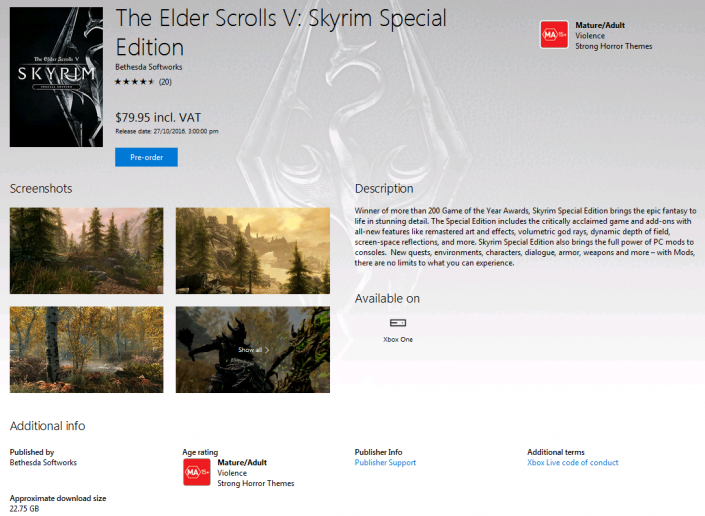 More news about The Elder Scrolls V: Skyrim.
(*) Links to Amazon, Media Markt, Saturn and some other retailers are usually affiliate links. When we make a purchase, we receive a small commission that we can use to finance the page that can be used free of charge. You have no disadvantages.