Is there a patent on sticky notes
Post-it anniversary
content

Career of the sticky notes (with a slow start)
Any invention is worthless as long as you don't know what it can be used for. "Commercial applicability" is therefore one of the prerequisites for an invention to be patentable at the DPMA. Occasionally it can happen that a development is suitable for a completely different purpose than originally intended (this happens more often in pharmaceutical research; see the example of sildenafil: an active ingredient that was developed against high blood pressure and then under its trade name Viagra for a completely different one Application became famous). Sometimes it takes years to find the right application for a development. One of the best-known examples of this are the "Post-it" notes. The underlying patent was applied for 50 years ago, and the product came onto the market 40 years ago.
What to do with the microsphere glue
The chemist Dr. Spencer Ferguson Silver (born 1941) worked for the Minnesota Mining and Manufacturing Company (3M) developing adhesives in the late 1960s. The new glue should actually be particularly tough and strong. But the "Acrylate copolymer microsphere", i.e. microspheres made of acrylate and mixed polymer, patented by Silver on March 9, 1970 (

US3691140A) only formed a weak pressure sensitive adhesive. Although the glue stuck to smooth surfaces, it was just as easy to remove.
What practical use could this invention have? Silver puzzled over this question for years. "I was known as Mr. Stubborn because I didn't want to give up," he later recalled (according to the website of the Post-it sticky notes manufacturer 3M).

Eureka moment during choir rehearsal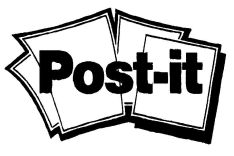 Word-figurative mark 001944891
But it was his colleague Art Fry who, years later, came up with the idea of ​​what this invention could be useful for. Fry sang in the church choir and was annoyed at every rehearsal by the slipped bookmarks in his singing notes. If only you had a bookmark that would stay in place without damaging the pages! Then Fry remembered his colleague's weak adhesive: "That was a Eureka moment".
Together, Silver and Fry began to develop a marketable product. The breakthrough came when they added notes to the bookmarks prepared with the adhesive, attached them in the offices of their colleagues and thus communicated with them. These field tests in-house were a complete success. The sticky notes - it became apparent - were the classic case of a product "that nobody knows they need until they get to know it," says Silver.

Square, practical, yellow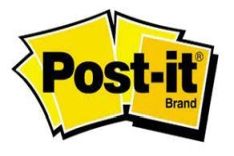 Word / figurative mark 013361852
The further development of the idea led to a new patent, which Silver and colleagues applied for on February 6, 1973: "Removable pressure-sensitive adhesive sheet material" (

US3922464A). It perfected the use of the adhesive on paper: the mini adhesive beads adhere to different surfaces and can be removed without leaving any residue.
Initially, the sticky notes were marketed under the name "Press' n Peel" only as a test in some cities in the USA, with mixed success. Ultimately, it took until April 6, 1980 before the product went on sale everywhere as a "Post-it" in the characteristic canary yellow and with a size of 76 × 76 mm.
Of course, the manufacturer protected its product with various brands (word: 2023475, 2907658, 014633804; word-image: including 007226392). "Post-it" is registered as a German trademark with registration number DD653350 and registration number 2072402.
Success was not long in coming. Soon Post-it notes were at home in every office in the world. More than 50 billion sticky notes are said to be sold every year in more than 100 countries.

Images: iStock.com/olli0815, DPMAregister
Status: May 18, 2021